The past 6 years have seen some historic bouts of volatility in an environment of persistent slow global economic growth, weak employment and ultra-low or negative interest rates. We lived through the "New Normal" that bemoaned weak economic growth that would prompt "inexplicable low total returns on investment portfolios-bonds and stocks" that would morph into the "New Neutral". Meanwhile, global central bankers "jawboned" to defend their monetary policies while commentators from the financial media droned on about the daily gyrations of the global capital markets. How have the major asset classes performed over this period and where were the winners and losers? Can we learn anything from this period?
The following data table and chart of cumulative total returns shows a wide dispersion of returns over the six-year period from September 2010 through September 2016. The annual total returns in Table 1 varied from a high of 14.43% for high dividend stocks (DVY) to a low of -9.34% for commodities (DJP). Other winners included large and small capitalization U.S. stocks (SPY and IWM), and U.S. REITs (VNQ) while other losers were emerging market stocks (VWO) and gold (GLD). As expected, the Dow Jones Global Moderate Index with a 60/40 stock/bond split was comfortably in the middle of the pack while modestly beating the broad bond (AGG), corporate bond (LQD), high yield bond (HYG) and municipal bond (MUB) asset classes.
Table 1: Annualized Returns and Risk September 2010 through September 2016
| | | | | |
| --- | --- | --- | --- | --- |
| Name | Ticker | Annual Total Return | Annual Std. Dev. | Return/Risk |
| iShares Select Div ETF | DVY | 14.43% | 9.52% | 1.52 |
| S&P 500 Index | SPY | 13.56% | 11.60% | 1.17 |
| Vanguard REIT | VNQ | 13.14% | 15.74% | 0.83 |
| iShares Russell 2000 | IWM | 12.39% | 15.89% | 0.78 |
| DJ Global Mod. Index | | 7.25% | 7.65% | 0.95 |
| iShares HighYld Corp Bnd | HYG | 5.98% | 7.32% | 0.82 |
| iShares MSCI EAFE | | 4.37% | 14.90% | 0.29 |
| iShares Inv Grade Corp | LQD | 5.33% | 5.35% | 1.00 |
| iShares Natl Muni Bond | MUB | 3.85% | 4.80% | 0.80 |
| Barclays Agg. Bond Index | AGG | 3.32% | 2.83% | 1.17 |
| SPDR Gold Trust (ETF) | GLD | -0.30% | 18.57% | -0.02 |
| Vanguard Emg Markets | VWO | -0.33% | 18.98% | -0.02 |
| iPath Commodity ETN | DJP | -9.34% | 16.65% | -0.56 |
Source: Morningstar, iShares
Chart 1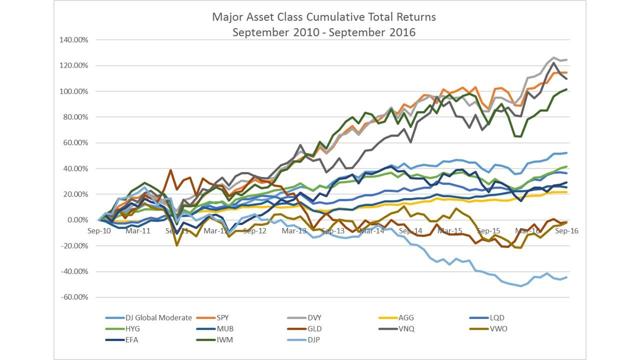 Source: Morningstar, iShares
We can observe a few major takeaways from this data table and the colorful Chart 1. First and foremost, if anyone is unsure that asset mix matters, please think again! Clearly, the cumulative total return chart shows choppy upwardly sloping lines (DVY, SPY, VNQ) that are certainly preferable to the choppy downward sloping lines (DJP, VWO, GLD). Some investors may prefer the less choppy, but flatter lines in the middle (AGG, MUB, LQD). Because all of these lines represent ETFs investing in indexes of major asset classes, there is no "active" manager to blame for poor performance. The "active" decision on which "passive" major asset classes to select makes portfolio management a decidedly "non-passive" activity. I plan to discuss this active/passive debate in a future article.
The high returns from high dividend stocks (NASDAQ:DVY) over this horizon is a testimony to the relative attractiveness of this asset class when compared to the low yield provided from bonds. Yields from a portfolio of high dividend stocks have hovered around 3% over this horizon and have usually been higher than those garnered in the broad bond space. Also, high dividend stocks have the potential to provide upside capital appreciation, whereas at these levels it only takes a small increase in rates to have bonds produce a negative return (see me previous article here on this topic). Also, though you do take on more risk when buying high dividend stocks, the unit of return per unit of risk is higher than that for bonds over this horizon (1.52 vs. 1.17).
Most investors are aware that some asset classes in the alternative space, including gold and commodities, are risky but are attractive due to their diversification benefits. During this horizon, those asset classes certainly were negatively correlated, but have only provided excess risk and mostly negative returns. Consequently, a well-balanced portfolio without gold and commodities would have performed much better over this horizon. Interestingly, the popular post-Crisis view was dead wrong in its view that commodities would surge in anticipation of a jump in inflation due to the extreme easing by global central banks. That may still happen, but no one can guess the timing.
Other true alternative investment like hedge funds and options strategies that could provide excess return and risk mitigation are not covered in this article, but I will cover them separately in a future article.
For the taxable bond investor, it is especially interesting to note that tax-free municipal bonds (NYSEARCA:MUB) have emerged as an alternative to taxable bonds. Total returns in the municipal space over this horizon have been comparable to other sectors. Despite the underlying problems that are unique to the municipal bond space such as over-extended pension obligations of municipalities and specific trouble spots such as with the Puerto Rico issues, the extreme bubble in the Treasury and broad bond space has pulled the municipal market along with it. In fact, the pre-tax equivalent yield for municipals is trading very close to taxable Treasuries (depending upon the term). See my recent article here for more info on this.
Looking forward, the Fed is looking to gradually tighten monetary policy, whereas other global central banks are still in a loosening cycle. As long as rates rise gradually, per my previous article, the impact on bond investments in particular, and the financial markets in general, should be small. Certainly, more of the same from the Fed and global central banks accompanied by lackluster fiscal stimulus could keep the U.S. and global economies in the current state of "funk" and could keep all these asset classes in the same relative position going forward. Changes from the status quo, whether an increase in economic growth, heightened inflation expectations, or change in rates, will all impact these major asset classes differently. In my next article, I will look at each asset class separately and judge how the relative attractiveness will shift.
Disclosure: I am/we are long DVY. I wrote this article myself, and it expresses my own opinions. I am not receiving compensation for it (other than from Seeking Alpha). I have no business relationship with any company whose stock is mentioned in this article.