AdvanSix (NYSE: ASIX) recently was spun off from Honeywell (NYSE: HON) on October 3rd. For the first couple weeks of trading on the open market and it has already seen selling pressure, probably from institutional investors. A classic spin-off story, when the parent company (NYSE:HON) that has a market cap of $88 billion, and spins off a small cap business ((NYSE:ASIX)) worth below $1 billion; some institutional investors will have to sell because of the size of the company with no logic of how well the business is operating. Take a look at the first trading days graph.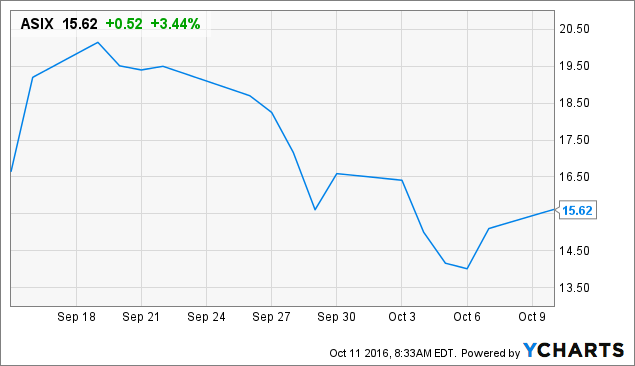 Some shares were trading before the actual date its suppose to be completed to try and establish a price before all shares are available for trading and that's why you see some action before Oct. 3rd.
Overview
A few months ago I wrote about the spin-off from Honeywell, which you can find here. It will give you a better breakdown of their revenue segments, but basically Advansix produces caprolactam which is used to make Nylon6. Nylon6 is a polymer resin used to produce engineered plastics, fibers, filaments and films. Other by-products will also be created during the chemical processes of creating caprolactam.
Over the past week of trading the company has been trading between $420 to $500 million market cap. 2016 revenue for the first six months was $600 million with net income of $42 million. Estimated full year revenue is $1.26 billion and income of $70 to $80 million. This would provide a PE around 6 to 7x earnings. That would appear extremely cheap to competitors and the overall market. But, there is only one issue; the company is a capital intensive business and cash flows haven't been good. Over the past two years capex has been near $100 million and management believes it will be the same next year. Maintenance is the biggest section of capex, but it's crazy to see how much Advansix has to spend on environmental mandated investments. In 2015 they spent $22 million to comply, and these costs don't appear to be going away.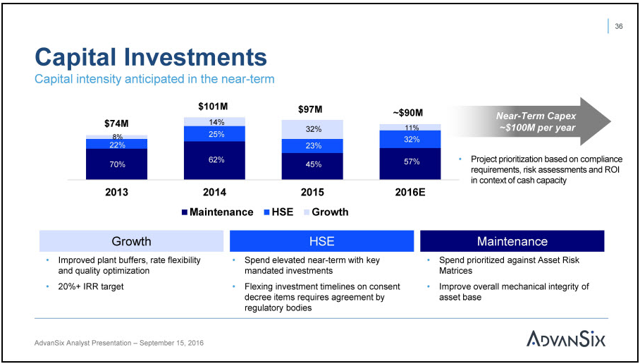 Source: SEC File Investor Presentation
With high capital requirement, free cash flows have been terrible the past year. For 2015 FCFs were $6 million, which was adjusted for working capital timing differences, without this it would have been $4 million. 2016 numbers are looking better, but it still isn't attractive on a valuation basis. The company does generate a lot of cash, and net income looks attractive, but the real issue is the company has to keep the majority of the cash to keep the operation going; instead of being able to distribute a solid dividend and have a buyback program.
The Market
Nylon 6 is forecasted to see tremendous growth until 2020 because of the use for the textile and electronic industries. This could add a nice tailwind for Advansix but competition is growing and production capacity across the world will grow along with increased demand. It's becoming a very fragmented industry and China is at the heart of it.
Takeaway
I originally purchased some shares of the company due to the selling pressure right after the spin-off. I have subsequently sold the position for a nice little profit and would have kept the shares if it wasn't for the concerns stated above. Capex has been extremely high over the past few years and it doesn't seem it will mitigate anytime soon. China is a concern for the overall market and pricing stability of Nylon 6. Net income is a facade to the financial returns investors would expect from the company.
To read more research on stock spin-offs, fund holdings, micro to large cap companies, and special situations please consider following me (by clicking the "Follow" button at the top of this article next to my name) to receive notification when I publish research next.
Disclosure: I/we have no positions in any stocks mentioned, and no plans to initiate any positions within the next 72 hours.
I wrote this article myself, and it expresses my own opinions. I am not receiving compensation for it (other than from Seeking Alpha). I have no business relationship with any company whose stock is mentioned in this article.
Additional disclosure: This article is intended to provide information to interested parties. As I have no knowledge of individual investor circumstances, goals and/or portfolio concentration or diversification, readers are expected to complete their own due diligence before purchasing any stocks mentioned or recommended.