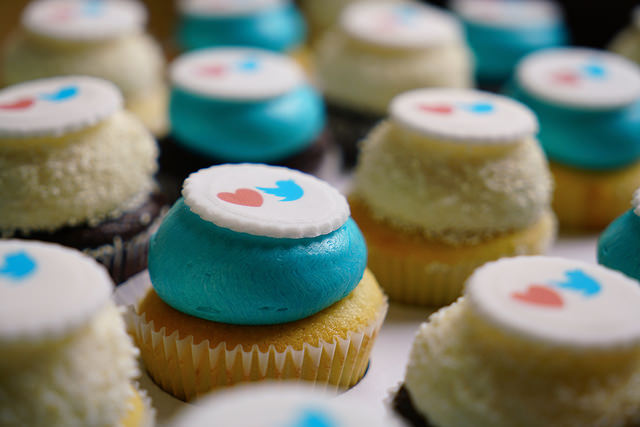 Offers from Google (GOOGL) (NASDAQ:GOOG) and Disney (DIS) are off the table, according to Recode. Salesforce (NYSE:CRM) is not going to make an offer either. Investor Chris Sacca is also tired of the micro-blogging platform, voicing his desire for a Twitter (TWTR) therapist. That sums up the rumors about the possible sale of Twitter.
How did Twitter end up with no suitor? Maybe Jack Dorsey can give us some hint in the memo he just sent to his staff.
Every growth company requires a visionary leader who is capable of telling the story of the company. This story often times is not sufficient and has to be backed up with actions indicating a propensity to generate value to investors. This is the reason growth stocks sell for a premium. The extra cash is always needed to develop innovation and grow market share while securing a competitive moat.
Investors need continuous confirmation that management can handle the tension required to grow a business.
Were Elon Musk or Mark Zuckerberg the CEO of Twitter, I am sure it will currently be trading at a higher valuation. They are both great storytellers.
Twitter and Facebook (NASDAQ:FB) are battling the same demon. They both need to grow their user base, increase Ad load and generate value for investors.
Competition-wise, Facebook is facing far bigger risks and headwinds due to its huge size, which offers minimal upsides to user growth. There is also the fear that teenagers are fleeing Facebook and Instagram for Snapchat (CHAT).
Amidst all these, Facebook still stands taller than Twitter in terms of the level of confidence investors have in the business.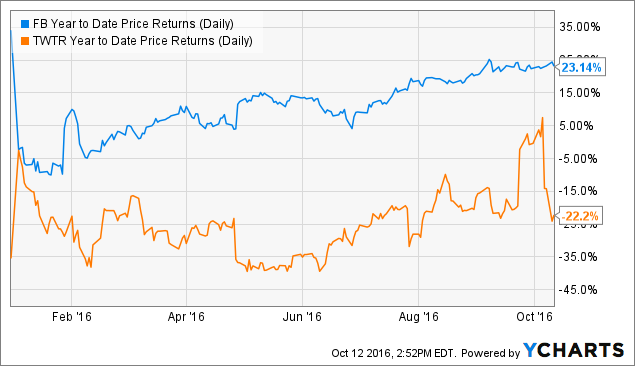 FB Year to Date Price Returns (Daily) data by YCharts
In the valuation world of growth tech stocks, a big story needs to be told to uphold the value of a business. If Jack Dorsey knew better, he will not try to eat his cake and have it by running two businesses (Twitter and Square (SQ)) while arguing against the sale of Twitter.
If you are not going to give Twitter the attention it deserves, why hold on to it? Developments like these make investors irate.
SA reader, greensidebanker, explains it better:
I think Jack is practicing management malpractice. I can't believe the pitiful TWTR Board employs a part-time CEO, and one that has yet to prove any sort of ability to add value for shareholders. It appears more like Jack treats TWTR as his tool for his own political purposes - stock price be damned.

Just pathetic.
In an industry where you find yourself going against the likes of Facebook, Snapchat and Google, undivided focus and attention are paramount. Investors mostly buy into the human element and not the business. After all, talents grow a business. Even if Mr. Dorsey does step down from Square, I do not think he will be able to get Twitter out of its stagnant growth. It is getting too late, as you will realize in the latter part of this article.
Not much value
The real value of Twitter lies in the ROI that advertisers derive from campaigns targeting specific audience cohorts on the micro-blogging platform.
In a research conducted by Wordstream, Facebook ads recorded lower CPM and higher RPV (revenue per visitor) compared to Twitter ads.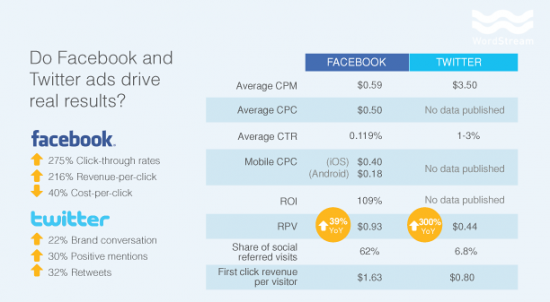 Source: Wordstream
I don't intend to flog the dead horse by raising the MAU card. However, the only upsides right now are the NFL deal and video ads.
Facebook launched Sports Stadium in response to the NFL move. Wired also reported that YouTube will be beta testing real-time ads. This means Google will be serving real-time ads during live sport games on YouTube via the AdBlitz platform.
There are 650 million sports fans (affinity audience) on Facebook compared to Twitter's combined MAU of 320 million. Both companies are making moves to occupy the time of sports enthusiasts. While Sports Stadium might not match the intensity and audience engagement of Twitter, it will provide a negative drag on the migration of FB users to Twitter. If it does succeed, it will be a great comeback for Facebook.
Lastly, when you consider the video-sharing cohorts on Snapchat - which are proving more effective to advertisers in terms of user engagement and conversions (teenage cohort) - the Twitter valuation coffin might just continue to slip all the way down.
What is real value made of?
The best tailwind for Twitter is a more positive attitude from management. When you hear Evan Spiegel talk, you know he has a strategy to deliver value to shareholders. I hear him say he wants to go premium on those ads and that's brilliant because you either live by the MAUs or the CPV. In its Apple days, Snapchat sold "SNAPS" - video and photo ads that show up in the recent updates feed - for as high as $750,000 per day. Even Google's YouTube daily masthead ads were never more than $500,000 per day, according to Adweek.
Regardless, there is an off chance that Snapchat does not pass the 500-million MAU mark. However, that problem can be solved if Snapchat continues to charge a premium on its valuable and interactive audience cohort.
Twitter, on the other hand, cannot go premium. If you check the latest CPM rates, they are down YoY.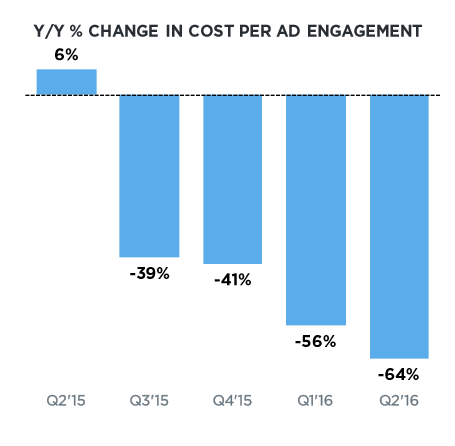 Source: Twitter
It really has no choice but to bring those rates down to stay competitive. With no pricing power or growth prospect, we need to throw the box away and think while staring away from it.
Valuation
Going into Q4, bets will be on upticks in MAU, video ad load and viewership rate of NFL games. Those metrics can go either direction depending on the intensity of competition. A positive bet on Twitter will require significant hedging. More so, Twitter only just introduced conversion tracking to its customers in an industry that is all about margins. We should be a whole lot more skeptical going into Q4.
Turning Twitter around requires marketing innovation, not NFL games. I believe there are not enough marketing minds to turn Twitter into a cash cow. It has the technology, there isn't just enough human element to optimally monetize it. The NFL deal pulled through mostly because of the strategic involvement of CFO Anthony Noto.
Contributor BIH Murdoch also raised the issue of Twitter not having enough marketing geniuses:
Engineers do not generate revenue, marketers do. Marketers hold the key to Twitter's survival and I have not seen a slight remark about hiring marketing geniuses who can turn it around. Engineers can tweak the product until cows come home but if there are no marketing geniuses behind to bring in more revenue; it will die. Facebook had ad sales offices across the land, have you ever heard a Twitter ad sales office?
In the next annual shareholders meeting, all investors have to show their hands during the Q&A session because management has many questions to answer.
Twitter is a sinking ship and the only solution to a looming disaster is a sound marketing innovation. Those Periscope and Vine jokes have to stop.
Disclosure: I/we have no positions in any stocks mentioned, and no plans to initiate any positions within the next 72 hours.
I wrote this article myself, and it expresses my own opinions. I am not receiving compensation for it (other than from Seeking Alpha). I have no business relationship with any company whose stock is mentioned in this article.