Despite a relentless rally off the lows in February, the bears continue to trot out with their doom predictions on every 1% down day. The S&P-500 (NYSEARCA:SPY) has rallied nearly 20% off the lows at 1800, but you wouldn't know it if you'd only been listening to the bears. Many of them have stated that yesterday's 1.2% drop is a sign of much worse things to come, and we should all be worried. How do they know this? They are all carrying crystal balls around, rather than looking at price. According to the bears, the oil crash of February was cataclysmic, Brexit was a black swan event, and the election will be the apocalypse. The oil exposure fears turned out to be a non event for banks, and Brexit was the first "black swan" in history that saw the market higher a week later. If you haven't figured out where I'm going with this, it should be obvious. The bears are always overly worried and under-invested. After all, how has anyone benefited from following a bunch of self proclaimed prophets that have kept you out of the market since February? The S&P-500 is up 17% off the lows, and the bears have been preaching that they don't trust the rally since 1900.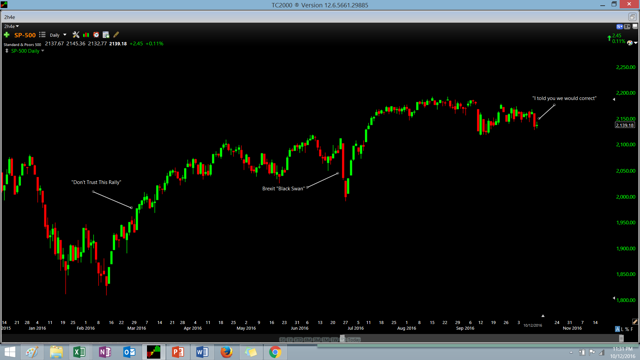 Source: TC2000.com
Yesterday's 1.2% drop was no different. The decline was met with "I told you so's", "This was way overdue", and many more foolish comments. I would venture a guess that the bears aren't very good at keeping score, as they are still 200 points in the hole on their predictions. Yes. the S&P-500 did drop 25 points yesterday, but anyone following the bears has been short or in cash since 1900 on the market.
I am by no means a perma-bull, and have no problem getting bearish the market. Having said that, I have no interest in shorting a market that is 3% from all-time highs. I believe the bears would be much better served to wait for their gloomy fundamental prophecies to be confirmed by bearish technicals. At this juncture for the S&P-500, I see no reason to be bearish.
The 200-Day Moving Average
One of the most simple ways for me to stay unbiased on the market is by looking at the 200-day moving average. It may seem to simple to look at one line and determine the direction of an index, so most have no interest in using this indicator. Most people want to find a complex way to do things, and want to stroke their egos at the same time. When it comes to investing, I believe the age old "KISS" rule applies best, "keep it simple, stupid". If being able to position yourself properly was as simple as one line on a chart, how would gurus sell subscription services? Gurus thrive on the ability to show complex and intricate ways of looking at the market, and convince retail traders to pay for these insights. This is one of the reasons why most won't admit it's as simple as looking at one indicator. While it certainly does help to have other indicators in one's repertoire, I base the majority of my positioning on this one indicator. The 200-day moving average is one of my favorite indicators as it is black and white. The market is either above its 200-day moving average, or it is below it.
I believe Paul Tudor Jones said it best in an interview:
"I teach an undergrad class at the University of Virginia, and I tell my students 'I'm going to save you from going to business school. Here, you're getting a $100k class and I'm going to give it to you in two thoughts, okay? The first is, you always want to be with whatever the predominant trend is. My metric for everything I look at is the 200-day moving average. I've seen too many things go to zero, stocks and commodities. The whole trick in investing is to keep from losing everything. If you use the 200-day moving average rule, then you get out. You play defense, and you get out."
If Paul Tudor Jones were trading this market, he would be long the market and see no reason to exit unless it closed below 2068.
If an asset class is above its 200-day moving average, I am long and bullish. If an asset class closes more than 2% below its 200-day moving average, I am in cash and neutral. While there are many false signals along the way that can chop you up, the big swings tend to happen once the market has made a move of either 2% above or below its 200-day moving average.
Did you know that you could have sidestepped Black Monday in 1987 by simply using the 200-day moving average?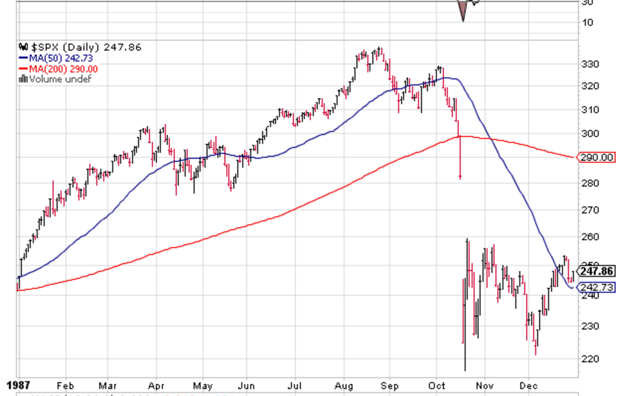 Source: Stockcharts.com
The market closed the week nearly 3% below its 200-day moving average, before one of the ugliest days in market history. This was a clear sell signal to get out of the market ahead of the weekend, and there was plenty of time to do so as the market sliced right through its 200-day moving average. While many believe the 1987 crash was some unforeseen black swan event, this could not be further from the truth. One simple line told you to get defensive, and if you ignored it - you paid the price.
How about the August Flash crash last year? Could this have been avoided? Once again, the 200-day moving average was your canary in the coal mine. As the below chart shows, the market closed more than 2% below its 200-day moving average on the Thursday. This gave investors plenty of time to exit before the Thursday close or on the Friday open, to avoid the disastrous Monday.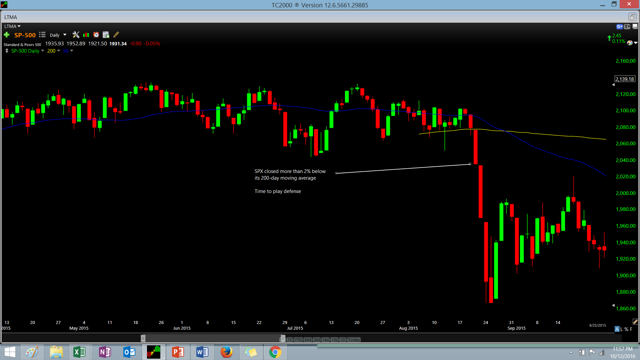 Source: TC2000.com
The fact that the S&P-500 is above a rising 200-day moving average tells me all I need to know. The 200-day moving average is my line in the sand for bull and bear markets, and allows me to remain objective at all times. CNBC may be jawboning about the Fed, bears may be warning about the election, but if the market is above its 200-day moving average, it's all noise. If the market closes below its 200-day moving average I can begin to entertain the possibility of the bear theses, but until then there's no reason to be pessimistic.
Currently the S&P-500's 200-day moving average sits at 2068, and as long as the market remains above this level then I'll remain long. The fact that the 200-day moving average is trending higher with price is a very positive sign for investors. The S&P-500's 200-day moving average is currently trending up by half a point each day, and this level should provide support as it did during the Brexit lows. While the Brexit lows did slice through the 200-day moving average, it did not trigger an exit as it was only a 1% close below it. If you are long the S&P-500 the fact the 200-day moving average is trending up means that your stop on your long trade is moving up every day. This stop gets to move up whether the market continues to go higher, or if it simply goes sideways.
This is precisely why the bears are fighting a losing battle shorting the market right now. Let's pretend that there are two traders with opposing views that are trading the S&P-500. One of them is shorting the market from 2080, and the other is long the market from 2080.
Trader A who is long the market from 2080, is seeing the risk on his trade get smaller each day the market goes sideways or up. His stop on his trade is on a close more than 2% below the 200-day moving average. This means that his current stop sits at 2% below the 2068 level, or at roughly 2027 on the S&P-500. Due to the fact that the 200-day moving average is trending higher, the stop on his trade will move up for every day the market goes either sideways or up. This means that by the end of October (barring a large correction), the stop on his trade will move from 2027, to the 2035 level potentially. Trader A is risking 53 SPX points from his entry at 2080.
Trader B who is short the market has his stop above 2200 for argument's sake. His stop is based on the S&P-500 making new all-time highs which would negate his bear thesis. The first disadvantage to this trade is that his stop is static and does not move in his direction like Trader A's stop does. The second major disadvantage is that for every day the market goes either sideways or up, his profit potential diminishes. This is because he market will likely make a higher low and find support once again at the 200-day moving average (as it acts as support in bull markets). Trader B has to hope the market goes down for the risk/reward on his trade to improve. Trader A benefits from the market going up or sideways, therefore having much better odds. Trader B is risking 120 SPX points from his entry at 2080, and does not see his stop move in his direction each day.
I cannot wrap my head around why someone would rather be Trader B, yet all I see are bears wherever I look. Even if this trade does work out and Trader B wins our little experiment, putting yourself in unfavorable risk/reward trades is not a winning strategy. With the market 3% from all-time highs, we should feel like we're in Pamplona, Spain, in the midst of the running of the bulls. Instead for those who are long it feels like we're camping in the middle of Yellowstone National Park.
Sentiment
To confirm that I am not using a biased sample size when gauging for sentiment, I use the AAII Investor Sentiment Survey data.
The AAII Investor Sentiment Survey of last week is showing us an equal divide between bulls and bears. While bullish sentiment currently sits at 28.8%, bearish sentiment sits at 27.9%. Despite this showing slightly more bulls than bears, it is still a very conservative reading for bulls. Bullish sentiment is well below the long-term average of 38.5%, and has been below it for a record amount of time. Astoundingly, this is during a year when the S&P-500 has completed a 2-year breakout to new all-time highs.
Ryan Detrick of LPL Research has also showed a very interesting stat that I believe helps to put the absence of bullishness in perspective. If we combine the bearish and neutral readings from each week's AAII Investor Sentiment data, they have averaged 72.1% thus far this year. This means that decidedly more than 70% of investors are either bearish or neutral the market. According to Ryan Detrick, the last time this occurred was 26 years ago in 1990. Looking at forward returns after 1990, the S&P-500 was up 8 of the next 9 years. Over this 9 year period the S&P-500 gained 320%, and moved from 320 to 1280. While past results are not indicative of future returns, it is certainly comforting to know that being a bull in this market is a lonely trade.
Technical Outlook & Summary
The S&P-500 continues to be in an uptrend and climb the wall of worry it's been scaling all year. As we can see in the weekly chart, the market is still basing above its 2-year breakout level. The futures are currently indicating an open below the 2120 level, but this does not worry me in the slightest. This is still flirting with the breakout level from earlier this year, and well above the 200-day moving average.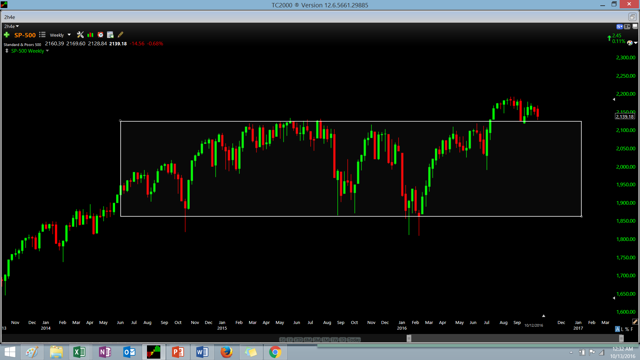 Moving down to a daily chart we can see the S&P-500 is trading above a positive sloping 200-day moving average. The 200-day moving average comes in at the 2068 level, with large support at the 2038 level. I am not sure if the uptrend holds on the S&P-500, but this does not negate my thesis that the SPX is in a bull market if it breaks. The uptrend is quite steep and I would be surprised to see the market hold this level forever. My main concern and what would invalidate my thesis is a close below the 2035 level. Any close below the 2035 level would have me exit my long S&P-500 position which was bought at an average cost of 2050 in April, per my articles.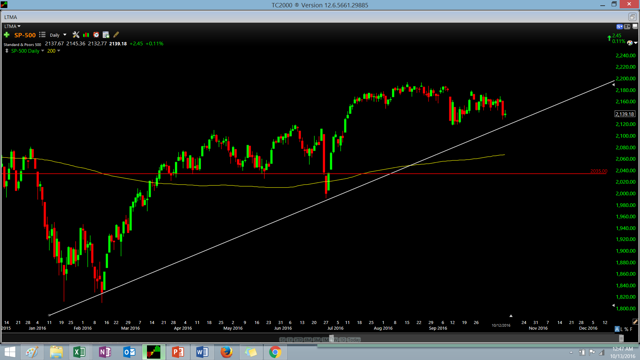 The market continues to make higher lows and higher highs, and while it is off 3% from its highs, this is no reason to be bearish. Given the pervasive bearishness in sentiment data, I would be very surprised if 2200 was the top. I remain in the camp that the S&P-500 sees 2350-2450 in 2017, and would not be surprised if the election was the catalyst to allow us to move higher. Markets hate uncertainty and currently they are held hostage to the election outcome. Once the markets can quantify a level of certainty and a presidential candidate is elected, I believe the markets will be able to continue higher. As long as the S&P-500 remains above the 2035 level I remain very bullish this market. Nothing goes up in a straight line and the S&P-500 is no different as it sits down 0.6% with the overnight futures. For those in cash I can understand having jitters with the election only 2 months out. For those that are short, shorting uptrends and bull markets is not a winning strategy. Even if this trade does work, it is only reinforcing poor trading habits that will eventually catch up to you.
Ed Seykota, a famous trend follower said, and I quote:
"If you want to know everything about the market, go to the beach. Push and pull your hands with the waves. Some are bigger waves, some are smaller. But if you try to push the wave out when it's coming in, it'll never happen. The market is always right".
Disclosure: I am/we are long SPY.
I wrote this article myself, and it expresses my own opinions. I am not receiving compensation for it (other than from Seeking Alpha). I have no business relationship with any company whose stock is mentioned in this article.
Additional disclosure: If you liked this article and found it useful, please feel free to follow me by clicking on my name next to my avatar at the top of this article. I also invite you to check my performance at TipRanks.com where I am ranked in the Top 100 Contributors for performance with an average return this year of 60% on new long positions.