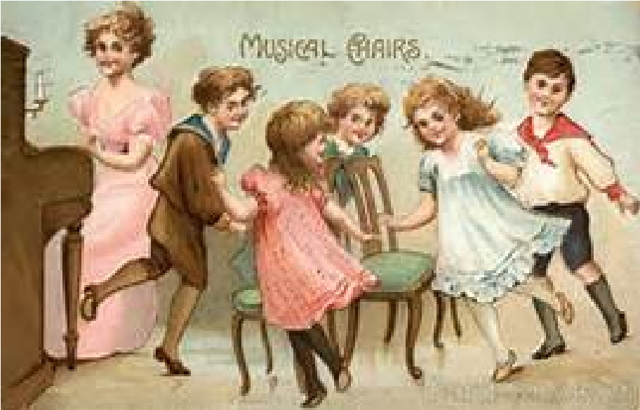 After an upbeat second quarter earnings report, Francesca's Holdings (NASDAQ:FRAN) released peculiar news. Based on its own history, the boutique retailer managed a decent quarter. For the first time since 2012, the company's second quarter results delivered sales growth that outpaced location growth. And, although it registered 0%, it was also the first time since 2012 that comparable store sales growth was not negative in the second quarter. Unfortunately, CSS growth of 0% spoiled the company's three-quarter streak of positive CSS growth.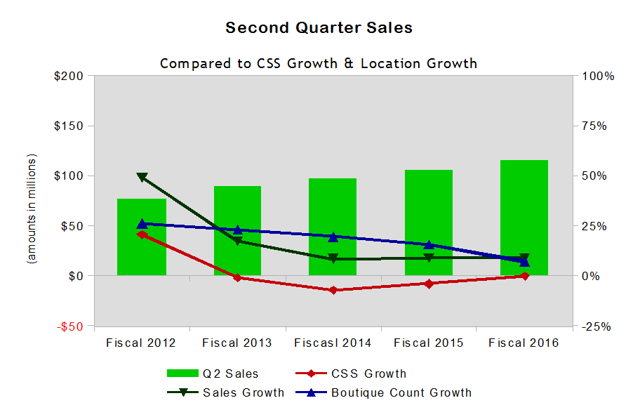 Source: Author-created from company data
The results were promising enough to prompt the company to increase full-year guidance. Like many retailers, Francesca's relies on the fourth quarter to deliver the most revenue. For the full year, it now expects revenue in a range of $473 million to $488 million. In the first six months of this fiscal year ending July 30th, revenue tallied just $221 million. Third quarter revenue is projected to be between $114 million to $118 million. Obviously, the fourth quarter is expected to tally in a range of $134 million to $153 million. Last year's fourth quarter revenue totaled $134.6 million and full-year revenue totaled $439.4 million.
Francesca's expects to have approximately 668 boutiques when this fiscal year ends or 8% more. Using a midpoint of $480.5 million for full-year sales, revenue growth is expected to be 9%. Though its CSS growth projection for the full year is a low single-digit decrease to a low single-digit increase, it does appear the projection could be positive for a second year.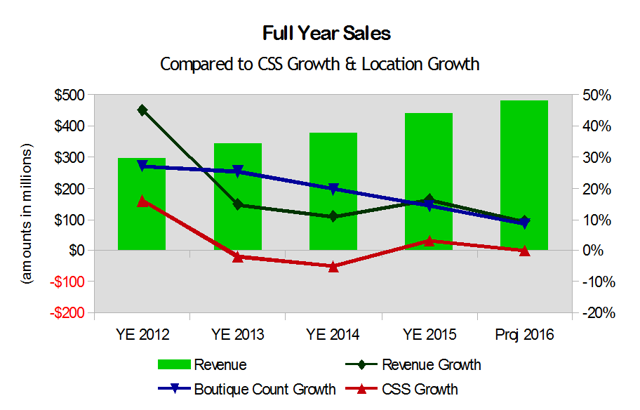 Source: Author-created from company data
Francesca's struggles have not gone unattended. In fact, Francesca's may well have been attended by far too many. Since 2012, the company has had seven management teams.
| | | |
| --- | --- | --- |
| Date | CEO | President |
| Year beginning 2012 | John De Meritt | Non-existent position |
| 08/01/12 | John De Meritt | Neill Davis |
| 01/01/13 | Neill Davis | Theresa Backes |
| 01/27/14 | Neill Davis | Neill Davis |
| 12/05/14 | Michael Barnes | Michael Barnes |
| 05/17/16 | Richard Kunes (interim) | Richard Kunes (interim) |
| 09/20/16 | Steven Lawrence | Steven Lawrence |
As shown, just days after the release of second quarter results on September 7th, the company announced its fifth CEO and seventh CEO/President combination in five years.
Looking back, the market was quite optimistic when Mr. Barnes was announced CEO and president in 2014. Francesca's stock price jumped 30% on volume of approximately 9.5 million shares. Yours truly was less enthusiastic.
"They want to believe a 63-year-old male with high-end jewelry experience who wanted to go home will save a flailing low-end fashion retailer aimed at 18 to 35 year-old females. Yet, a reasonable investor should probably question why after 5 tries in 2 years (detailed here), Francesca's can't find a better fit."
In hindsight, it's safe to say there was obviously more to the story. When Mr. Barnes abruptly resigned, the market was not happy. The stock price fell 30% on volume of approximately 14.6 million shares.
The lack of succession planning was a clear failure of oversight by Francesca's board, especially considering the game of musical chairs the company had experienced. To his credit, Mr. Barnes had created several executive level positions. That did introduce the possibility one or more of the new hires may have been targeted for grooming. Perhaps whatever incident prompted Mr. Barnes' resignation simply happened sooner than anticipated.
One hire was Laurie Hummel as Chief Merchandising Officer. On October 29th, 2016, Francesca's announced the appointment of Ms. Hummel and a start date of November 30th. She replaced the prior CMO who had been with Francesca's for five years - through all of the leadership iterations.
Ms. Hummel's prior experience included stints at Kohl's (NYSE:KSS), Stage Stores (NYSE:SSI) and Macy's (NYSE:M). Her experience included exposure to junior sportswear, intimate apparel, dresses, denim and fashion tops. This was particularly encouraging considering Francesca's target demographic is the 18 to 35-year-old female consumer.
Shortly after Mr. Barnes' resignation, there were two insiders purchasing Francesca's shares on the open market. Mr. Kunes, the newly-appointed interim CEO and President purchased 20,000 shares on June 13th. Ms. Hummel purchased 16,500 shares in two transactions on June 27th and July 6th. Based on those buys, it would be reasonable to fathom Ms. Hummel positioning for an appointment to CEO or President.
As well, Ms. Hummel had been part of the team assisting Mr. Barnes with shaping Francesca's Vision 2020. The odds of a new CEO simply and unquestioningly executing the newly-defined vision and strategy were fairly low. But, the odds of Ms. Hummel embracing Vision 2020 were likely greater.
Yet, Ms. Hummel was not appointed to the position. Instead, on September 20th, Mr. Kunes announced the hire of Mr. Steven Lawrence. Mr. Lawrence had most recently served as the Chief Merchandising Officer of Stage Stores. Before Stage, Mr. Lawrence was employed by J.C. Penney (NYSE:JCP).
There's no need in stating the obvious. Actually, perhaps there is. Once again, Francesca's Board hired a male to lead the retailer targeting 18 to 35-year-old female consumers. It hasn't worked in five years. Of course, one would like to believe this time will be different.
Ms. Hummel and Mr. Lawrence obviously worked together at Stage Stores. Ms. Hummel left Stage in April 2013 after a six-year tenure. She held the position of Vice-President and Divisional Merchandise Manager of Junior Sportswear and Intimate Apparel. Mr. Lawrence joined Stage in 2012. As mentioned already, he was the Chief Merchandising Officer.
Like Kohl's or J.C. Penney or Macy's, but unlike Francesca's, Stage Stores carries merchandise for the whole household. Its storefronts carry five names - Bealls, Goody's, Palais Royal, Peebles and Stage. The average size of a Stage store is over 10 times the size of a Francesca's boutique. Its Women's department represents 38% of its merchandise sales.
Both Francesca's and Stage are headquartered in Houston, Texas. Stage tends to operate in communities with populations below 150,000. Over 65% of its brick and mortar locations serve communities with less than 50,000 people.
Unlike Francesca's, Stage strives to carry nationally recognized brands such as Nike (NYSE:NKE), Estee Lauder (NYSE:EL), and Levi's. Stage has a strong relationship with G-III Apparel (NASDAQ:GIII) carrying several of its brands - Jessica Simpson, Ralph Lauren, and Calvin Klein.
Just how successful has Stage Stores been in the past few years, in the same time frame Francesca's has struggled? There's hardly a resonating difference in performance. In fact, for five consecutive quarters, Stage Stores has missed analysts' average estimates.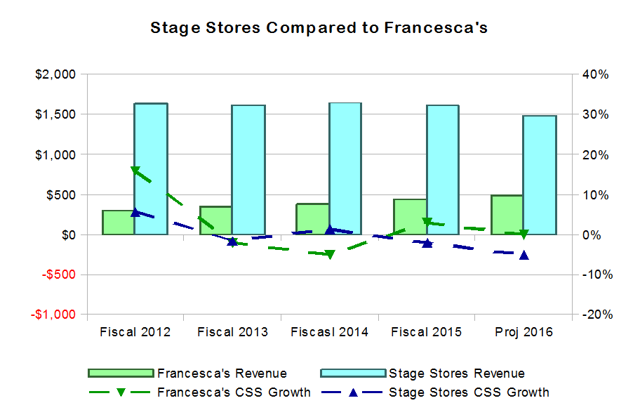 Source: Author-created from companies' data
Because of the concentration of Stage Stores in energy-related communities (approximately 40%), it was hit particularly hard in 2015. Stage Stores was also impacted by currency issues related to the rise of the Mexican peso.
In other words, Mr. Lawrence is not coming from an unquestionably successful situation. In the most recent Stage earnings call, he described the retail environment Stage faced.
"I think the customer is being very savvy and smart when they shop, and they seem to be saving their dollars to spend during those time periods, when they know that retailers are going to be aggressive. So we have planned our promotional cadence around that, and have aligned to that."
In the fourth quarter of 2014, he shared his stance on promotional activity.
"Well, I would tell you I had a boss who used to refer to retail as kind of a full contact sport. It's always promotional."
Mr. Barnes was not of the same mindset though it may have looked that way initially.
"So just know that we have taken that as a real challenge to us to make sure that our promotional cadence is very robust, but very well controlled."
His stance quickly changed.
"We are really working towards a slightly less promotional atmosphere."
His focus narrowed.
"Number one, we have been very focused on not becoming over promotional."
Formulas evolved.
"But we're really taking a much more scientific approach to how we're going to do that from pricing models to measured cadence in our promotions, to how we are putting an entire strategy behind our clearance that we believe also will help us over time."
Already there may be a difference in strategy. But, that's not to say there was no similarity. Stage's customers share desires fitting Francesca's strategy.
"Our customers love style and brands at a value and they love variety and newness."
There's another difference between the two companies' operational procedures that should offer relief to Francesca's shareholders. When Stage announced Mr. Lawrence's replacement, it was clear the company emphasizes succession planning, an obvious oversight to date at Francesca's.
"Our company succession planning has properly prepared us for this move and I have great confidence in Thorsten's ability to lead our merchandising, planning and allocation teams while advancing our long-term strategic plans."
With gender inequality such a hot topic in the election this year, it would be enlightening to know if Francesca's could not find a qualified female leader. Naysayers could argue the challenges in retail are oblivious to gender. But, Francesca's does market primarily to 18 to 35-year-old females.
The naysayers could even point to the abrupt resignation of Stein Mart's (NASDAQ:SMRT) CEO, Ms. Dawn Robertson, on September 29th. Ms. Robertson also performed the duties of CMO for the company. With the news, the company previewed third quarter results and shared comparable store sales had decreased 4% year over year. Stein Mart's Chairman of the Board, Jay Stein, did say the company would not scrap all of Ms. Robertson's initiatives. But, interim CEO, Mr. Hawkins, believed some strategies were implemented too quickly and discombobulated the retailer's core consumers.
This is certainly not meant to imply Ms. Robertson would be representative of all female leaders in the retail fashion industry. Nor is it meant to imply male leaders have no place in the industry. Who knows if Ms. Hummel was ready for the top spot at Francesca's? Then again, who knows if Mr. Lawrence is ready? The one thing Francesca's followers do know is the company has only had male CEOs since 2012. And, with so much attention on gender inequality in the air, that could seem quizzical.
Disclosure: I am/we are long SMRT,NKE.
I wrote this article myself, and it expresses my own opinions. I am not receiving compensation for it (other than from Seeking Alpha). I have no business relationship with any company whose stock is mentioned in this article.