Amid NQ Mobile's (NYSE:NQ) never ending new deals to sell their FL Mobile subsidiary and other events, like their last minute attempt to avoid a debt default, sometimes it is easy to forget or overlook NQ Mobile's actual business itself. If NQ Mobile ever really manages to divest FL Mobile after announcing deal after deal for around two years and counting, then their main business going forward is suppose to be live video streaming. This is the business NQ Mobile calls Showself.
I previously went over how the live streaming business in China works and makes money in the past. Here's a quick summary of how Showself and similar types of websites and apps work once again. These apps involve mostly young women who host web cam sessions. They chat with their audience or put on some type of performance for them, such as singing and dancing. The viewers are mostly male and they can use real money to buy online virtual gifts for the hosts and performers.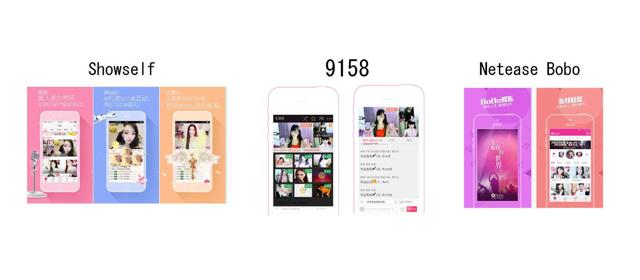 Men buying virtual gifts for females hosts on these sites are how they generate the majority of their revenue. These websites share part of the revenue from the virtual gift purchases with the performers and hosts. This encourages the hosts to broadcast themselves on these websites and to get their viewers to buy them virtual gifts. Here is an English article describing the industry in more detail.
NQ Mobile often likes to claim how great the live streaming business is and how well positioned Showself is. An example is this retweet from the NQ Mobile IR Twitter account.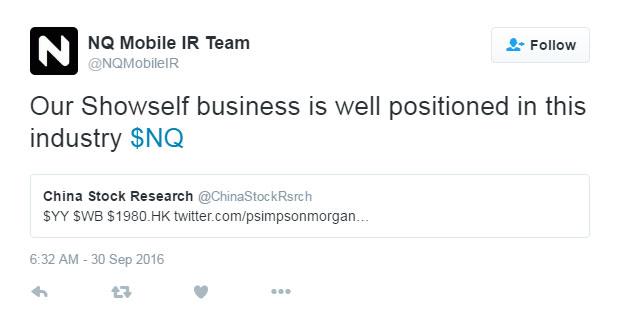 Even though NQ Mobile was not among the stocks mentioned in the original tweet, that did not stop them from letting people know how "well positioned" Showself apparently was too.
After seeing the tweet and taking an actual look at the Showself business and the industry though, the prospects looks rather dubious for Showself and NQ Mobile.
Tons Of Competition In The Industry And No Differentiation
One thing NQ Mobile is certainly telling the truth about with regsrd to their Showself business is how there is a lot of competition in this space. Last year in August 2015 in a previous article I wrote there is a section titled "Showself - Tons of Horrible User Reviews And Tons of Competition" where I already mentioned how there were dozens and dozens of websites and apps just like Showself in China. Now a year later there is even more competition.
Not only are there hundreds of these live streaming apps in China but almost all of them offer the same content. That is they all involve female hosts who stream themselves live and try to get male viewers to buy them virtual gifts.
Lin Yanting, a CEO of one of these live streaming apps in China called vHall, pointed out how all these apps are just the same in this article titled "Streaming silver now, not gold." In the article he is quoted as saying:
Lin said the market for individual users cannot sustain as many as 200 apps in the long run. "First, the user generated content provided by such apps is so similar in nature that it is almost impossible to differentiate between them. No matter which app you open, you'll find dozens and dozens of thin, long-haired female hosts with big eyes and pointy chins. And all apps operate on a similar business model-they and their hosts split the virtual gifts sent by users.
If you visit NQ Mobile's Showself website you can see indeed it is filled with nothing but "dozens and dozens of thin, long-haired female hosts with big eyes and pointy chins" as the CEO of vHall puts it in the article.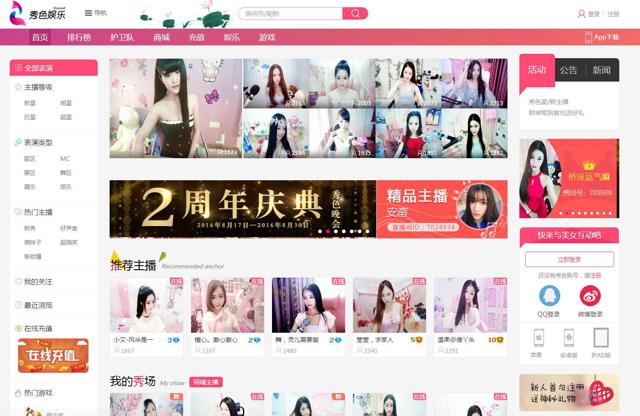 Furthermore, during NQ Mobile's Q2 of 2016 earnings conference call on August 26, 2016, the company disclosed that it released two new live streaming apps named Haixu and Lehai.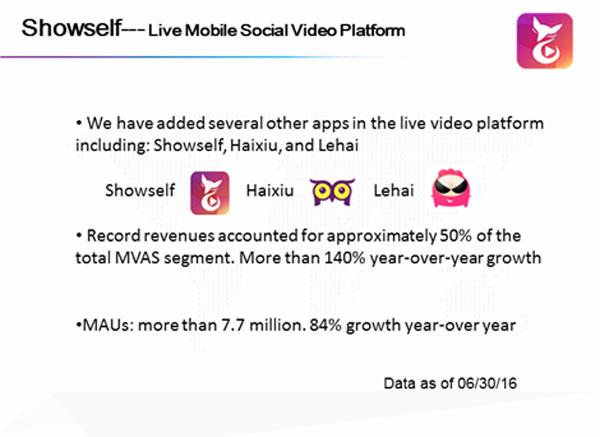 If you visit the Haixiu website you can see that it is still just filled with long-haired female hosts.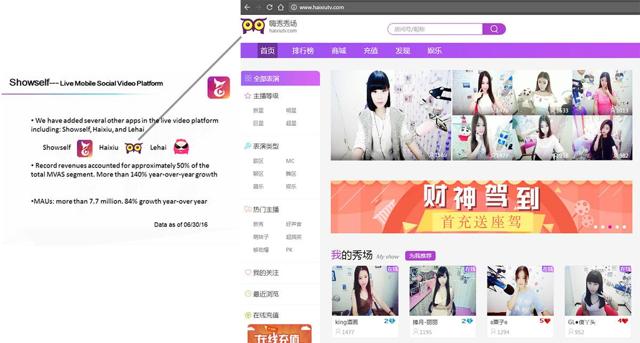 The same is true for NQ Mobile's other new app called Lehai. It is also just filled with similar types of female hosts.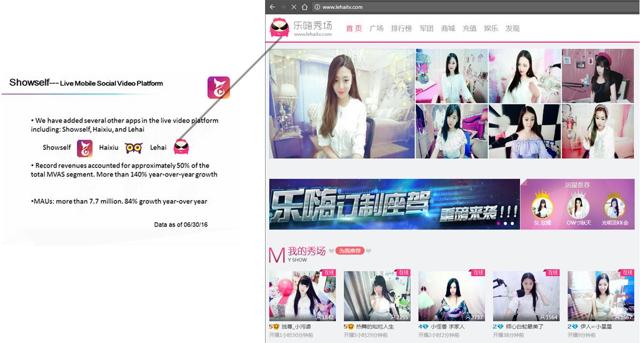 So the two new live streaming apps released by NQ Mobile really are more or less just copies of Showself and just offers the exact same type of content.
One of the main reasons why there are so many similar live streaming apps in China is because there are few barriers to entry. It really doesn't cost or take much to create a web cam streaming app. The competition is continuing to increase further as major social networks in China are also adding live streaming features to their apps and websites now.
This article dated May 12, 2016, describes how Weibo (NASDAQ:WB), known as the Twitter of China, and Momo (NASDAQ:MOMO), regarded as the third most popular social networking app in China, recently added live streaming features.
Another article dated July 27, 2016, states that Tencent, one of China's largest Internet companies, has already developed and released six different live streaming apps. Tencent also is looking to add live streaming features to their WeChat platform, which is China's most popular messaging app.
So not only is competition continuing to increase, but larger companies with a lot more resources have been entering the business as well.
Showself Is One Of The Lowest User Rated Live Streaming Apps
In the article last year I also talked about how the Showself app has tons of negative reviews. Back in July 2015, the Showself app on iOS had amassed over 1,000 negative 1 out of 5 star reviews. Overall it was rated 1.8 of 5 back then with a total of 1,284 user reviews.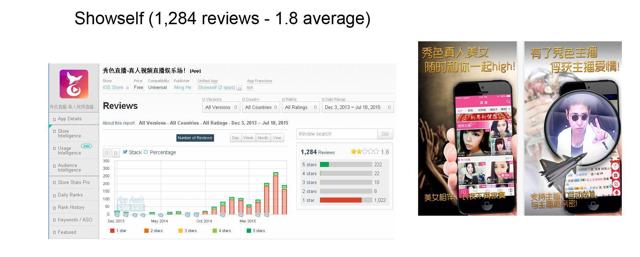 Now checking back over a year later, the negative 1 out of 5 star reviews for Showself continue to pile up. There are now over 2,000 users who rated the Showself app the lowest possible 1 out of 5. The overall rating now is 2.0 out of 5 with a total of 2,833 user reviews.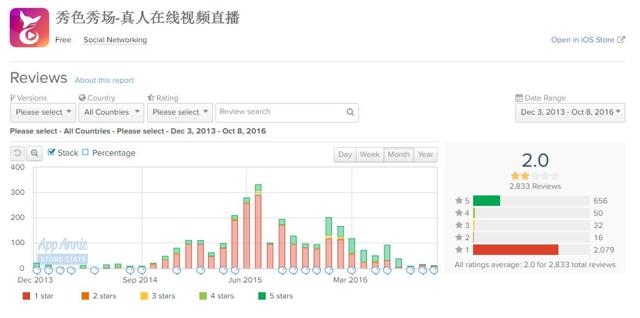 Here is computer translation from Chinese to English of the latest reviews left by users for the Showself app. Many of the 1 star reviews by users seem to say they were lied to or deceived somehow by the app.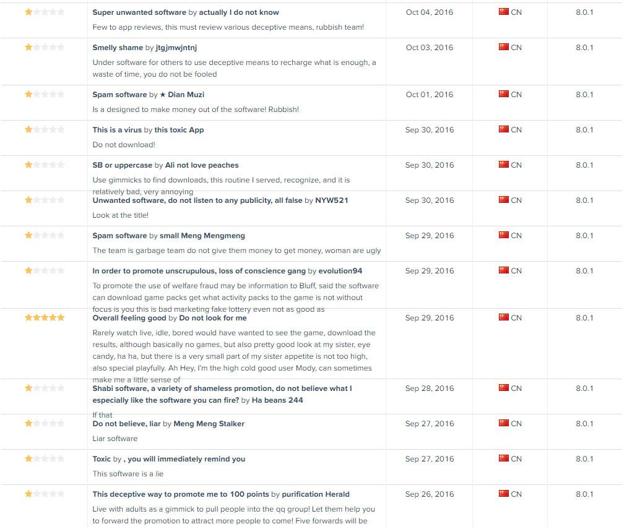 Regardless of the reason for all these negative reviews, this makes Showself one of the lowest, if not the lowest, user rated live streaming app in China. So not only are there tons of competition in this industry but Showself is one of the poorest rated live streaming apps among all the competition. Being so negatively rated by users in a field with so many competitors is hardly a good position to be in.
All these negative reviews for Showself may be one of the reasons why NQ Mobile released the two new live streaming apps with the names Haixiu and Lehai which offer the exact same content as Showself.
Monthly Active Users For Showself Already Declining
Another issue is that amid all the growth for live streaming apps in China, NQ Mobile somehow actually reported a decline in active users from the end of Q1 of 2016 to the end of Q2 of 2016.
As March 31, 2016, NQ claimed to have 8.5 million active users for Showself. As of June 30, 2016, the reported active users for Showself were only 7.7 million.

This is a decline of around 800,000 monthly active users in three months. NQ Mobile's reasoning or excuse is that they are now more focused on monetizing their Showself users rather than just growing users.
Showself's Revenue Per User Seems Questionably High Compared to Competitors
It is true the reported Showself revenue continued to increase amid the decline in active users in Q2 of 2016. However when comparing Showself's revenue per active user to competitors, it also seems to be questionably high.
For Q2 of 2016 NQ Mobile claimed that their Showself live streaming business accounted for 50% of their MVAS revenue and had 7.7 million monthly actives users (MAUs for short).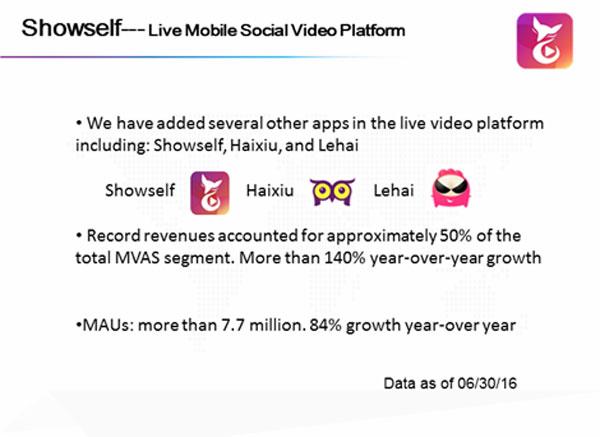 With NQ Mobile reporting $48.6 million in MVAS revenue, this means Showself's revenue for the quarter would be have to be around $24.3 million.
Momo Inc is another company which derives a significant portion of their revenue from live streaming in China.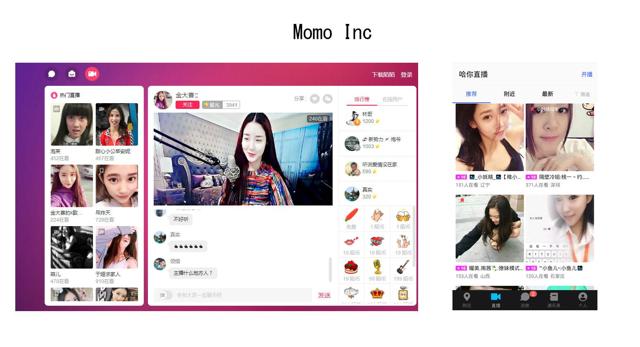 From their Q2 2016 earnings report Momo reported having 74.8 MAUs and $57.9 million in revenue from their live streaming video business. Live streaming accounted for almost 60% of Momo's revenue in Q2 of 2016.

Another publicly traded competitor is Tian Ge Interactive Holdings which is listed in Hong Kong under the stock code 1980. They own 9158, Sina Show, and other live video broadcasting websites and apps.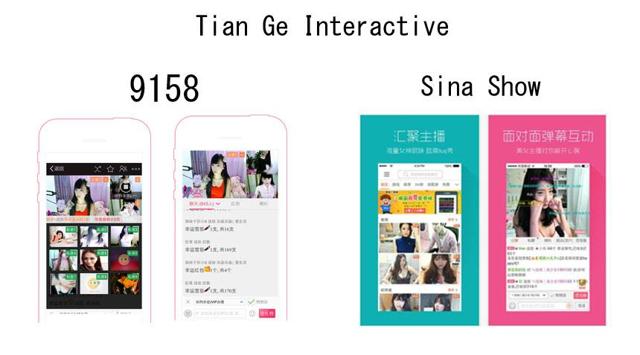 From their 2016 interim report, Tian Ge had around 18.6 million MAUs and revenue of 177.27 million RMB in online interactive entertainment revenue for the quarter. 177.27 million RMB is approximately $26.3 million USD. The small portion of other revenue is from "provision of e-commerce transactions, provision of beauty clinic service, sales of software and other services" and not related to their live streaming business.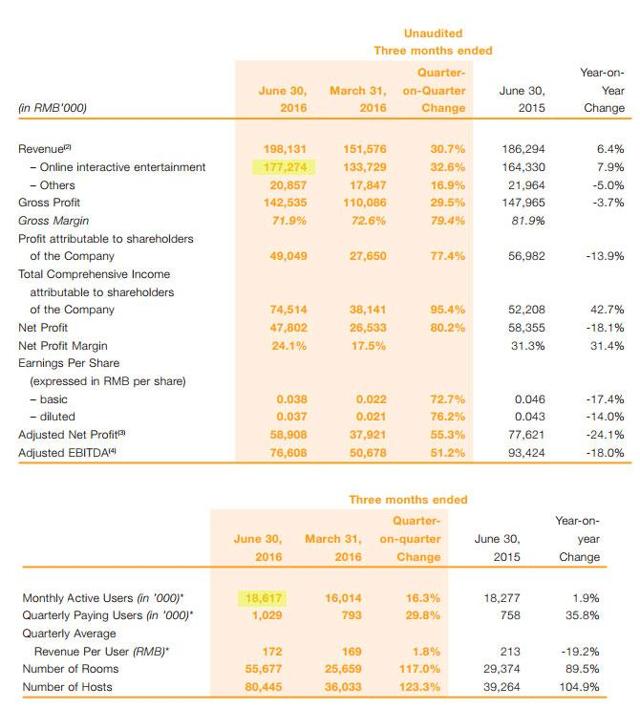 YY Inc (NASDAQ:YY) is another major company in the live video streaming business in China. However YY also generates a significant portion of their revenue from online games, music and dating. Since the company does not provide a specific breakdown of their revenue and active users specifically from the live streaming business, it was not possible to extract data for comparison.
Here is a chart comparing the live streaming revenue per active user for NQ Mobile's Showself, Momo and Tian Ge.
| | | | |
| --- | --- | --- | --- |
| Platform | Monthly Active Users | Revenue Q2 of 2016 USD | Revenue Per Active User |
| Showself | 7.7 million | $24.3 million | $3.15 |
| Momo | 74.8 million | $57.9 million | $0.77 |
| Tian Ge | 18.6 million | $26.3 million | $1.41 |
As you can see, NQ Mobile's Showself is somehow able to report a 4x and 2.2x greater monetization rate per active user compared to Momo and Tian Ge. Either Showself has discovered some secret formula for the monetization of live streaming users in China or the numbers seem too good to be true.
As mentioned earlier, all these live streaming apps in China are pretty much the same and generate almost all their revenue the exact same way. It involves female hosts getting men to buy them virtual gifts using real money. Given how Showself and NQ Mobile's two other new live streaming apps called Lehai and Haixu are just like all the other apps in the industry, it seems highly questionable how they could achieve a much greater monetization rate per active user compared to Momo and Tian Ge.
Data Shows Tons Of Competitors Outperforming Showself
Furthermore I took a look at the performance of NQ Mobile's Showself app and compared it to other Chinese live streaming apps using available independent data. This data shows there are tons and tons of competitors that are outperforming the Showself app in terms of revenue currently.
Data from AppAnnie shows that on October 11, 2016, in China, Showself had an overall grossing rank of 845 on iOS.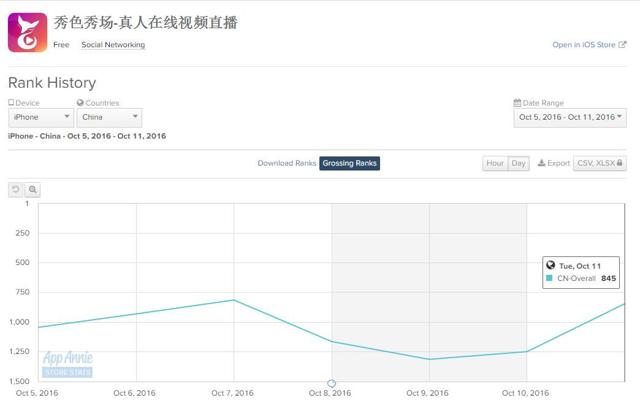 The lengthy chart below shows different live streaming apps in China and their overall iOS grossing rank on the same day. I found well over 30 other live streaming apps with a higher grossing rank than NQ Mobile's Showself app on October 11, 2016. A higher grossing rank means the app generated more revenue from in app purchases on that day.
In the chart I also noted live streaming apps that are owned by Chinese companies trading in the United States as well as other large well-known Chinese companies.

The top grossing live streaming app on October 11 in China is Momo, which had an overall grossing rank of 31. YY's app was the number four top grossing live streaming app with an overall grossing rank of 109.
Meanwhile NQ Mobile's Showself is way below at number 37 with an overall grossing rank of 845. Therefore not only is there a lot of competition in the industry, Showself seems to be behind a significant number of them as well. This data would suggest NQ Mobile's Showself is not anywhere close to being "well positioned" like Momo and YY is.
In addition, being around 37th place among live streaming apps with an 845 overall grossing rank on October 11th may actually be considered a good day for Showself too. On October 10th, Showself had an even lower 1,248 overall grossing rank. On October 9th it was 1,313 overall grossing.
You can manually enter the included iTunes webpage URL for each app in the chart to confirm that these are indeed all Chinese live streaming apps. Even if you can't read Chinese you can usually almost immediately tell based on the pictures provided. The majority of these apps will include a picture of a young women broadcasting themselves like these below for example.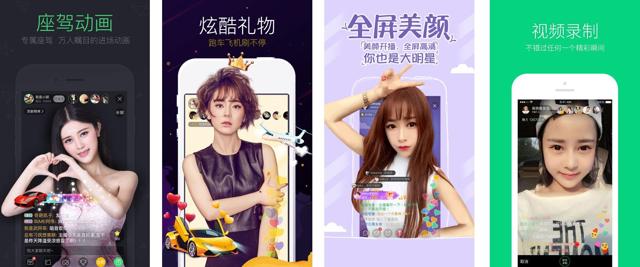 These four examples were all taken from different apps. Once again the CEO of vHall wasn't joking when he stated how all these live streaming apps in China are all practically just the same.
Only A Few Live Streaming Apps Expected To Survive
Last month in September there was a report released by Credit Sussie on the live streaming industry in China. In the report they stated that they expect "the field to consolidate to fewer than 10 players."

This means the majority of the hundreds and hundreds of live streaming apps in China right now won't survive in the long run. MOMO and YY were mentioned among the companies Credit Sussie expects to be among the winners. Given that MOMO and YY are usually among the top five grossing live streaming apps in China on iOS every day, this seems like a fairly probable assumption.
The prospects for NQ Mobile's Showself though is a whole lot more questionable. Showself's monthly active users are already declining, the app is poorly rated by users, and there are tons of competitors that are outperforming them on iOS right now.
The odds may lean more towards NQ Mobile's Showself losing out to the competition rather than surviving and thriving in the long run. This would be similar to how NQ Mobile's original mobile security business has largely disappeared now.
Government Crackdown On Live Streaming In China
Furthermore, in another previous article back in April 2016, I mentioned how the Chinese government is starting to crack down on live streaming in the section titled "New Government Crackdown in China on Online Broadcasting Business." The crackdown largely involves removing and punishing live streaming apps and websites which contains content deemed to be vulgar or pornographic by the Chinese government.
There is a recent article in English titled "Live-broadcast websites closed in campaign" that is dated September 15, 2016. It talks about how some live streaming websites were closed in China as part of the mentioned crackdown.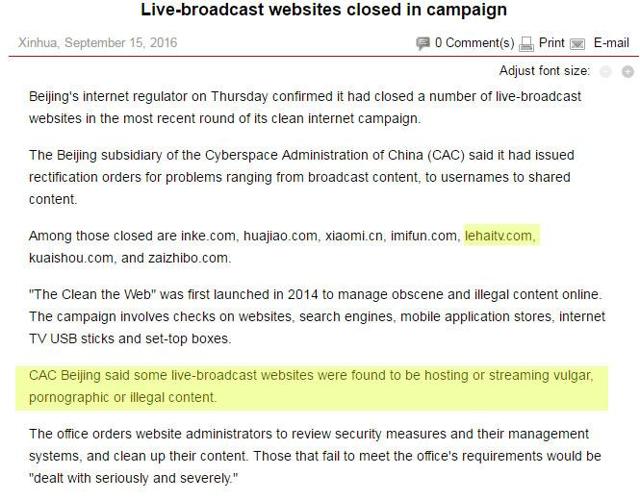 One of the websites listed among those closed by the Cyberspace Administration of China (CAC for short) is lehaitv.com. This is the website of NQ Mobile's new Lehai streaming app which I mentioned earlier in this article.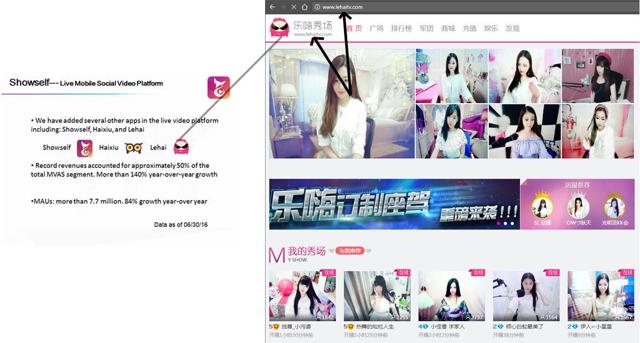 The article states that the CAC found some live-broadcast websites which were "hosting or streaming vulgar, pornographic or illegal content." Since the lehaitv.com website is available again now, the issue may have been fixed. However there's no guarantee that any of NQ Mobile's live streaming sites or apps won't be caught up in future crackdowns and shut down again.
As mentioned before the Showself app on iTunes contains the warning: "You must be at least 17 years old to download this app. Frequent/Intense Sexual Content or Nudity. Frequent/Intense Mature/Suggestive Themes."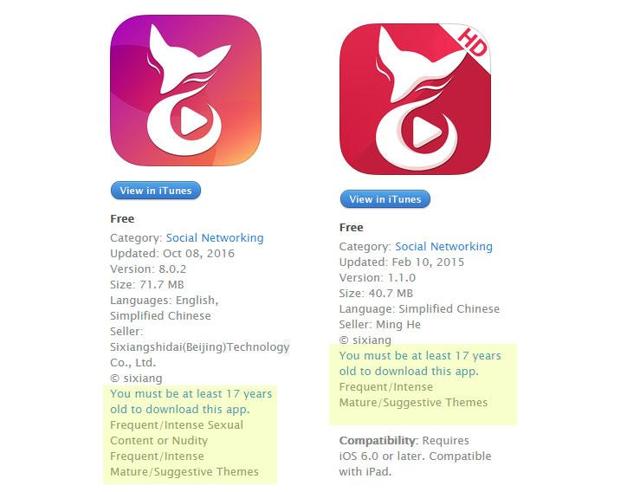 That is the exact type of content the government crackdown is looking to clean up. So it would appear the crackdown continues to be a significant regulatory risk for NQ Mobile and Showself.
Conclusion
It seems NQ Mobile claiming how "well positioned" Showself is would be a huge stretch. Not only is the live streaming business in China highly competitive with hundreds of similar apps with little differentiation, but there are well over 30 other live streaming apps which are outperforming NQ Mobile's Showself app on iOS right now. On top of that, the monthly active users for Showself are already declining and Showself is one of the poorest user rated live streaming apps in China. Therefore it may be a huge question whether or not Showself can even survive the expected industry consolidation in the future.
Disclosure: I/we have no positions in any stocks mentioned, and no plans to initiate any positions within the next 72 hours.
I wrote this article myself, and it expresses my own opinions. I am not receiving compensation for it. I have no business relationship with any company whose stock is mentioned in this article.