Costco (NASDAQ:COST) reportedly performed well in its 4th quarter report this year, continuing years of impressive growth once more. Comparable store sales growth were up again, membership renewals were steady, and EPS grew to $1.77 a share as compared to the $1.73 recorded in the same period last year. But despite these impressive numbers I must say I am starting to fear the remaining growth capabilities of Costco, a company which has persevered through rising competition from companies such as Amazon (NASDAQ:AMZN) while experiencing its own growth saturation struggles.

Let's cut to the chase. Despite experiencing organic growth over the past many years Costco is beginning to feel the effects of increasing online sales on its financials, even if they might not be visible immediately. Let's start off by taking a look at membership growth over the past few years. Currently standing at 86.7 million cardholders the company recorded a growth of 6.6% in total cardholders over the past year, boasting a renewal rate of 90%. However, when these figures are correlated with the membership fees growth rate we get a completely different picture. Revenue growth from Costco's high profit margin source is actually slowing down.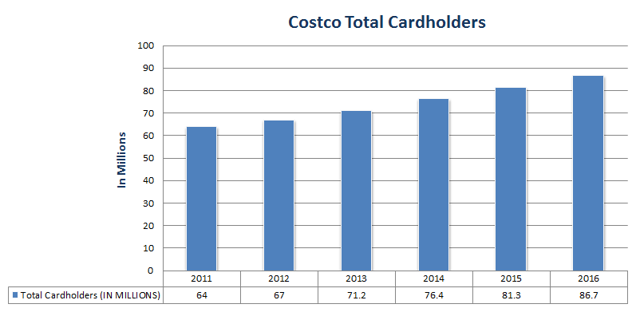 (DATA: Costco Annual Reports Chart by Author)
Now this leads to a particularly worrying scenario. This slowdown could very well be signaling an impending price hike in membership fees by the warehouse club, a hike which last happened back in 2011. What makes a price a hike different and far more dangerous today is the fact that competitors such as Amazon are far stronger than they were back then. Amazon has more than doubled their revenues in these 5 years, while Costco has increased its revenues by a third. In other words, Costco has already started to lose some market share to its online competitor.
Granted, there will always be a wide range of products which consumers will prefer physically going to the store to purchase, but the way online shopping is affecting conventional grocery shopping cannot be ignored for long. That is why Costco has to be very careful with the way it decides to increase its membership fees. A forecasted 10% hike on existing membership fees could seriously dent membership growth, even forcing the company's competitors to take advantage of the situation through various marketing tactics.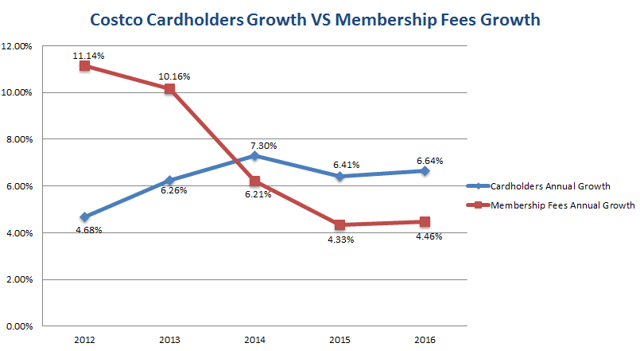 (Data: Costco SEC Filings Chart by Author)
To further support this thesis let's take a look back at cardholder growth rates in comparison to membership fees growth rates. Both of these metrics continue to experience positive figures which on its own is a merit worthy of appreciation in the prevailing market scenario. However membership fees growth rate continues to drop even though cardholders' growth rate maintains its steady upward trend. This, along with the 90% membership renewal rate, shows that Costco membership trends are slowly but steadily heading towards saturation. Near such a saturation point a price hike could very likely be disastrous.
Even though Costco seems to be on the verge of experiencing plateauing growth trends, the company still performs as a market leader with its ability to perform on extremely low margins on its products by focusing on volumes and loyal customers. Investors acknowledge this trait of the company, which is clear from the consistently high P/E ratio assigned to the company stock, far higher than the industry average of 21.70.
That's where my other concern lies, that the stock is overpriced. I don't expect people to start shorting it immediately and sending the stock spiraling downwards in a frenzy, but I see little or no room for growth in the stock price. Any price appreciation beyond its current price of $150 per share is not going to last, so if you're considering walking into COST for some short term capital gains then think again. In the long run I do expect the stock to eventually settle down once its sales growth figures finally do stagnate, even if they don't head into negative territory. The company's latest quarter showed impressive results but I seriously doubt they will last. The consumer services market is evolving and the warehouse club industry is feeling its effects. Eventually how they decide deal with this change will determine the course of the outcome, but so far it doesn't look too promising for Costco.
Disclosure: I/we have no positions in any stocks mentioned, and no plans to initiate any positions within the next 72 hours.
I wrote this article myself, and it expresses my own opinions. I am not receiving compensation for it (other than from Seeking Alpha). I have no business relationship with any company whose stock is mentioned in this article.