Crude oil inventories increased substantially this week after inexplicably (i.e. lower imports) having fallen for the past couple of weeks. The decline in gasoline and distillate inventories would normally mitigate the increase in crude oil stocks; however, this is the first report under EIA's new methodology which excludes crude oil lease stocks from inventory numbers. EIA's new approach gives producers even more ways to hide stocks from inventory numbers in the near term, so weekly changes in crude oil stocks will be a bit less relevant than before.
Crude oil prices (NYSEARCA: USO) dropped substantially after the report was released, probably on the crude stock build, then rebounded to unchanged.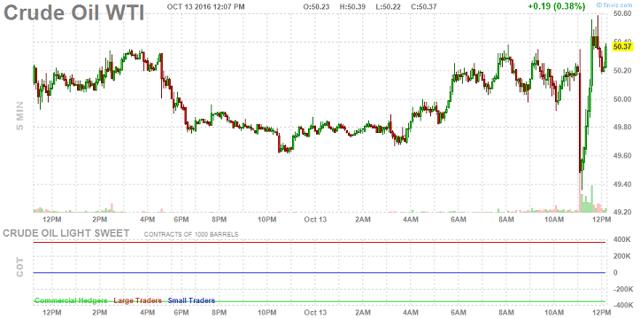 Source: Finviz.com
Stocks:
* Crude oil inventories increased by 4.8 million barrels.
* Gasoline inventories decreased by 1.9 million barrels.
* Distillate inventories decreased by 3.7 million barrels.
Crude oil stocks finally increased this week after four weeks of sequential decreases. The crude oil build is mitigated by a corresponding decrease in gasoline and distillate inventories, although the numbers are somewhat clouded by EIA's new methodology.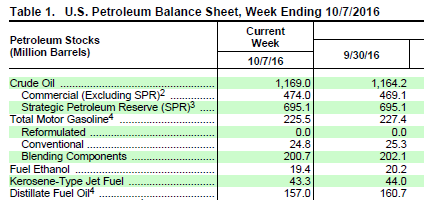 Source: EIA
Production and Refinery Utilization:
* Domestic production fell by 17,000 bpd despite an increase in Alaska production.
* Production in the Contiguous United States (excluding Alaska) decreased by 36,000 barrels per day. Seemingly a large number, although we believe this is just the monthly re-benchmarking (the monthly short-term energy outlook was released yesterday) under EIA's new methodology for production (in effect since August).
* Imports increased by 151,000 bpd. Still running below normal levels.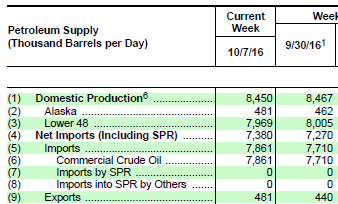 Source: EIA
* Refinery utilization decreased by 270 basis points to the mid-80's, which is normal for the shoulder season. Despite falling refinery utilization rates, with the exception of this week, crude oil inventories have been falling substantially during the shoulder season, contrary to what should be normally expected.
This is mostly likely due to lower imports, although it could also be a result of inventory re-shuffling in anticipation of this week's new methodology for crude oil stocks held at leases.

Source: EIA
Cushing, Oklahoma:
* Cushing, OK inventories decreased by 1.4 million barrels. We still believe that Cushing is essentially at maximum operating capacity. Cushing inventories should not be affected by the new methodology since there is no production at Cushing.
* Gulf Coast inventories increased by 3.0 million barrels. Gulf Coast numbers are affected by the new methodology and exclude more than 20 million barrels of crude oil stocks held at leases. Even with this change, Gulf Coast inventories are still running at historically high levels.

Source: EIA
Conclusion:
In principle, this week's large crude oil inventory build is not that material given the fall in gasoline and distillate stocks. In fact, combined with the decrease in domestic production (also the result of monthly re-benchmarking) it would normally be somewhat bullish.
However, starting with this report, inventory numbers for crude oil exclude stocks held at leases and therefore are less relevant on a weekly basis since producers can now 'hide' production on site. Although oil that has been extracted from the ground will eventually find its way into the inventory numbers, producers now have an additional option to exclude volumes at will in the weekly inventory report.
Disclosure: I/we have no positions in any stocks mentioned, and no plans to initiate any positions within the next 72 hours.
I wrote this article myself, and it expresses my own opinions. I am not receiving compensation for it (other than from Seeking Alpha). I have no business relationship with any company whose stock is mentioned in this article.