Target Corporation (NYSE:TGT) has seen its stock price decline by 13% in the past one year. Some of this has been due to the widespread pessimism over retailers. The prevailing fear is that online retail, led by Amazom.com (NASDAQ:AMZN), will devour the brick-and-mortar brands like Target.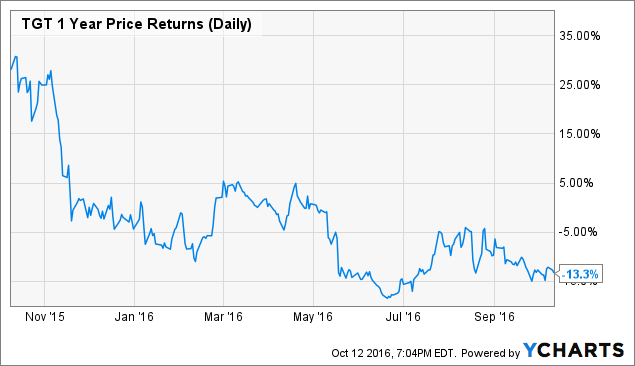 While it is true that Amazon and other Internet retailers have taken a sizable bite out of physical retailers, Target continues to generate steady earnings. It is growing its own e-commerce business at a rapid pace. And, Target has an additional catalyst for future growth, which is to expand its small-store format.
It seems there is a tendency to overlook Target as an investment, in favor of its bigger rival Wal-Mart Stores (NYSE:WMT). But Target has a long history of growth and a proven track record of delivering strong returns to shareholders. The company has increased its dividend each year for more than four decades, and Target stock currently offers a 3.5% dividend yield and an attractive valuation.
Potential Catalysts for Future Growth
Target has not taken investors on the smoothest ride over the past few years. Investors recall that in 2013, Target was hacked during the holiday shopping season that year, and millions of its customers' personal information was stolen. If that weren't bad enough, Target went on an ill-advised growth campaign in Canada, which ended in 2015 when Target closed all of its stores. The Target fiasco ended up costing Target $2 billion.
The good news is that Target has come a long way in the past three years, and now that it is back on firmer ground, it is investing in its future growth opportunities. The two most attractive catalysts for Target going forward are growth in e-commerce, and growth of its small stores.
Target grew comparable sales, a crucial metric for retailers that analyzes sales growth at stores open at least one year, by 2% in 2015. Its adjusted earnings per share rose 11% for the year. The growth was due in large part to Target's booming e-commerce business, which grew 34% in the critical fourth quarter holiday shopping season.
Target is off to a strong start to 2016 as well. Adjusted EPS rose only about 0.5% last quarter, but once again e-commerce performed well, with 16% growth. And, the most important time of year for Target is right around the corner. Fortunately, there are indications that the fourth quarter could be stronger than last year. The National Retail Federation expects 3.6% growth in total holiday sales this year, excluding autos, gas, and restaurants. This would be above the average annual growth rate since the financial crisis.
The other interesting catalyst for Target moving forward is that the company is growing its small-store count. Developing small stores provides Target with a growth avenue in big cities, where big-box physical retail is scarce. That is because large urban areas cannot accommodate the square footage needs of a large store. But building small stores is a way for Target to access millions of potential new customers. This year, Target has opened up smaller locations in New York, Chicago, Boston, and Philadelphia. It plans to double its current small-store count by the end of next year.
Excellent Dividend Track Record
Based on its Oct. 12 closing price of $67.86 per share, Target stock offers a 3.5% dividend yield, which is its highest dividend yield in the past decade.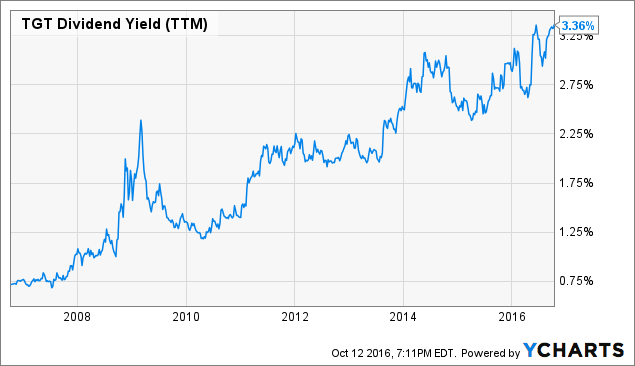 Furthermore, the company has a long history of paying dividends each and every year like clockwork. It has paid 196 consecutive quarterly dividends, a streak going back all the way to its initial public offering. It has raised its dividend for an impressive 45 years in a row, which qualifies Target as a Dividend Aristocrat. These are no token dividend increases-Target's dividend raises are frequently in the double-digit range. This year's dividend increase was 7.1%, which is still a very healthy raise.
The company also returns a lot of cash to shareholders through buying back its own stock. The company recently added $5 billion to its existing $10 billion share repurchase program, which has about $1.2 billion left. Target's $8.8 billion in share repurchases since January 2012 have reduced its shares outstanding by 19%. Such significant share buybacks are due to the cash flow generated by Target's business.
Target's current annualized dividend of $2.40 per share represents 51% of Target's 2015 adjusted EPS. This is a comfortable payout ratio that should allow Target to continue increasing its dividend each year.
Target Stock is in the Bargain Bin
Investors aren't giving much credit to Target, for its fundamental recovery in the past few years, nor its promising growth opportunities up ahead. Target stock trades for a price-to-earnings ratio of just 12, which is well below the S&P 500 Index valuation, which is closer to 20.
Target stock is on sale, and offers a high dividend yield and a proven ability to raise its dividend each year. Target stock could be at an attractive buying point for value and income investors.
Disclaimer: This article represents the opinion of the author, who is not a licensed financial advisor. This article is intended for informational and educational purposes only, and should not be construed as investment advice to any particular individual. Readers should perform their own due diligence before making any investment decisions.
Disclosure: I/we have no positions in any stocks mentioned, and no plans to initiate any positions within the next 72 hours.
I wrote this article myself, and it expresses my own opinions. I am not receiving compensation for it (other than from Seeking Alpha). I have no business relationship with any company whose stock is mentioned in this article.