Stocks are down Thursday, though not with any clear catalyst. We got some bad economic news out of China overnight, but nothing that would normally move the needle.
Perhaps this is a continued reaction to the Fed comments from yesterday. However, those in and of themselves were not particularly informative either.
It seems more likely that a variety of market participants have been unnerved due to recent volatility, particularly by the pound's recent flash crash, and are now taking advantage of quiet conditions to deleverage a bit. The majority of headlines lately are laden with downside risk, and with Clinton seemingly winning the election rally over, now stocks can drift lower.
However, this drift is unlikely to continue at this pace too long. The market is coming up on key support at the S&P 500 (NYSEARCA:SPY) 2,100 level. Should this break, we'll see a solid correction. For those wanting to play a market rebound we're getting near levels where you'd want to take long positions - anywhere between 2100 and 2120 should be nicely profitable if the market holds support:

The blue line is your key level. Above there, the bulls are still in charge. Drop and close below there, and you'll see many bears emerge from hibernation. In the longer run, bulls need over 2,200 to kick off the next big upmove. So far, the bull case is still on decent footing, but the longer we spend under 2,150, the more audacious the bears will grow.
Still, with the holidays coming up, bears would need to strike during the next couple of weeks. Otherwise, we'll go into the low-volume year-end mode and the window for a correction would close until the New Year.
As for me personally, I made my IMF monthly buys this morning. It'd be nice if the market dropped straight through support, setting up better prices. But there are no guarantees, this is a bull market after all. I made my September buys at the low of the month on the same reasoning. A modest sell-off is often better for starting positions than waiting with cash in hand for long periods hoping a big breakdown.
And many of the stocks I bought this month are already off nicely over the past week, offering decent values. As a reminder, if you're an Ian's Insider Corner member, you can get immediate access to all changes, including this month's buys, that occur in this portfolio.
Which Stocks Are Fighting The Tide?
While the market is broadly lower, with the vast majority of shares in the red, it is interesting which two groups are flat or higher.
The first of these are the utilities (NYSEARCA:XLU), which, after their recent sell-off, had gotten oversold. All but one of the S&P 500's utilities component stocks are in the green today. I'm not sold on the utilities as great values at current levels, but you can certainly make the case for a tradable bottom on them sooner or later.
The cause of the turn seems clear, utilities are still strongly correlated to interest rates. And, at last, bonds are seeing a sizable up day after the past week's relentless sell-off. Yields are moving back down as the US Dollar (NYSEARCA:UUP) also sees a modest drop.
The trends we discussed in yesterday's Is The Chase For Yield Over? have taken a pause today. Keep watching these areas, they'll be a key determinant of where the market goes, particularly once the election noise passes.
Also, healthcare shares are significantly stronger than the market as a whole today. Virtually all the mega-cap biotechs are up, the hospital sector is up big today, and even big pharma, led by bedraggled Bristol-Myers Squibb (NYSE:BMY), is finally getting some relief.
With polling showing a strong lead for Clinton this week, it's worth considering if the election is largely priced in, in which case sectors hurt by a potential Clinton win can start to recover. The action in healthcare stocks would seem to indicate so. Hospitals - which have suffered under the Affordable Care Act, are leading the rebound today. Here's HCA (NYSE:HCA), for example: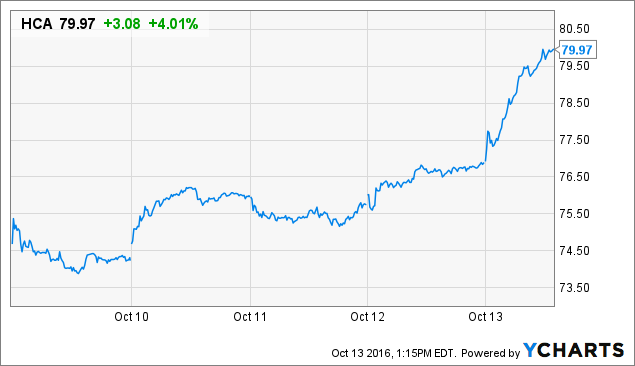 Finally, I'd note that shares of Wal-Mart (NYSE:WMT) are surprisingly strong today, rising 1.5% despite the market sell-off. Perhaps Hillary's secret admiration for Wal-Mart is starting to come to investors' attention. I'll have more on this topic later.
Disclosure: I am/we are long WMT.
I wrote this article myself, and it expresses my own opinions. I am not receiving compensation for it (other than from Seeking Alpha). I have no business relationship with any company whose stock is mentioned in this article.