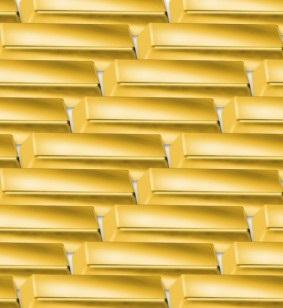 The commitment of trader reports from last Friday, show a rise in large speculator short positions, and a fall in some commercial shorts as they covered into the selling.
Is the selling over though?, that is the question. Looking at the COT open interest, you could be forgiven for thinking not much has changed.
(Image by 'all-free-downloads.com)
Gold COT futures and options indicate there has been some commercial covering into Friday's low, (commercial shorts are down 55000 combined short contracts), but what of small trader positions if there's further weakness?, looking at the number below bullish small traders are going further long here, buying around the 200ma.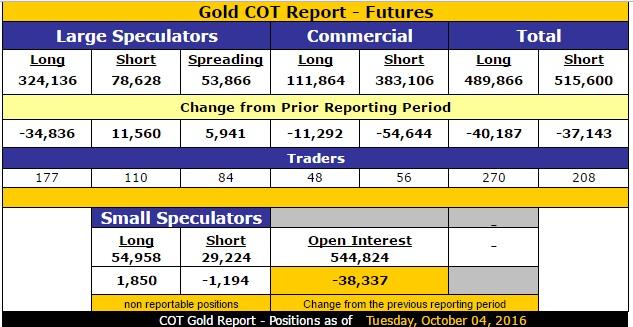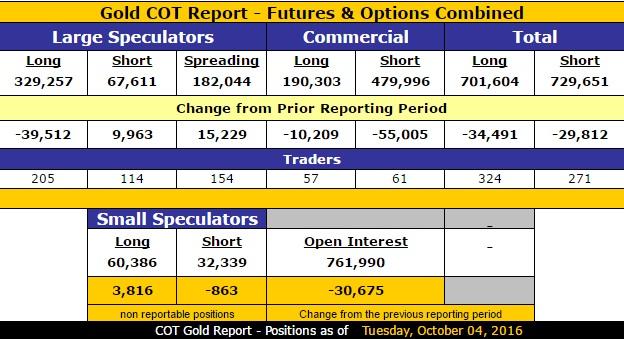 COT positions from goldseek.com
The gold chart below shows the market is still trading within the down trend channel ((blue)), there is no confirmation as yet that gold has done more than trade across it in a relief rally.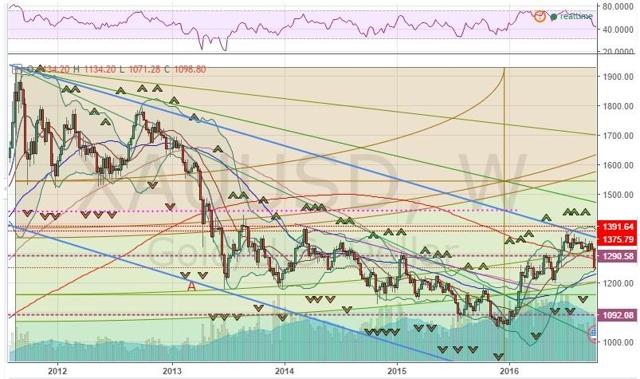 This chart shows gold flirting below the 200ma, despite RSI over sold conditions. If gold fails at this level, (and it's already lost the end of May support at $1252.00), look to the next major support, a band falling from about $1220.00 backed up at the lower level in 2014.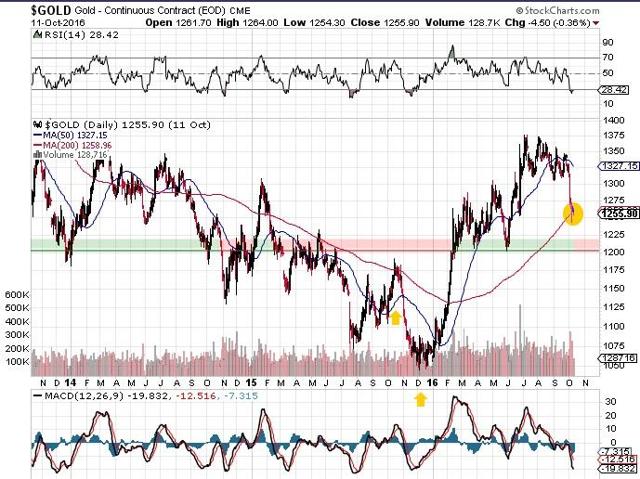 The gold market fell from October 2015 into December before it found a bottom, so while a relief bounce is always a possibility from extreme oversold conditions, $1280 to $1300 or so (resistance of the June high peak) :
Commercials are still not in a long term bullish position as yet
(Banks are rising in expectation of a rate rise in December (the same environment which led to a rate rise in December 2015)
The USD is strengthening
The Timing charts illustration below shows how far off a commercial or gold low position is compared even to the May correction low.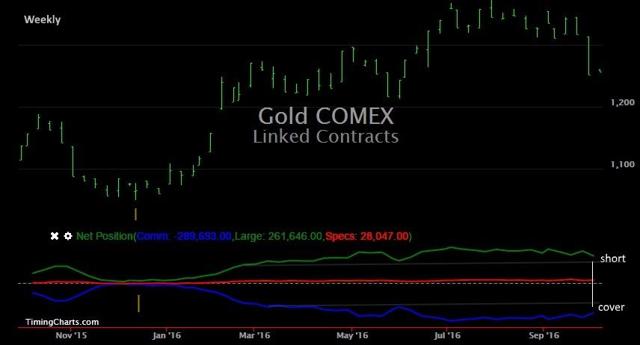 The Bank Index chart below illustrates the interest rate relationship from October to December 2015, so still poses the possibility of a continued sell off. Banks corrected with the rest of the stockmarket in January reacting to a surprise inventory issue which suggested unexpected international weakness at the beginning of the year. The rise was in the much earlier 'futures' expectation of the rate increase.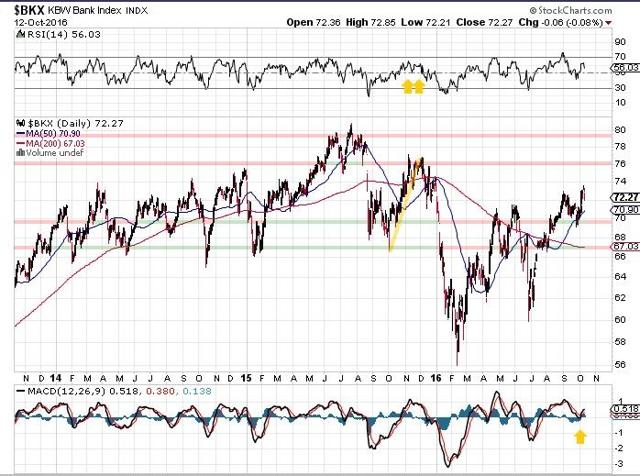 Of the two higher selling resistance bands, the top seems most likely at this point (commencing 78), allowing for a potential RSI over bought reaction earlier.
The USD is now overbought on the RSI, and normally we would expect to see some weakness, however extreme overbought conditions have existed before, illustrated in yellow, so we could still see some further dollar strength, or regardless, further weakness in gold as it trades opposite the banks.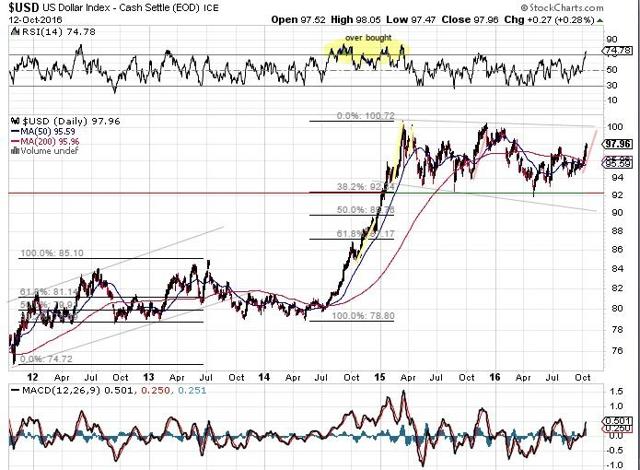 The commodity index CRB has benefited from both gold and oil lows which coincided in January. However the recent high is very little more than similar bullish advances in recent years . Oil does have a strong fundamental reason for it's rise (OPEC agreement on supply control, and loss of small scale U.S. suppliers with weak financial backing, at the same time as an extreme market price low).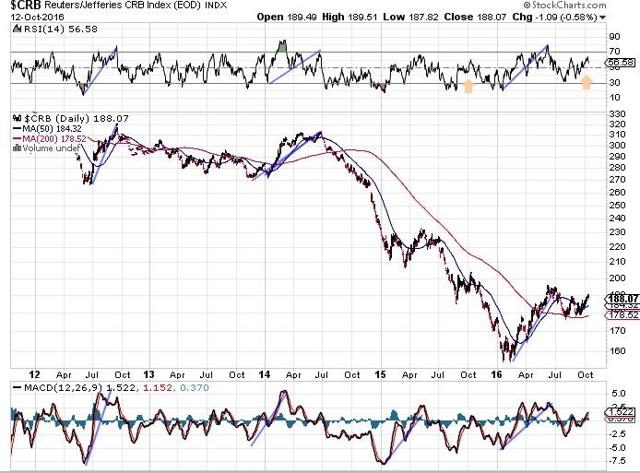 Investors should be wary of the potential for continued weakness in the gold market right now, and monitor both the bank index and further U.S. dollar strength. The dollar can rise with gold as well as trade inversely to it, strength in the banking sector is both about general economic strength as well as the expectations for a rate rise. Commercials have covered into large speculative short positions last week, but not to the degree that would anticipate a trend reversal.
Disclosure: I/we have no positions in any stocks mentioned, and no plans to initiate any positions within the next 72 hours.
I wrote this article myself, and it expresses my own opinions. I am not receiving compensation for it (other than from Seeking Alpha). I have no business relationship with any company whose stock is mentioned in this article.