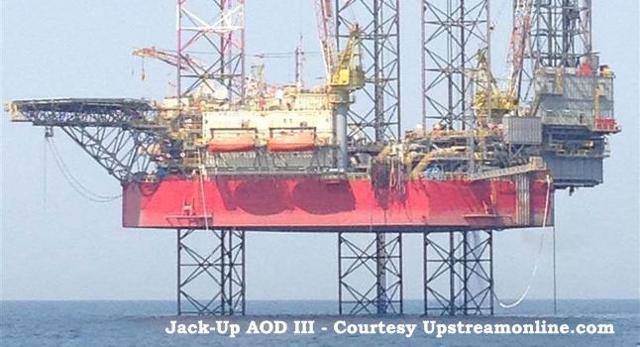 Seadrill Ltd. (NYSE:SDRL)
This article is an update of my preceding article published on Seeking Alpha on August 25, 2016, about the last official fleet status 08/24/2016.
To access the SDRL Fleet status as of August 24, 2016, please click here.
On October 11, 2016, We learned from Upstreamonline the following:
Saudi Aramco has struck a deal to hang onto a Seadrill-controlled jack-up rig until the end of the year.
First, what is the relationship between AOD and Seadrill?
AOD stands for Asia Offshore Drilling and SDRL owns 66.23% of the outstanding shares (Private company).
Basically, Seadrill/Asian Offshore Drilling has three Jack-ups working with Saudi Aramco call the AOD I, AOD II and AOD III. All three of the AOD jackup rigs are being managed by Seadrill after the rig operator purchased a controlling stake in the company in April 2013.
On August 18, 2016, Asian Offshore Drilling indicated:
Asia Offshore Drilling Limited, or AOD, has secured a three-year contract extension from Saudi Aramco for the jack-up drilling rigs, AOD I and AOD II, expiring in June 2019 and July 2019, respectively. The extensions are in direct continuation of the current contracts and will add approximately USD 225 million in contract backlog. These units have been working for Saudi Aramco since 2013 and Mermaid is pleased that AOD continue its long term relationship with Saudi Aramco. AOD's third jack-up rig AOD III continues to work with Saudi Aramco and its initial three year contract is due to expire in October 2016 with negotiations for contract extension still ongoing.
1

BE

X Asian Offshore

66.23%

102.9

6/19

[Aramco] Saudi Arabia
2

BE 2013

X Asian Offshore

66.23%

102.9

6/19

[Aramco] Saudi Arabia
3

BE 2013

X Asian Offshore

66.23%

125

Mobilization fee of $39.5 m paid over the contract

10/16

12/16

[Aramco] Saudi Arabia
The Jack-up AOD III was scheduled to roll off contract this month and got now an extension until the end of 2016. The charter has been entered into and is managed by Seadrill, on behalf of AOD.
It is a backlog of $7-$8 million, it is not a huge amount, but this new extension may indicate that Saudi Aramco will extend the jack-up AOD III, another 12-month with a probable reduced day rate between $90k-$105K/d, in my opinion.
The total backlog estimated for SDRL is now $3.32 billion as of October 13, 2016.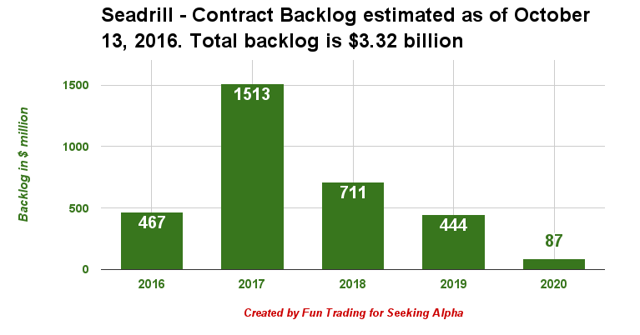 Commentary:
It is a small contract, but it is an important indicator nonetheless, when it comes to Saudi Aramco. The 2-month extension will probably be succeeded by a long-term contract hopefully -- similar to what the AOD I and AOD II are enjoying now -- until mid-2019.
However, there is a caveat in this bullish expectation and it is called reduced day rate. AOD I and AOD II have already experienced a day rate reduction to $102.90K/d -- with a three-year contract -- and I am expecting a similar reduction for the AOD III next year. "Negotiation" with Saudi Aramco are very special and basically Aramco decides the day rate and the driller must accept what it is proposed. I have to add that Saudi Aramco is fair.
The Middle East is a major player in offshore oil and gas projects and a major player globally in terms of its production. Saudi Aramco is very active in the Persian Gulf and never really slowed down since 2014. The Saudi offshore is a shallow offshore drilling adapted to jack-ups. Many Offshore drillers enjoy long-term contracts with Saudi Aramco, such as Noble (NYSE:NE), Ensco (NYSE:ESV), Rowan Companies (NYSE:RDC) and a few others.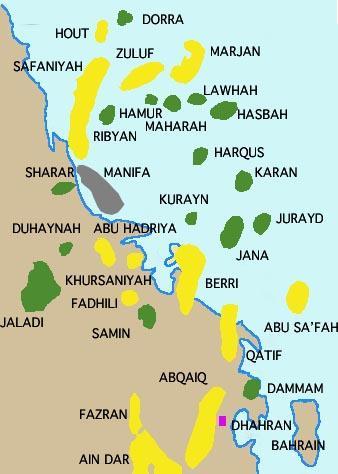 It is expected that the jack-up segment will eventually recover first, if oil prices can reach the "sweet spot" between $55-$60 a barrel and more importantly, stay there long enough.
M. Carl Trowell, ESV CEO, said at the last Barclays' conference on September 15, 2016:
The jack-up market, although, it is impossible to turn around and say in this boredom, but we do see a recovery that we believe could happen in 2017, if oil prices remain in the range that they remain now or even if they go up a little bit, and that's primarily because the shallow water space is economic in many basins at current oil prices, in many basins actually lower prices as we see today, and we are seeing a lot of customers beginning to prepare for new developments or infield developments in 2017-2018. It is too early to say that this activity can counterbalance the amount of rigs coming off contract, but it is enough to suggest that the market is primed for recovery if these conditions continue.
The last OPEC decision to freeze production has provided a boost for the oil prices, however the question is whether words will be followed by concrete actions.
The Seadrill group with Seadrill Partners (NYSE:SDLP) and North Atlantic Drilling (NYSE:NADL) have a large jack-up segment.
Total Rigs for SDRL Group:
| | | | | |
| --- | --- | --- | --- | --- |
| | Idle | Working | Under-construction | Total |
| Tender | 1 | 2 | 0 | 3 |
| JU | 5 | 19 | 8 | 32 |
| Floaters | 10 | 17 | 6 | 33 |
| Total | 16 | 38 | 14 | 68 |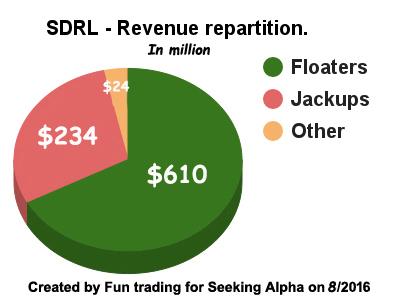 Seadrill is well positioned in this segment, and should grab its fair share of shallow drilling new works.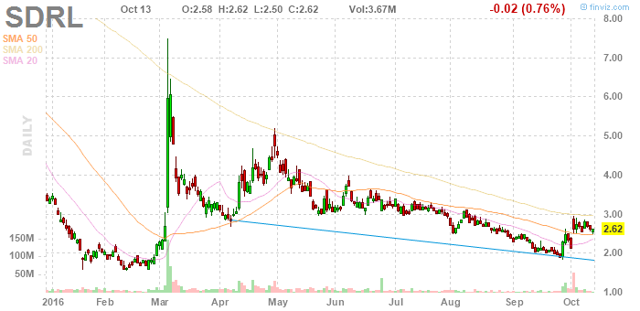 However, more urgently, Seadrill is now facing some tough negotiations with the lenders -- involving 42 banks and an potential loan by John Fredriksen -- and shareholders are waiting anxiously on the final outcome expected early December. I commented on the issue recently here.
It will provide a financial base, strong enough to allow the company to sail through this terrible bear cycle. Meanwhile, SDRL is a perfect tool for trading.
Important note: Do not forget to follow me on SDRL and other Offshore drillers. Thank you.
Disclosure: I am/we are long SDRL.
I wrote this article myself, and it expresses my own opinions. I am not receiving compensation for it (other than from Seeking Alpha). I have no business relationship with any company whose stock is mentioned in this article.
Additional disclosure: I have a tiny LT position left and trade the stock frequently.