Quick Take
Cancer Prevention Pharmaceuticals (NYSE:CPP) wants to raise $16.25 million in an IPO with an offering price of between $12 and $14 per share.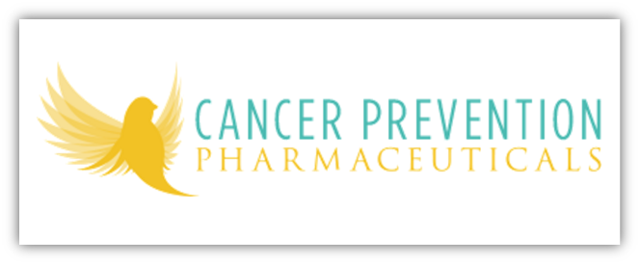 The company is pursuing a royalty-based revenue model through collaboration development of its product candidates.
Upside is limited and largely outside CPP's control, so my opinion is to avoid the IPO.

Company
CPP is a clinical stage company that is attempting to commercialize therapeutics for the "treatment and prevention of certain pre-cancerous conditions, orphan diseases and gastrointestinal conditions."
The company was founded by Dr. Frank Meyskens and Dr. Eugene Gerner, who is also the Chief Scientific Officer.
CPP is headed by Chairman and CEO Jeffrey Jacob, who has been with the firm since its founding in 2009. Jacob was previously CEO of Systems Medicine and prior to that was Senior Vice President at Research Corporation Technologies.
Company investors are primarily composed of individuals, management and strategic investor Sucampo Pharmaceuticals (NASDAQ:SCMP) which will own a 12.1% stake in the company after a successful offering.
Sucampo also has exclusive rights to develop the company's lead candidate in North America.
Technology
CPP's mission is to prevent cancer or its reoccurrence by identifying and treating risk factors early.
The company's lead candidate is CPP-1X/sul, a Phase 3 orphan drug candidate to treat Familial Adenomatous Polyposis (FAP), an inherited genetic condition that causes the growth of polyps in the colon and rectum area, and which are believed to increase the risk of colon cancer.
This candidate is currently being developed in the EU in collaboration with Tillotts Pharma AG and in Japan in collaboration with Zeria Pharmaceutical (TYO:4559). CPP has retained exclusive rights to the candidate in the US.
CPP is also in Phase 3 clinical trials at the National Cancer Institute for "the study of colon cancer risk reduction and: adenoma therapy, a preventative treatment approach for survivors of colorectal cancer or those who have high risk colon polyps."
Below is a summary of CPP's candidate pipeline: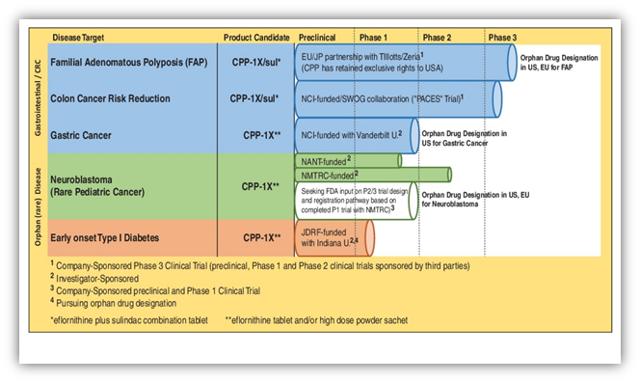 (Source: CPP S-1 Filing)
CPP is in various stages of preclinical development to Phase 2 trials for other treatments for gastric cancer, neuroblastoma and early-onset Type I diabetes conditions.
Market
Although the company's pipeline is directed at a variety of conditions, its lead candidates are focused on colon cancer risk reduction and/or treatment.
According to a 2015 research report by RnRMarketResearch, the colorectal cancer therapeutics market in the countries of the US, Germany, France, UK, Canada, Italy, Spain and Japan was expected to reach $9.4 billion by 2020.
This represents a CAGR of 1.8% from 2013. In 2013, the U.S. had the largest market share, equivalent to a global share of 44.1%, followed by Japan and Germany.
Colon cancer is considered the third most commonly diagnosed cancer and is the second leading cause of cancer in the US.
CPP's lead candidate CPP-1X/sul is being tested to treat the pre-conditions to some forms of colorectal cancer.
The company believes the market opportunity for its lead candidate in the US and EU is between $300 million and $800 million.
Competition
There are three possible therapies for treating colon cancer: surgery, radiation therapy and chemotherapy.
Commonly, surgical procedures have been preferred in early stage treatment, followed by radiation therapy to kill the cancer cells left after surgery, or shrink large tumors before surgery.
Chemotherapy utilizes a variety of drug options typically recommended after surgery.
Existing targeted drugs include:
Avastin (bevacizumab)
Erbitux (cetuximab)
Vectibix (panitumumab)
Stivarga (regorafenib)
CPP's drug candidates aim to reduce the chance of colorectal cancer by treating the pre-cursor polyps before they become malignant.
Financials
CPP's recent financials can be best summarized as:
Lumpy milestone payments from its Sucampo collaboration Operations loss typical for clinical stage biopharmaceutical companies Cash loss from operations
Below are the company's operational results for the past 2 full years (Audited GAAP):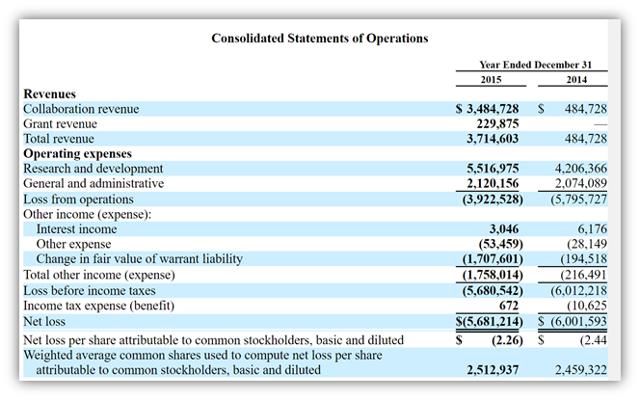 (Source: CPP S-1 Filing)
Revenue
Q1 2016: $1 million
2015: $3.7 million
2014: $485,000
Gross Margin
Q1 2016: Negative
2015: Negative
2014: Negative
Cash Flow From Operations
Q1 2016: $334,000 cash flow
2015: $2.9 million used
2014: $2.85 million cash flow
As of March 31, 2016, the company had $8.7 million in cash and total liabilities of $21.5 million. (Unaudited)
IPO Details
CPP is offering 1.25 million shares at a midpoint price of $13 per share, for expected net proceeds of $14.2 million.
The company expects to use the proceeds from the IPO as follows:
Up to $10 million for Phase 3 clinical trials of its lead candidate for the treatment of FAP
Up to $1 million to develop other indications for its lead candidate
The remainder for general corporate purposes
Sucampo Pharmaceuticals has previously provided CPP with a loan which will convert into equity upon a successful offering. In addition, Sucampo will make an additional investment purchasing up to $5 million worth of shares of common stock as part of the IPO.
The underwriter for the share offering is Aegis Capital Corp.
Commentary
CPP is developing its business primarily through collaboration and co-development agreements with outside pharmaceutical companies.
Thus, the company appears to be relying on milestone payments and more importantly on royalty-based revenues, assuming its products are approved for marketing.
While this royalty-based revenue model is a lower risk approach to treatment development, it also means lower revenue upside.
With typical royalty agreements providing for high single-digit to low double-digit payments, assuming its lead candidate becomes a market leading treatment in the $800 million US and EU markets commanding 20% of the market, a 10% royalty rate would result in $20 million per year in revenue to CPP.
The company would likely not see that best case revenue scenario for several years from today.
CPP does enjoy the support of Sucampo Pharmaceuticals and the continued collaboration from Tillotts and Zeria, so it is likely the company will continue to operate and have a chance at some success with its lead candidate.
However, my recommendation is to AVOID the IPO. The upside in a royalty-based revenue model is rather low and dependent on other parties, largely outside the control of the company.
---
I write about IPOs and tech 'unicorns'. If you want to receive future articles automatically, click the +Follow link next to my name at the top of this article.
Disclosure: I/we have no positions in any stocks mentioned, and no plans to initiate any positions within the next 72 hours.
I wrote this article myself, and it expresses my own opinions. I am not receiving compensation for it (other than from Seeking Alpha). I have no business relationship with any company whose stock is mentioned in this article.