Recommendation: Overweight. Target Price: $115 (Stock price: $95.60 as of 10/6/2016; upside: 20%)
Summary
Stamps.com (NASDAQ:STMP) occupies a dominant position in a protected market space because it owns one of three PC Postage licenses in the country, its customer base, and its marketplace integrations. STMP's two PC Postage competitors, Pitney Bowes (NYSE:PBI) and Shippo, pose no immediate threat because they (1) cannot grow their digital solutions segment without cannibalizing existing business and (2) lack the scale to build STMP's business development level or range of offerings. This leaves Stamps.com well-positioned to take advantage of a boom in ecommerce (projected growth rate over the next two years is 34% by some estimates). Revenues are up by 47% since 2013 and are forecast to keep climbing, driven (importantly for STMP) by increases in customer bases and number of orders. Additionally, STMP's vertical consolidation of the shipping industry has enhanced its market power throughout the value chain, driving future revenues growth. Finally, while shorts have pushed down the price with claims that the USPS would cancel part of STMP's postage license, all the evidence suggests that the Postal Service approves of STMP's behavior. Stamps.com helps the USPS cut costs and compete in market segments it would otherwise be unable to because of price regulation as a government operation.
Introduction
Stamps.com provides online mailing and shipping solutions. The company offers (1) discounted USPS mailing and shipping services which enable customers to print US postage and offer additional digital services such as address verification, automation, and data management. They are marketed to a wide range of customer segments, from small/home offices to high-volume shipping warehouses. The firm offers (2) multi-carrier shipping solutions which include software services for medium to high-volume shippers such as warehouses who require more than USPS offerings. The company also offers (3) mailing and shipping integrations which provides postage to online marketplaces. This is a back-end integration which enables administrators of the marketplaces to manage order and shipping data for front-end buyers and sellers. Finally, Stamps.com also comprises legacy (4) mailing and shipping supply stores, (5) branded insurance, and (6) customized postage segments which constitute a significantly smaller portion of its business. In 2015, 83% of STMP revenues came from USPS offerings, multi-carrier solutions, and shipping integrations, 9% came from mailing and shipping supplies, 5% came from insurance, and 3% came from customized postage.
Risks
I. Key customer risk: STMP is dependent on the USPS, and USPS reserves the right to cut off STMP'S license within 30 days, as well as enter the business themselves. This, however, is unlikely for reasons given below. USPS could also try to pull more profit out of Stamps, by squeezing back the spread STMP takes on the discounted postage or by changing the reseller relationships.
II. Commoditized product: STMP is vulnerable to competition because its end product is postage, which is hard to differentiate.
III. Stamps is not compatible with any Apple products or Android.
IV. Drone delivery could enable shippers to avoid the USPS (this technology is admittedly still a ways off), while cyber attacks on STMP databases could hurt its credibility.
Why STMP is a buy
I. STMP is one of only three sellers approved to sell postage online in the country, making it a dominant player in a market with high barriers to entry. Its size, market share, and investments in technology infrastructure make it the only player with credibility among high volume shippers. Additionally, STMP's huge market share in PC Postage will enable it to charge resellers more, supporting steady margins growth.
Stamps gains a considerable competitive advantage simply from the fact that it holds a PC Postage license. A PC Postage license gives its holder the ability to sell postage that can be printed electronically. It also means that the retailer can offer discounts exclusively available to online postage buyers (including bulk discounts). In the seventeen years that the program has existed, only five companies - Stamps.com/Endicia, Pitney Bowes, Shippo, and Amazon and Etsy (who have the right to sell online postage exclusively for their customers) - have been granted licenses. This is a protected market space.
Furthermore, STMP has made significant investments in business development which cannot easily be replicated. As a result, STMP and its subsidiaries have over 300 unique partnerships with marketplaces, shopping carts and eCommerce tools. Thanks to recent acquisitions, Stamps also offers solutions for over 20 different carriers. It also has offerings in multi-shipper solutions along with application programming interfaces (APIs) for use by back-end application developers. STMP's volumes, in the hundreds of millions of packages, outstrip its nearest rivals in the digital segment by 100x. The firm has credibility among high-volume and e-commerce shippers that is likely to reinforce itself as it continues to grow this segment.
Finally, STMP's recent acquisitions spree has enabled the firm to increase its market power throughout the value chain of the shipping industry. This gives STMP the ability to charge its resellers, along with others who need PC Postage, more for it. In one example, STMP bought ShipStation, which sells shipping management software to small businesses, in June 2014. After it was bought by STMP, ShipStation started to charge the reseller it used, ExpressOne, seven cents more per transaction. Stamps/ShipStation had more negotiating power because there was only one firm selling PC postage that ExpressOne could buy from. Additionally, ShipStation had access to the much larger Stamps.com customer base, which it could send towards ExpressOne. This strategy drove STMP's 38% revenue per user (ARPU) growth in 2015 and can be expected to continue to boost EBITDA.
II. STMP's competitors are unlikely to pose a threat in the medium term.
As mentioned above, PC Postage licenses make Stamps' market segments relatively protected. Only two other noteworthy companies have one.
PitneyBowes is unlikely to advance very far in the digital arena. Even though it has a PC Postage license, a majority of PBI's revenues come from its legacy business, selling analog postage meters (PBI has 900,000 US meters). Only 21% of its business is in digital commerce. Postage meters and PC Postage compete against each other, so Pitney probably cannot expand its PC Postage business without cannibalizing the meter segment that brings in most of its revenue. As evidence of this, the digital SendPro solution that Pitney has rolled out is oriented towards low-volume offices, while its meter business is primarily used by high-volume offices. Moreover, the offering has been slow to gain traction: software segment revenues fell by 4% the quarter after SendPro's debut, and it has 1 API integration against STMP's 300 partnerships. Furthermore, Pitney has yet to break into the medium to high-volume shipping market, while STMP's acquisitions have substantially beefed up its offerings there.
Shippo is a startup that deserves long-term consideration but is presently too small to pose a significant threat to Stamps. Like STMP, Shippo has a PC Postage license, enabling it to offer competitive discounts on USPS postage. The company sells an Application Programming Interface, or API, as basically its only product (obviously unlike Stamps.com). Its API is more sophisticated that STMPs, and APIs will likely play an important role in the industry's future. In the medium term, however, robust demand for STMP's software as a service offerings will continue to exist. And at present, Shippo is too small to spend what it would need to on business development to compete with STMP on marketplace integrations and high-volume shippers. It recently received $7 million in A-series VC funding and in value of packages shipped STMP is well over 100x what Shippo does.
III. STMP is well-positioned to take advantage of a surge in e-commerce given favorable macro trends in ecommerce and its dominance among USPS parcels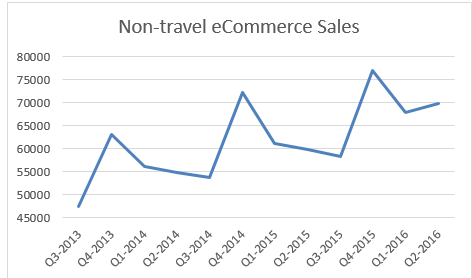 STMP will benefit from robust macro growth projected in the ecommerce sector. Since 2013, non-travel ecommerce sales have climbed 47% in a trend that seems likely to continue, according to Bloomberg. Even better for Stamps.com, those numbers are driven mostly by an increase in the number of transactions (up 23%) and number of buyers (up 18%). There are more packages to ship. This trend is also reflected in rising mailing and shipping revenues amongst the top four shippers by volume: at UPS, DHL, FedEx, and the USPS, these have climbed an average of 6% from 2015 to 2016. Topline revenue growth obviously boosts STMP's revenues directly. Perhaps more importantly, these carriers' increasing focus on ecommerce will help STMP increase its percentage share of these shippers' shipping revenues. Right now, STMP currently accounts for only 4% of those top four carriers' revenue, so there is a great deal of room to grow.
STMP will benefit in particular from the USPS's decision to increase its focus on ecommerce. Most of Stamps.com's revenues still come from its USPS business, and it's most competitive there. The PC Postage license enables it to offer discounts on postage, sign negotiated service agreements (NSAs) with resellers, and offer a USPS API. When USPS ecommerce does well, Stamps does even better. Right now, the trends are positive: it has 56.6% of total parcel delivery volume and its revenue growth in parcels in Q3-2016 y/y was 18%. USPS is focusing more on ecommerce: it has committed to doubling its packaging capacity and has put out a contract for larger trucks to handle more packages. Because USPS trucks have to stop at every house in the country daily to deliver mail, they have a capacity to take an ecommerce order the last mile to a customer's home which is unmatched by private-sector competitors.
IV. STMP's past and future acquisitions will also drive EBITDA growth through synergies, organic growth among high-volume shippers, and customer base growth.
Stamps made a major acquisition of Endicia in November 2015. It is still realizing revenue synergies from the deal. Endicia will also drive organic growth at the high-volume end of the market, where STMP had not previously competed.
Future acquisitions should also drive revenue growth. Future acquisitions, like previous ones, will likely be aimed at adding to STMP's customer base. STMP has thus far been successful at maintaining/increasing ARPU as it has brought on new customers through acquisitions so an overall increase in revenue is likely. Additionally, consolidation and a larger customer base should give STMP more vertical market power (see above) which should also help revenues.
V. Concerns about cancellation of Stamps' reseller NSAs have pushed prices down but evidence is that the USPS approves of how STMP uses the reseller program so those claims look unfounded.
Stamps has close relationships with seven firms who aggregate customers and resell them USPS postage at lower rates through individually-negotiated service agreements (NSAs). Recent short reports charged that Stamps' use of reseller agreements was illegitimate and that one or more agreements might be cancelled.
Industry experts have largely debunked this claim. To boost its own margins, the USPS needs to grow volumes in priority mail and first-class packages, where it competes against private-sector carriers. However, while private competitors negotiate discounted rates with merchants to gain market share, each change to USPS pricing must be individually approved by regulators. USPS's way around this problem is to offer discounts to PC Postage vendors like Stamps, which then has the flexibility to negotiate discounts. Additionally, USPS knows Stamps.com offers lower labor costs and better customer service than it can. Far from violating the rules, the reseller agreements are working as the USPS needs them to. Second, STMP's management has attested that no single reseller accounts for 10% of their Also, if one agreement was cancelled, it would likely migrate to another reseller with a relationship with STMP, so net impact to revenue would be minimal.
Shorts also claimed that Stamps was pocketing all of the spread between the discounted postage they bought and what they sold it for, which also endangered the reseller agreement. This, they claimed, explained why USPS growth in those sectors was lackluster: 1.3% while industry-wide it was 4%.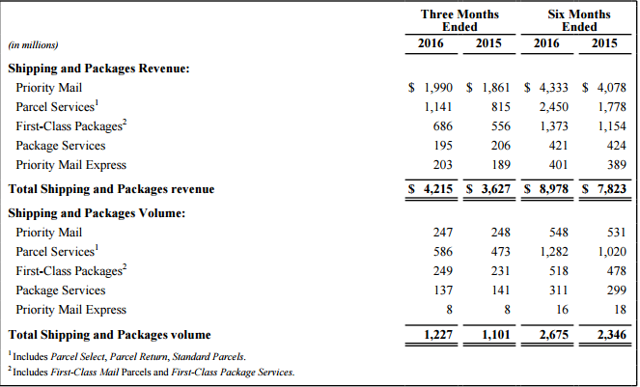 STMP management linked the fall-off in the relevant mail classes to the USPS' one-time adjustment of weight ranges in January. Volume had migrated to other classes. Also, volumes for parcel services and first-class mail, the other two categories in which Stamps competes, were up on the quarter, while volumes for all three were up on the year. Revenues for all three were also up. STMP also made the point that reseller comprises such a small part of overall postal volumes that it cannot account by itself for quarterly shifts in volumes and revenue.
Valuation
Assuming a 20% CAGR for revenue in the next two years with a 40% adjusted EBITDA margin and a 11x EV/EBITDA multiple, the projected stock price is $115, representing 20% upside from today's price.
Below is a quick comparison sheet for STMP.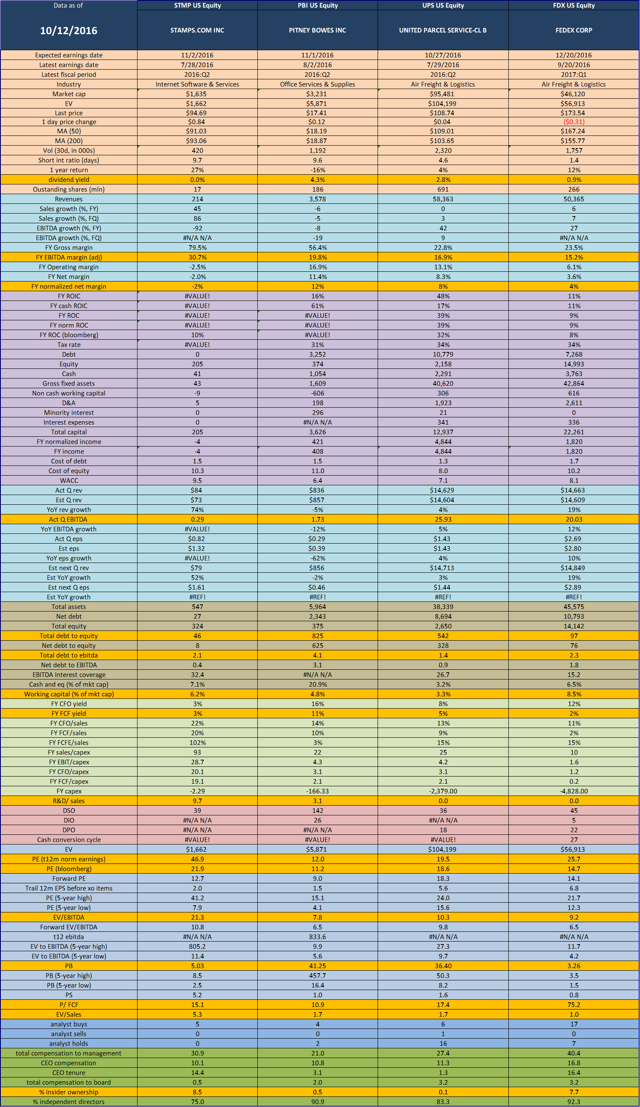 Disclosure: I am/we are long STMP.
I wrote this article myself, and it expresses my own opinions. I am not receiving compensation for it (other than from Seeking Alpha). I have no business relationship with any company whose stock is mentioned in this article.