We are no more than 3 weeks away from Valeant Pharmaceuticals (NYSE:VRX) reporting their third quarter results.
The company has already stated that the new management team plans to implement a new segment structure within the company, which would also affect the way they report their financial results.
This upcoming change and some of the latest VRX pieces here on Seeking Alpha prompted me to write another article and approach several important topics that investors comparing Valeant to Netflix or only thinking of near-term price catalysts seem to forget or simply choose to ignore.
I have grouped the issues I see below with some more detailed explanations as to how they may develop over the next few months:
1. Valeant's own operations
a) Demise of Philidor and the new distribution deal
Ever since Valeant severed ties with Philidor (the specialty pharmacy they allegedly did not own) in early November 2015, their revenues have taken a significant hit.
Despite their claims that only a small portion of sales were done through that channel, the revenues have gone down significantly with the winding down of the pharmacy.
The main victim continues to be the dermatology segment, which was a real cash cow for the company until the end of 2015, but has been one of the worst performers in the first half of 2016.
Philidor, however, is not the only reason why the dermatology segment remains in knock out.
In their desire to quickly substitute Philidor, Valeant rushed to negotiate a new distribution deal with Walgreens Boots Alliance (NASDAQ:WBA) to sell their branded dermatology and eye care products.
Apparently they negotiated poorly and had to offer discounts that actually led to Valeant recording losses on pretty much everything they sold through WBA.
They had so many negative ASPs for a lot of the prescriptions through the pharmacy's patient access program, that CEO Papa was even thinking of abandoning this channel altogether, unless the deal terms were amended.
After all, most of the Valeant products sold through WBA were older, more expensive than their peers and easily substitutable. Without Philidor doing the paperwork for doctors, pushing through Valeant's merchandise and chasing after quick reimbursements, the cracks in the façade began to show.
Rumors began to circle that a considerable portion of their products dispensed through WBA were without insurance approval, so Valeant ended up paying a fee to the pharmacy but not collecting its own check from the insurer.
This led to Joe Papa and Stefano Pecina to sit down and iron out some of the terms in early August of this year.
It is still unclear to what extent the new deal fixes the situation, but I can only assume that WBA will share some of the profitability with Valeant. As half the latest quarter was under the old contract, we should expect only a small sales ramp in the upcoming Q3 results.
b) Xifaxan hopes and dreams turn sour
Dubbed "The billion dollar drug", Xifaxan is the largest single product of Valeant.
Hopes for this drug were sky-high back in mid-2015, when Xifaxan joined Valeant's portfolio through the acquisition of Salix Pharmaceuticals.
Valeant had hoped for this to be their blockbuster product and put together an army of 400 sales reps (at a considerable cost) to focus primarily on Xifaxan and drive sales.
The first disappointment came already in Q4 2015. Xifaxan missed the budgeted sales figure by a huge margin. US$ 210m instead of budgeted US$390m (55% of targeted sales) were achieved.
The situation in Q1 2016 wasn't very different. Valeant quickly revamped the sales force for the drug, losing EVP Deb Jorn in the process, thinking that it was only a management issue and not one having to do with promoting the product better.
Next we heard of Xifaxan was from Dr. Ari Kellen, Valeant's EVP and Group Chairman. On a call with analysts, he reiterated their aim to hit US$1bn in sales in 2016 and mentioned that another 100 sales people were coming out of training and ready to join the 400 strong salesforce to market the product with primary care physicians.
Moreover, he mentioned that there are strong indications that subscriptions would grow by up to 50% until the end of the year.
It must have been a total shock for him and Valeant's investors when Q2 results revealed that Xifaxan sales had deteriorated even further to US$200m, despite all the efforts and energy of Valeant's management.
Current sales for Xifaxan are decreasing quarter-on-quarter and the annual sales generated by the drug are expected to come in at ~US$ 800m at best.
In H1 2016, Xifaxan had revenues of US$408m, however, according to IMS Health data from June-September, both new and total weekly prescriptions for the drug and volume growth were decelerating (see chart below) in comparison to Q1 and Q2 of this year.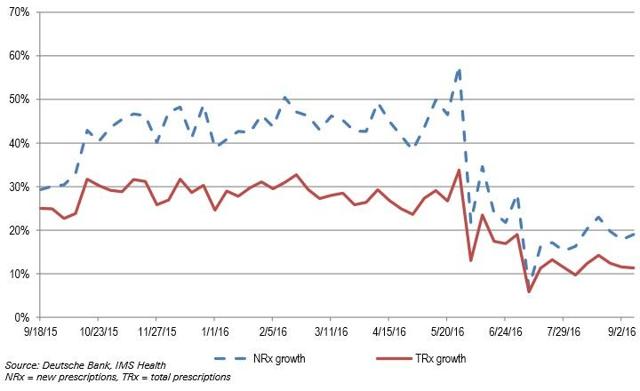 There is a chance that Xifaxan's Q3 sales may come in even below US$200m.
To make matters worse, Teva Pharmaceuticals (NYSE:TEVA) filed for a generic version of Xifaxan and may be in a position to launch their version of the product, if they receive a generic approval in August 2018, once a 30-month stay period with Valeant expires. If they do, Xifaxan sales would slide to a fraction of their current volumes.
2. Aggressive accounting practices
On December 4, 2015, the Securities and Exchange Commission (SEC) sent a letter to Valeant criticizing the use of some aggressive accounting practices when reporting to investors.
In that letter, the SEC said they were "concerned with the overall format and presentation of the non-GAAP measures and believe revisions to your future earnings releases and investor materials are appropriate". In their correspondence to Valeant, the SEC went even further and called some of the company's disclosures "potentially misleading".
Despite being under review at the SEC in relation to its accounting practices, and despite promising to make appropriate changes to its disclosures, Valeant has continued with the aggressive practices of adding back dubious costs when adjusting their EBITDA.
As not everyone on the Seeking Alpha forums is a diligent CPA in New Jersey, I will try to explain in more details the items I have singled out in the table below.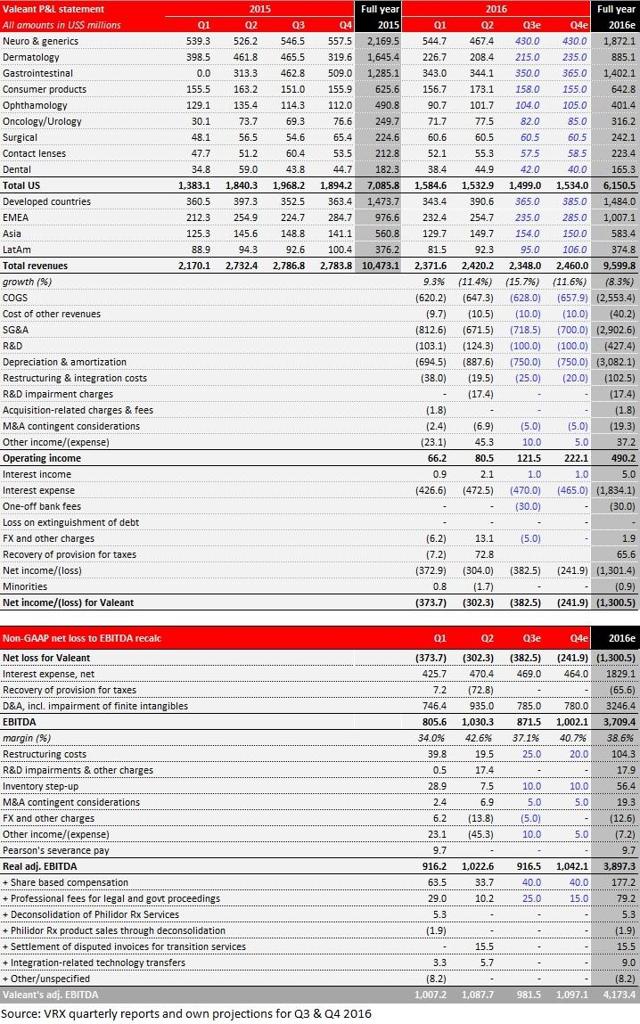 My main issue with Valeant's accounting has to do with what they add back to show their "adjusted EBITDA".
EBITDA is not a GAAP measure and does allow some discretion as to what it includes and excludes.
Valeant tries to abuse that and is pushing the boundaries of creative accounting to make sure they present a rosier picture, don't breach their debt covenants and trigger a technical default.
As the huge debt pile is already a given, their accountants go through great lengths to make sure they throw in everything but the kitchen sink at the denominator in making sure the ratio looks as small as possible.
A quick example reveals a few questionable items with varying degrees of dubiousness in their adjustments.
1) FX gains/losses - as these are non-cash, I have personally decided to add them back to their EBITDA as I give VRX the benefit of the doubt that ALL of these were realized during the normal course of doing business. The counter argument would be that Valeant operates in different geographies, with different currencies that fluctuate; hence, the FX exposure is simply a finance cost (much like interest).
2) Legal/professional fees - it's perfectly fine to add back the cost of a legal fee, if this is deemed to be non-recurring one-time dispute. Valeant is constantly in legal disputes (e.g. TEVA over Xifaxan generic) and getting sued from competitors and shareholders, especially now with the whole Philidor debacle unfolding. Over the first few months of the year they were the object of various legal proceedings and have forked out fees in excess of US$ 39m. These are not one-offs as the company has continuously had such costs every quarter for the past few years and will continue having them as they deal with the legacy of Pearson's actions.
3) Disputed invoice settlements & proceeds - similar like above - the prudent and conservative approach would be to exclude the settlement, especially if you have already added back the legal expense for the lawsuit. Valeant wants to have both added back!
4) "Integration-related technology transfers" - I have no idea what this even means! I doubt Valeant does either. I can only assume these are some licenses and their costs shouldn't really be added back to EBITDA.
Valeant probably thought that if they gave them a funky name, it would make adjusting these items back easier to swallow.
5) Share based compensation - this would probably be the most controversial item Valeant includes back in its EBITDA. It is also one of the larger chunks in their adjustments.
There are many skeptics among the accounting milieu that do not consider this to be a real non-cash item.
Perhaps this is best explained by the following analogy - you own a family business valued at US$ 10m that generates, say, $10m in annual sales. The business is run by a professional CEO that is paid US$ 250k per annum.
Rather than pay cash, you agree to pay the manager "in-kind" by giving him 2.5% equity stake in the business (valued at US$ 250k).
What happens then is that you as the owner are now only entitled to 97.5% of the annual sales and your share in the business will decrease even more over time, if you continue compensating the manager with further equity.
While Valeant's accountants may entertain the fiction that because there was no cash payment, this is not an expense, the example clearly shows that the barter for equity is done purely to evade the cash element in compensation.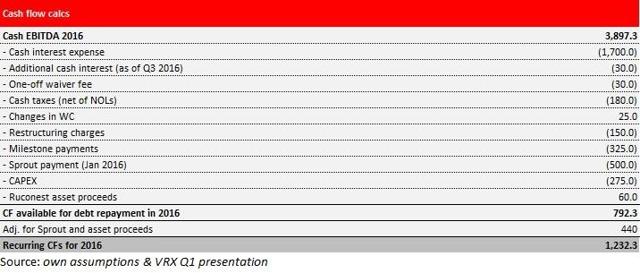 Without these adjustments Valeant's cash EBITDA (as per my model above) comes to less than US$4bn this year. And cash EBITDA would be the one used for cash flow calculations and valuation benchmarking, not the made-up one with fake adjustments that they like to show in their presentations.
Cash EBITDA would also show investors how much debt the company can repay every quarter/year, or alternatively show how much of a cash cushion the company can accumulate on the balance sheet in the absence of debt amortization.
Speaking of cash flows, I also want to address another "potentially misleading" misconception making the rounds that Valeant has done little to dispel.
This relates to the statement that Valeant repaid more than US$1.2bn of debt in H1 2016 and would look to repay another $500m by year-end, bringing the total amount to over US$ 1.7bn for this year. Thus, signaling that a significant deleveraging of the company is taking place.
Although not untrue, it only shows one side of the story - the debt repayment of US$ 1.27bn, while at the same time not commenting on the source of cash proceeds used for the repayment. Investors are potentially led to believe Valeant generated the cash from its operations.
Valeant did initially say they would look to repay US$ 1.7bn this year from a mixture of cash flows and asset sales.
As asset sales haven't really materialized to date and Valeant's half year cash flows are not enough to support repayment of such a large chunk of debt, one has to wonder how they achieved such a feat.
Valeants's proxy statements (here and here) clearly reveal the source - the company simply drew down new debt to the tune of US$ 1.22bn in Q1 2016 from their available revolving facility and paid down some US$ 426m worth of debt in the first quarter and another US$ 847m in Q2 2016. However, the net effect of this whole exercise was a decrease of approx. US$ 50m from the total gross debt figure - nothing to be that proud about.
In net debt terms, the figure looks a bit better - decrease of US$ 276m - due to some FCF generation in both quarters, but a far cry from any real deleveraging of the massive debt pile of above $31bn.
Last but not least, I would like to address Valeant's valuation, now that I have implemented changes to the model on the cash EBITDA front.
Given the financial leverage of the company, EBITDA is a better valuation proxy than P/E, for the obvious reason of capturing both major elements of the capital structure.
Looking at specialty pharma trading comps, the median is 10x for 2016 and 9x for 2017.
Putting a small discount due to heightened risk profile the company faces due to organizational issues and on-going government investigations, gives an equity valuation of just over US$5bn ($15-$16 per share).
Benchmarking this with a quick DCF (10yr, 0.5% TGR, 9-10% cost of capital) gives a similar, albeit slightly better picture, with the football field stretching from $16 - $20 per share.
Both valuations do not assume any asset sales or payments of settlement fees for government probes.
As mentioned already in August, the best way to play the upcoming Q3 results is through the November puts at strike prices below $20.
In early November Joe Papa would have to finally succumb to the fact that EBITDA of US$4.9bn (even with silly adjustments) is simply unachievable.
He may try to sugar-coat the poor results with some news about asset sales, but as the sale processes have just been launched, no term sheet or SPA would be signed by the time he would need to report the quarterly results.
A rerating of the shares would follow that very same week and I expect the price to drop significantly below $20 in November and December, before any announcements on asset sales are made public in late Dec/Jan.
Disclosure: I am/we are short VRX.
I wrote this article myself, and it expresses my own opinions. I am not receiving compensation for it. I have no business relationship with any company whose stock is mentioned in this article.
Additional disclosure: I am short VRX via November puts. The views expressed in this article accurately reflect my personal views about the securities of the issuer.