Great Panther Silver: Time to Buy?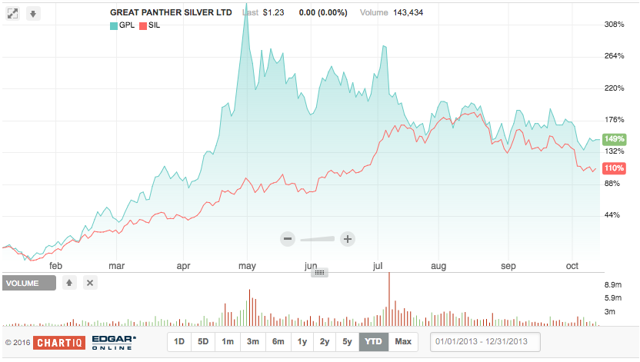 (Great Panther Silver has outperformed the silver miners index (NYSEARCA:SIL) by 39% year-to-date. Credit: Nasdaq)
Great Panther Silver (NYSEMKT:GPL) has reported its Q3 2016 production results. While the company reported pretty poor production results in Q3, I think there are a few reasons to be optimistic going forward. Here, I'll discuss what went wrong in Q3, and then give my thoughts on the stock.
For some background: Great Panther owns 100% of two mining operations in Mexico - the Guanajuato mine complex and the San Ignacio mine. The company is focused on profitable growth: growing its total production while reducing cash costs. It has been on the right track, as its all-in sustaining costs fell to $7.19 per ounce in Q2 2016. Guidance this year calls for 4 to 4.2 million ounces of silver equivalent production at $13 to $15 AISC per ounce. The company also owns the silver-gold El Horcon project in Jalisco State, Mexico.
In the quarter, Great Panther said that it produced 953,632 silver equivalent ounces, a decline of 12% from last year. This includes a 13% decrease in silver production to 510,491 ounces, and an 11% decrease in gold production to 5,423 ounces. The company's CEO Robert Archer says it was challenged in Q3 by lower grades, lower recoveries and two temporary shutdowns at its Topia mine.
The company's Topia mine is really to blame for the lower production in Q3, as the mine produced just 198,624 silver equivalent ounces, a 30% dropoff from last year. It produced 27% less silver and 31% less gold in the quarter. The Guanajuato mine was a more steady performer, as silver equivalent production fell off by just 5%. The lower production at Guanajuato was blamed on lower grades and lower gold recoveries at the San Ignacio deposit, which is due to variance from the modeled mineral resource at the deposit.
On the bright side, Great Panther says it still expects to meets its 2016 production guidance, while investors can also expect the continued trend of a reduction in cash costs to continue. Again, guidance calls for 4 to 4.2 million silver equivalent ounces for 2016. For the nine months ended Sept. 30, 2016 production totaled just over 3 million silver equivalent ounces. I think investors should expect a pretty decent Q3 earnings, as precious metals have averaged higher prices in Q3 than in Q2, even with the recent dip.
Also, Great Panther benefits from an exceptionally strong balance sheet. The company completed a $29.9 million financing in July at prices of $1.60 per share. That is starting to look like it was a really smart move by the company given the recent drop in precious metals prices and the drop in its share price. According to its corporate presentation, the company has $49.4 million in working capital.
Readers may remember that I previously listed Great Panther as my #1 overall silver stock to own for 2016, when shares traded at just $.479 per share. Then in May, I urged investors to take profits when shares of GPL hit $1.84, before cautiously recommending shares again at $1.33.
I hold the same view I did in my previous article on Great Panther Silver: I think the stock is good to own if you want leverage to silver prices, but I wouldn't go all-in here by any means as there's still the possibility of another dip. I think investors who are bullish on silver should consider buying a few shares here, and then buy some more if shares pull back.
I expect shares to outperform peers going forward, and I'm considering putting the stock on my upcoming list of the best silver stocks to buy for 2017. Stay tuned for coverage on Great Panther's Q3 2016 earnings.
Disclosure: I/we have no positions in any stocks mentioned, and no plans to initiate any positions within the next 72 hours.
I wrote this article myself, and it expresses my own opinions. I am not receiving compensation for it (other than from Seeking Alpha). I have no business relationship with any company whose stock is mentioned in this article.