Qualys Inc. (NASDAQ:QLYS)
Overview
It does not take too much insight or research to come to the conclusion that the need for cyber security is on the rise (but for the research see below). With an increasingly technological and cloud-based world, there is an increased risk for cyber attacks and thus an increased need for cyber security. With cyber security projected to be one of the fastest growing segments in the future, an investment in IT security stocks looks to be a great growth play. There are many cyber security companies that seem promising, and this article serves to analyze why to initiate a long position in QLYS.
The Case to Initiate a Long Position
Qualys, Inc. has had an excellent track record of success and growth since going public. Since its initial public offering in 2012 the stock price has gone up 269% and it has been able to increase its revenues by an average 21% YoY with its lowest annual revenue growth rate being 18%. Its success can be attributed to having a cloud-based platform that is almost infinitely scalable and allows for optimal analysis, being exposed to a fast growing industry, retaining and upselling current customers, expanding its services offered, maintaining profitability, having a CEO with a track record of success, and staying competitive. All these things maintain its high growth in revenues and growth in income.
Cloud-Based Platform Allows Scalability and Continuous Analysis
Qualys offers a modular and scalable infrastructure that leverages virtualization and cloud technologies. This allows its operations team to dynamically allocate additional capacity on demand across its entire Qualys Cloud Platform to address the growth and scalability of its solutions. Since the entire platform operates on the cloud, there are no barriers to expansion as Qualys needs to scale to handle more customers and as customers need to scale their protection and analysis. This is critical to being able to continue and grow and is a serious barrier to growth for other cyber security companies that are not as scalable. Being completely connected to the cloud allows QLYS to collect data instantly and use that to improve its security.
The Cyber Security Industry Continues to Grow and Qualys Grows Faster
Cyber security is one of the fastest growing industries. Worldwide spending on information security will reach $75 billion for 2015, an increase of 4.7​% ​over 2014, according to the latest forecast from Gartner. The global cyber security market is expected to be worth $170 billion by 2020, according to Hemanshu "Hemu" Nigam, founder of security advisory firm SSP Blue, and an expert in online safety and privacy who has led security efforts at Microsoft (NASDAQ:MSFT) and News Corporation (NASDAQ:NWSA). The cyber security market is estimated to grow at a compound annual growth rate (CAGR) of 9.8​% from 2015 to 2020, according to a report from Markets and Markets. In 2015, Qualys's revenue was $164M, which translates to a .2% market share. If Qualys just maintained its current market share than its estimated revenues for 2020 would be $340M (a 200% increase in revenues) using the $170B in 2020 estimate. The below chart is a projection for the revenues of Qualys and the entire cyber security industry from 2012-2020.
Qualys's Revenue vs. IT Security Industry from 2012-Projected 2020
2012

2013

2014

2015

2016

2017

2018

2019

2020

Qualys Revenue (in millions)

91.4

107.9

133.5

164.3

198.8

240.5

291.8

352.4

426.8

Industry Revenue

(in billions)

38.3

41.7

45.3

49.1

53.9

59.2

64.9

71.4

78.4

Qualys Revenue

Increase (%)

19.9

18

23.7

22.9

21.1

21.1

21.1

21.1

21.1

Industry Revenue

Increase

(%)

8.75

8.75

8.75

8.75

9.8

9.8

9.8

9.8

9.8

Qualys Market Share

(%)

.238

.258

.294

.335

.369

.406

.458

.494

.544
In calculating the industry revenue, I used a more moderate estimate than the $75B in 2015 and $170B in 2020 estimated by Gartner Inc. and Hemanshu Nigam and used $49.1B in 2015 according to Statista. Using the CAGR for 2012-2015 using the estimate of $35.1B in 2011, I calculated the revenues for 2012-2015. Using the Markets and Markets' estimate of a CAGR of 9.8% from 2015-2020, I calculated the revenues from 2015-2020. I projected revenues for Qualys from 2015-2020 assuming it will continue to grow revenues at its average growth rate from 2012-2015 (21.1%).
I feel as though these projections are fairly moderate given how increasingly important cyber security is becoming and the increasing scale of cyber attacks and the resulting increasing need for adequate cyber security. Qualys still only claims less than 1% of the market share, so economically there is huge potential to scale and my projection of an increase in market share from .238% to .544% seems fairly moderate.
On a side note, management is very confident in Qualys's growth and is very vocal on that fact. In their earnings call Melissa Fisher, Chief Financial Officer, claimed "we've been growing at double the market rate and we don't see any reason that should slowdown." The CEO, Philippe Courtot, claimed "we believe that the increasing occurrence of standardization arrangements, both with customers and with partners, will result in our winning a larger share of the security wallet, and allows us to outpace the core VM market growth rate".
Retaining and Upselling Current Customers
Qualys has a strong customer base with potential to upsell it to subscribe to more services. As of December 31, 2015, Qualys had over 8,800 customers in more than 100 countries, including a majority of each of the Forbes Global 100 and Fortune 100 (Qualys).
Qualys Continues to Expand Its Services Offered
Qualys currently offers services and products for asset management (AssetView), network security (Vulnerability Management, Continuous Management), threat protection (ThreatPROTECT), compliance monitoring (Policy Compliance, Security Assessment Questionnaire, PCI Compliance), and web application security (Web App Scanning, Web App Firewall, and Malware Detection). It is constantly adding features to these products as well. Demonstrating its commitment to innovation and improvement, research and development costs totaled 17.9% of revenues for 2015.
Maintaining Profitability
Qualys has been profitable since 2011 and seems as though it will continue to remain profitable and grow profitability.
Qualys's Gross Profit and Income from 2011-2015 (in thousands)
| | | | | | |
| --- | --- | --- | --- | --- | --- |
| | 2011 | 2012 | 2013 | 2014 | 2015 |
| Gross Profit | 62,965 | 73,016 | 83,302 | 104,616 | 130,399 |
| Income | 2,906 | 3,004 | 2,309 | 9,247 | 24,806 |
As you can see, profit/income has been steadily increasing since 2011. In the first two quarters of 2016 alone, gross profit/income has been $75,206 and $13,309 respectively which is on track for 2016 to finish with approximately $150,000 in gross profit and $26,000 in income which continues the trend of growth and profitability.
A CEO with a Track Record of Success
Philippe Courtot is the current CEO of Qualys. In 1998, Courtot started an email product called cc: Mail and sold it for $55 million in 1991. Since then he has been CEO at Verity (OTCPK:VRTY) which at one point secured 28% market share, Signio where he re-positioned the company from an electronic payments company to a secure payment provider in e-commerce and got acquired for $1.3 billion. Courtot has experience in being CEO at tech companies and has had a track record of success that continues at Qualys.
Staying Competitive
As with any rapidly growing industry, there will be fierce competition in securing market share for the IT security industry. Some of the largest competitors in the industry are Symantec (NASDAQ:SYMC) (8%), IBM (NYSE:IBM) (4%), and Intel (NASDAQ:INTC) (4%) among others in the IT security industry. Below is a chart of IT security companies and their market share for just the security software segment of the industry.
Top Security Software Vendors, Worldwide, 2014 (Millions of Dollars)
| | | |
| --- | --- | --- |
| Company | 2014 Revenue | 2014 Market Share |
| Symantec | 3,960 | 17.2 |
| Intel | 1,825 | 8.5 |
| IBM | 1,486 | 6.9 |
| Trend Micro | 1,052 | 4.9 |
| EMC | 798 | 3.7 |
| Others | 12,571 | 58.8 |
Source: Gartner
As you can see, the top leaders within the industry hold a large portion of the market share yet other companies collectively still hold the majority of the market share (this is where Qualys falls within) and other leaders are still yet to emerge. Given all the fundamental analysis of the company laid out above in the previous sections, I believe its strengths will help Qualys emerge as an industry leader in IT security.
Stock Price Movement
Before making an investment in Qualys, it is important to understand and predict the stock movement of QLYS as its price determines the return on investment. One of the best ways to predict future stock price is identifying patterns in past stock performance and understanding the reasons for dips and spikes in the stock price.
Given steady growth and increase in revenue and profitability for Qualys, it would be expected (if the stock market objectively priced a company based on fundamentals and logical projections) that the stock price would be steadily rising but this has not been the case. QLYS initially was steadily rising and rallied from $14.49 in September 2012 to $54.07 in April 2015 for a 373% gain and a CAGR of 120% from 2013-2015. For this period QLYS only experienced one significant dip in March/April 2014 of -30% which quickly recovered
QLYS price movement from April 2015 to February 2016 is a much different story showing a 62% decline in value. This may make some investors very hesitant to invest in QLYS but I am going to show why this drop should not worry investors at all and how this drop presents a great opportunity.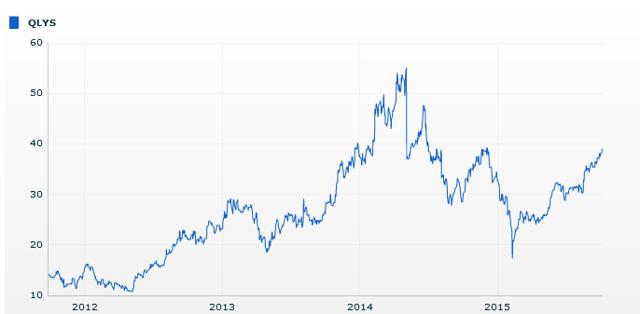 Earnings are one of the biggest movers of stock price. An earnings beat can catapult a stock upward but missed earnings can cause a stock to fall precipitously. In addition, the guidance given by the company also plays a big role in the resulting stock movement after an earnings release. Below is a chart of Qualys's quarterly earnings since February 2014.
Qualys's Quarterly Earnings Since 2014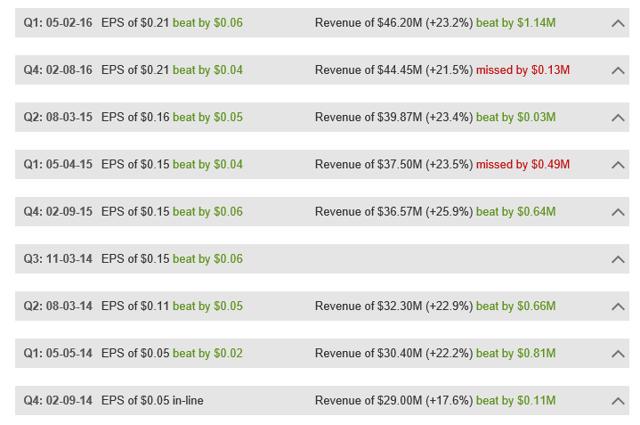 Source: Seeking Alpha
Qualys has beat earnings every quarter since Q1 2014. It has beat on revenues as well every quarter except for Q1 2015 and Q4 2015. If you look at the dates for these revenue misses, they correspond with the steep drops in May 2015 and February 2016. On May 04, 2015, Qualys released its earnings and its stock price went down 30%. Fortinet (NASDAQ:FTNT) was downgraded on June 24, 2015, which impacted most cyber security stocks and QLYS declined 6.7% and continued to decline until August. On November 3, 2015, it released its Q3 2015 earnings and beat expectations but gave soft guidance and the stock plunged 13.2% and continued a steady decline until February 2016 assisted by a downgrade from JPMorgan, CFO departure, market sell off in February, and Q4 2015 revenue miss and weak guidance.
I believe QLYS was overly punished for a few revenue misses and giving weak guidance as well as being driven by insignificant events such as downgrades and a change in CFO. In the end, these events have no to little impact on the bottom line of continuous growth in revenues and profit. QLYS has increased its revenue by 23%, profit by 25.5%, and income by 400%, yet the stock price has experienced a decline of over 60%. The market has already began a correction and QLYS has rallied 224% since its February 2016 low but is still 38.7% below its April 2015 high.
The revenue for the last four quarters for Qualys amounts to $177M (once again demonstrates growing revenue) and its income amounts to $15.8M. This means the earnings per share to revenue ratio is equal to 8.9%. Given the projection of revenues of $426.8M in 2020 that would imply an income of $38M or $1.07 earnings per share. Sticking with the current P/E ratio of 82 would put the stock price at $87.74. This would mean an upside of 227.4% from today's price of $38.57 over the next four years, an average annual return of 22.8%.
In Conclusion: A Great Growth Opportunity
Qualys is a true growth play. Rarely do you find a company that is as fundamentally sound as Qualys and in one of the fastest growing industries. It has grown revenues steadily and remained profitable since 2011 which itself is a remarkable feat and investing just on that trend alone would be a solid argument to buy. Its balance sheet is strong with $368.8M in assets and only $141.4M in liabilities. It is as financially and fundamentally healthy as it has ever been and its trend of growth at an estimated CAGR of 21.1% remains intact as it continues to beat expectations. Using a model for future revenue and the current ratio of revenue to earnings I calculate earnings per share for 2020 to reach $1.07 and with the current P/E ratio puts the stock price at $87.74 for an upside of 227% over the next four years and an average annual return of 22.8%.
Downside Risks
Even the most seemingly sound investments have risks and an investment in Qualys is no different. Qualys's major risks on the downside are missing quarterly expectations, the IT security market not growing as expected, failure to improve products and services in line with competition, and failure to grow subscriptions to its Vulnerability Management.
Missing Quarterly Expectations
Even though a quarterly miss is arguably fairly short term and not very important in a long-term investment, as laid out in the "Stock Price Movement" section, it can have a large impact on stock price for months. Actual health and growth of the company has not been an issue and is likely to continue to not be an issue, but sometimes billings are received on different dates and millions in revenue may be deferred from one quarter to another and as a result its quarterly revenue will be impacted.
IT Security Market Not Growing as Expected
The IT security market is widely expected to grow rapidly but nothing is for certain. If for some reason the market does not grow as fast or is not anticipated to grow as fast as the present consensus QLYS would be exposed to that negative catalyst. This might be due to a decrease in demand for IT security services or negative catalysts such as data breaches that would make companies hesitant to trust IT security services.
Failure to Improve Products and Services
Critical to Qualys's success is its ability to stay competitive and it has remained competitive by offering a very valuable, capable and competitive service. In order to attract new customers and retain current customers it will need to continue to innovate new products and services and improve its current lineup. Failure to do so could result in competition securing a larger market share by stealing current customers and gaining new ones.
Risk of Decrease in Vulnerability Management Subscriptions
Most of Qualys's revenue comes from its Vulnerability Management service (in 2015 it accounted for 79% of revenue). If subscriptions to this service declined, its revenues would be heavily impacted. Qualys is hedged against this risk by offering a diverse lineup of services other than Vulnerability Management and thus has been able to extract revenues from other avenues making VM account for 84% of revenues in 2013 to 79% in 2015.
Disclosure: I am/we are long QLYS.
I wrote this article myself, and it expresses my own opinions. I am not receiving compensation for it (other than from Seeking Alpha). I have no business relationship with any company whose stock is mentioned in this article.