Business
Yahoo Japan (OTCPK:YAHOY) operates a web portal in Japan under license from Yahoo (YHOO), operating exclusively in Japan. The company primarily generates revenue from advertising with the majority of services delivered in association with the Yahoo Japan website (yahoo.co.jp). Significant shareholders of the business include SoftBank (41% ownership) and Yahoo (34% ownership), leaving a free float of 25%.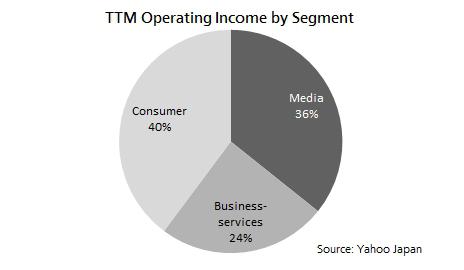 The largest contributor of profit at Yahoo Japan is the Consumer segment. This part of the business delivers e-commerce services such as auctions, shopping and premium membership subscriptions. Yahoo Japan has over 7 million premium subscriptions to its website which cost about 350 yen per month. The subscription increases auction and other shopping functionality, gives users increased storage space and offers a host of other smaller perks.
The Media and Business-services segments mostly provide similar services in that both sell advertising. The Media business is exclusively driven by advertising sales to advertising agencies, both in search and display advertising. In Business-services, search advertising is sold directly to businesses with no agency in between. Revenue is also generated in the Business-services segment from real estate and job listings as well as from data center service sales.
The largest industries advertising on the company's site (at or near 10% of total) are finance and shopping-related companies in search-related advertisements and finance, cosmetics, real estate and automobiles in display. Finance has been a weakness recently, while cosmetics has been a strength. Monthly views for Yahoo Japan's website and mobile site have grown about 3% year-over-year in the most recent quarter, with slight declines on the website and a significant increase on the mobile site.
Financial Performance
Financial performance has been quite strong at Yahoo Japan since the fiscal year ending March 2006, although growth has slowed over time. Revenue has grown at a 10% compound rate while operating and net income have grown at a 13.1% and 13.5% rate, respectively. Revenue growth stalled in 2009, but no year has shown a decline over the previous year.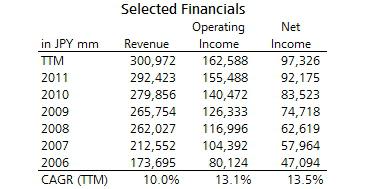 Yahoo Japan has managed to achieve this growth with little in the way of capital expenditures or business acquisitions. The company does occasionally make small investments in third party companies that have created content for the website and invests in capital equipment to run its data centers. Yahoo Japan recently sold preferred shares in a wireless LAN service called BB Mobile Point to SoftBank for JPY 120,000 million, taking a note in return which is to be paid by March 2013. This should release a significant amount of capital which had been tied up in a strategic investment.
Returns on capital at Yahoo Japan are very strong - well beyond the point where the exact number is of any significance. Marginal returns are probably lower than this figure as competition increases and users expect more for their time. In my view, the company's returns are driven by a strong brand, customer habits, local scale and operating leverage and a management team unwilling to spend on uneconomic and fruitless acquisitions. These returns should generally be sustainable or fall only slowly.
Value Conclusion
Based on analyst estimates for fiscal 2012 earnings of JPY 1,686 per share and a per share price of JPY 25,970, Yahoo Japan trades at 15.5x multiple. After adjusting for non-operating assets including cash and the note receivable from SoftBank, the multiple falls to 12.1x. Given the strong cash flows and lack of liabilities at the company, these non-operating assets should be viewed as risk free and therefore acceptable to remove from the market capitalization.
Given a discount rate of 7% and growth of 1% the justified for PE for Yahoo Japan should be about 16.5x. In reality, the company should be able to grow at a rate higher than the economy for at least several years if not longer, which would imply a somewhat higher justified PE multiple. Given the company's superb returns on capital, there is little question that the growth should create value for shareholders.
The low current valuation may be driven by contemplated corporate actions at Yahoo and related discussions with Alibaba and SoftBank. If Yahoo is a strategic seller of Yahoo Japan stock, the overhang may be impacting large buyer's interest in acquiring shares now if they think there will be a large secondary offering of stock. Throughout this process, other strategic options may emerge as well including a tie up with Alibaba's Taobao. Given Yahoo Japan's record on capital allocation, I trust them to make the decisions through the process that best serve the company and its shareholders.
Yahoo Japan's strong and stable product offerings, growing revenue and income, and reasonable valuation provide an attractive investment proposition. As the situation around an ownership change is resolved, I expect the shares to outperform the broader markets. Even at fair value, the company represents a good investment, at my view.
Disclosure: I am long OTCPK:YAHOY.