When we reported last week's natural gas storage report, we noted that a higher-than-consensus injection report failing to move prices lower was a sign of bullishness. We said:

We followed that up with an article titled "Bearish Fundamentals Fail To Lower Natural Gas Prices." We said:

Looking at the natural gas price action today, it's now very evident to us that traders are still not positioned properly for this upcoming winter.

Recent price strength is a clear over-extension as fundamentals are still "meh." Timing the natural gas market perfectly is a fool's game, and is better suited for the same people who buy lottery tickets. What we are most interested in is the current sentiment setup and possible investment opportunities that could come out of this.
To us, buying natural gas here might not offer the same risk/reward as another investment theme. Fear of missing out is usually the psychological experience most get when the market approaches a top. We see higher gas prices as part of the consensus expectation this winter. Although we believe that gas prices will move above $4 and remain there for nine to 12 months, we think the opportunity to buy natural gas futures has long passed. We believe the best way to profit now is to find a non-consensus investment theme.
What's currently very evident to us is that there's a consensus belief that will soon be shattered, and that is the notion that Canadian gas imports into the U.S. will decline in the years ahead. We might not be able to argue the merits of this in four or five years, but for the next one to two years, we can tell you right now that the "consensus belief" is overwhelmingly wrong. We have recently made efforts into modeling out the potential outcomes for next year, and as of now, we are still short 2.5 Bcf/d of gas, assuming normal weather conditions.
We think this gap will be filled by higher Canadian gas imports, possibly north of 6 Bcf/d and reaching 7 Bcf/d. This will have several impacts on the Canadian gas market. Because of the perception that Canadian gas has nowhere to go, Canadian natural gas companies have traded at a 30% discount to U.S. natural gas producers. While our analysis points to takeaway capacity constraints in the Marcellus, the consensus continues to pile on the Northeast producers, thinking that low costs are the key to everything.
We find this consensus level thinking very flawed, and we see a very profitable investment theme for the next 12-24 months. We will be writing a piece this weekend titled "Big Picture Outlook - Why Canadian Natural Gas Producers Will Benefit The Most," and we hope to explain in detail all of the points that will contribute to a lower AECO basis differential and higher AECO gas prices.
Eight- to 14-Day Outlook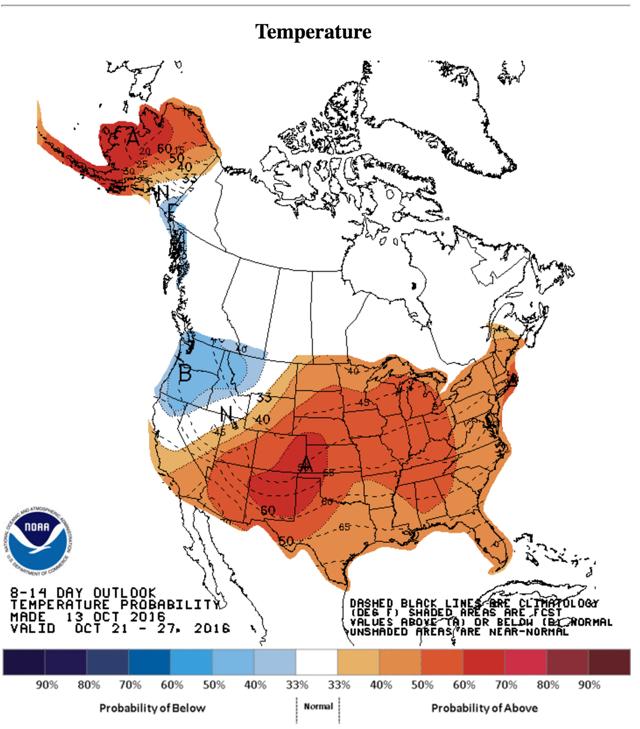 If you are interested in reading our big picture outlook, please consider signing up here. Thank you for reading Natural Gas Daily.
Disclosure: I/we have no positions in any stocks mentioned, and no plans to initiate any positions within the next 72 hours.
I wrote this article myself, and it expresses my own opinions. I am not receiving compensation for it (other than from Seeking Alpha). I have no business relationship with any company whose stock is mentioned in this article.