Bank of Cyprus (BACPY) is still very undervalued at 0.5x TBV. As discussed before in this article, the bank's major issues are its dependence on ELA funding and the amount of non-performing loans. A little wonder is happening, but the market doesn't seem to care.
ELA Funding
As Cypriots are regaining their trust in the banking sector, people are depositing their savings again. The result is a stunning decline in ELA funding and an increase in customer deposits.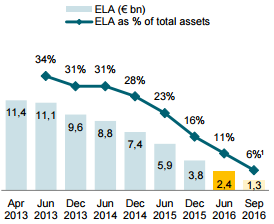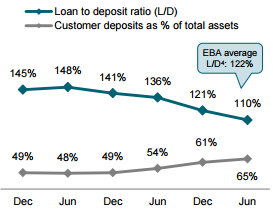 From a liquidity position, Bank of Cyprus is recovering very strongly. Management believes ELA will be full re-paid by 2017. I believe this is realistic because the remaining exposure is only 1.3 billion and there are multiple solutions for the problem: deposit growth, retention of cash profits and proceeds from deleveraging.
Deposits are growing fast and it would not be a surprise another conservative 0.6 billion could be attracted before year end: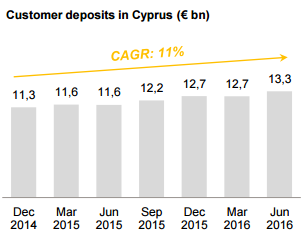 Moreover, BOC's operating result for the first half of 2016 has been 0.28 billion on a cash basis. If the same result is expected for the latter half of the year, only 0.42 billion of ELA funding is left. That gap could be covered by either proceeds from deleveraging and/or interbank market access.
Non-Performing Loans
With an NPL ratio of 44%, the number of non-performing loans is still stunning to say the least. Nevertheless, it has been reduced at a very rapid rate (+- 11% on absolute basis) in only half a year. At the same time, cash reserves have been increased: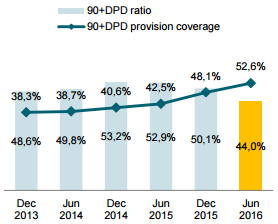 New non-performing inflows have been very low: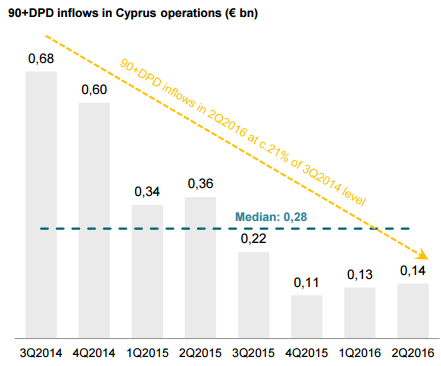 And according to the head of Retail in this news article, the NPLs of his department have already been reduced to 15%. They are only waiting for time to pass for the loans to be classified as 'performing' again (according to my estimate the retail department accounts for +- 25% of NPLs).
The overall NPL reduction has mainly been achieved by the setup of the Real Estate Management Unit (REMU). The goal of this unit is to on-board assets acquired from debt-to-equity and debt-to-property swaps. The unit already on-boarded 1,124 properties (mostly lands & plots) and are worth approx. 1.1 billion.
The new foreclosure laws have been a catalyst in reducing NPLs and gave momentum. But it's not all sunshine, I also came across this article stating that the Larnaca District Court banned the foreclosing of properties for cases which already obtained a verdict before the new foreclosure laws came to effect.
Economy
In the meantime, the Cypriot economy is growing with 2.5% and some leading indicators are quite promising:

Not only do I believe the economy of Cyprus is improving, Moody's is exactly on the same page: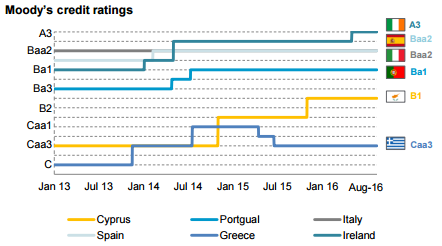 And last month, Standard & Poor's upgraded the credit rating for Cyprus to BB.
In Sum
Bank of Cyprus is making great progress with its two biggest problems. ELA funding will probably be repaid by 2017 and the reduction of non-performing loans gained momentum. Further reduction towards normal NPL figures will continue but it's realistic to expect some bumps along the way and take a long-term perspective. The recovery of the economy is a very strong catalyst for Bank of Cyprus. Despite all its progress in only two quarters, the bank is still valued at 0.5x TBV.
Disclosure: I am/we are long BACPY.
I wrote this article myself, and it expresses my own opinions. I am not receiving compensation for it (other than from Seeking Alpha). I have no business relationship with any company whose stock is mentioned in this article.
Editor's Note: This article discusses one or more securities that do not trade on a major U.S. exchange. Please be aware of the risks associated with these stocks.