German property stocks have had a good year, which reflects two things: (1) strong dynamics in German property, primarily based on solid economic growth (ECB forecasts ~1.6% real GDO growth through 2018) and (2) negative ECB deposit rates, which lower financing costs for developers and landlord while also forcing institutional buyers (insurance companies, pension funds and asset managers) into real estate in an attempt to preserve returns.
As the post Brexit global rush for yield over the summer drove some names in this peer group, such as Deutsche Wohnen (OTC:DWHHF) and LEG Imoblilien (OTCPK:LEGIF) ((LEG on the German stock exchange), to significant premiums to Net Asset Value (NAV), investors faced the question of how long to hold onto the rope. However strong the economic backdrop, it is always harder to buy property stocks above 1x NAV given this requires supportive outcomes over the midterm.
Very recently, the backup in sovereign yields across developed markets combined with talk of a reduced rate of asset purchases by the ECB has triggered some profit taking in German real estate stocks. This has bought leading stocks back to less challenging valuations. A short time ago I wrote about Deutsche Wohnen in this context. Investors should also know about LEG Immobilien. The White line in the chart below is LEG's market cap, the green line its estimated NAV. As you can see, for the first time in a long while, investors can buy LEG below NAV.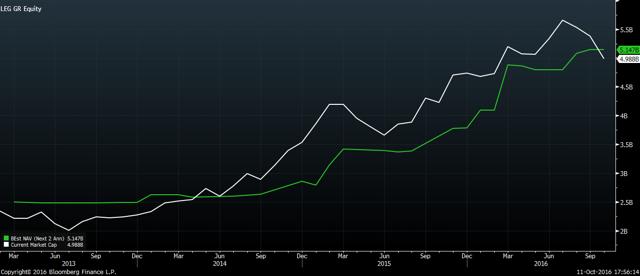 In writing about Deutsche Wohnen, I emphasized its regional focus on Berlin, where the main theme is constrained property supply due to low building volumes along with the yield based drivers of price appreciation in German real estate generally.
The regional focus of LEG, in Northern Rhine-Westphalia, is also interesting for investors. NRW is the largest German state, with just shy of 18 million inhabitants. A strong industrial-export region, NRW has enjoyed an expanding workforce in recent years with the unemployment rate falling from 12% in 2005 to 7.5% in 2015. It is typically a destination for economic migrants and has also received >20% of the 1m refugees who arrived in Germany in 2015, which will be followed by ~300K in 2016. LEG is geared to this. The influx of new people underpins strong demand for rental property for 1-2 person households at affordable rent. LEG's portfolio is tilted to accommodate lower income households with income of less than €2000 a month. The average apartment size it lets is 64 sqm with three rooms. So the company is geared to a growing workforce.
Source: Company Presentation, September 2016
Aside of these demographics, what stood out to me when analyzing this business is that NRW still achieves some rental yields that one would normally associate with a distressed economic area with significantly falling prices, not one of the robust growth and prospects of NRW.
LEG breaks its portfolio down into three main segmental regional divisions: High-growth, Stable and Higher Yield markets. The yield difference between the higher yield areas and fast growth areas is about 2%, with higher yield earning 8%. The high growth markets tend to have the lowest vacancy rate (1-1.5%) and the higher yield markets the highest vacancy rates -- but these are still only 3%-4%. Moreover, the high yield areas are where LEG has added properties. The growth of, and allocation between, each division in recent quarters is show in the chart below:
(click to enlarge)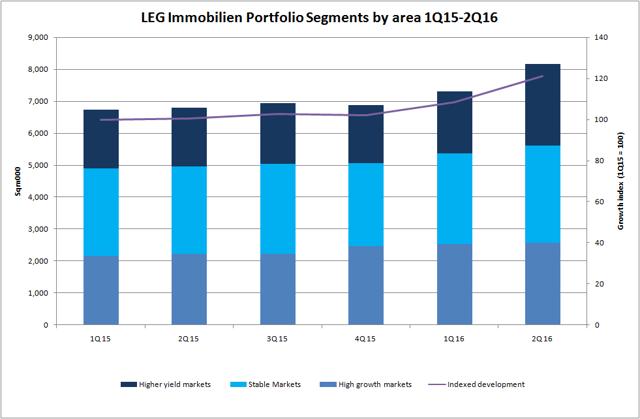 Source: LEG Immobilien
The high growth registered in 2Q 2016 reflects the acquisition of a property portfolio of 13.6K units, which completed in April, and drove a significant boost to net rental and lease income in the operating statement for the quarter:
Source: LEG Immobilien
Aside from the top line growth this has driven in LEG, I think investors should be asking how, in the prevailing European environment where rates are likely to remain very low for the foreseeable future, institutional buyers looking for return won't in due course wish to engage with yields of 8%! Critically, the low vacancy rates I discussed above mean LEG is as good as fully let. At around 1x NAV now, you have a lot of comfort in the valuation since the backdrop is supportive anyway, but I think LEG buying portfolios in its high yield areas will turn out to have been prescient and external buying interest in NRW will pick up, perhaps as areas that have seen very strong price growth such as Berlin start topping out.
Meanwhile the P&L at LEG looks good. Funds from operations (FFO) was up 50% over 2Q 15, which should drive about 25% YoY growth for FY'16 as the base effect of newly acquired apartments rolls through. I suspect the base case outlook for growth in NAV and FFO should be about 10% through 2017-18. This can be lifted by more acquisitions of property portfolios although this is not in the price, so I would not be concerned if these did not occur.
I'll conclude by coming back to the valuation. The current estimated NAV is conservative given portfolio growth has mainly occurred in higher yield areas in recent quarters and the whole portfolio is valued off a 7.1% yield. This makes the risk/reward on LEG attractive here.
Disclosure: I/we have no positions in any stocks mentioned, and no plans to initiate any positions within the next 72 hours.
I wrote this article myself, and it expresses my own opinions. I am not receiving compensation for it (other than from Seeking Alpha). I have no business relationship with any company whose stock is mentioned in this article.