Pierre Andurand, founder of Andurand Capital Management LLP, has set his eyes on $70 oil in 2017. His track record of calling the recent oil downturn has been pretty spot on. He was very bearish on oil last year, as he said in this article by the Financial Times:

Following the article in September, WTI dropped from $45 to less than $30 in just four months. Andurand turned from a bear to a bull earlier this year, predicting a "multi-year bull run." Since then, oil prices have steadily increased despite some people's persistence that oil will retest the $30 or even the February lows.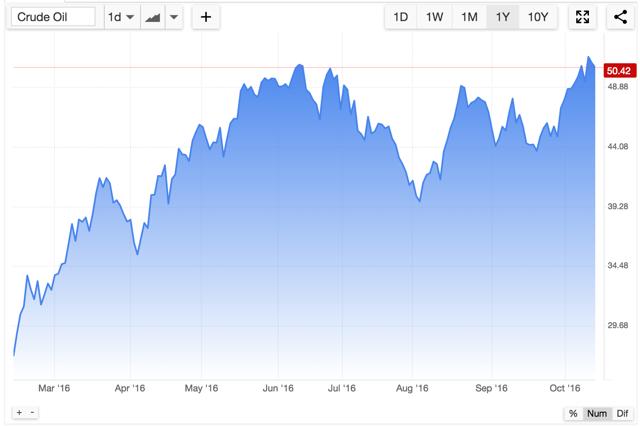 In a recent Reuters article, Andurand points to $60 oil in just three months and $70 by next year, saying that in "2014 the big opportunity was in prices going down and now the big opportunity is in prices going up. That's the way I see it."
In our articles, we have said multiple times that we expect oil prices to end the year around $60. There are a few variant perceptions we draw our conclusion from, but the most important one is that the oil market's supply and demand is already in deficit. Similar to what Andurand said at the Reuters Commodities Summit, we think the market will balance regardless of whether OPEC cuts or not.

Source: Reuters
People who continue to focus on the U.S., Russia, and OPEC are ignoring the other half of the supply chain. In addition, countries within OPEC are inflating their production figures. We see the declines in Venezuela offsetting all production growth in OPEC, and if Saudi Arabia decides to cut it would only increase the current deficit further.
Now the oil market rebalancing is just a matter of when storage will normalize. As we have said before, if Saudi Arabia agrees to cut production, our current estimate is for oil storage to be balanced by the end of Q2 2017. If there are no cuts by any of the countries, we see natural declines and production destruction in Venezuela contributing meaningfully to the current deficit, and we expect global storage to balance by Q4 2017. Given that now it's a matter of timing rather than a question of "if," we believe the oil bears who think oil prices will fall back into the $20s are mistaken. The only thing that continues to hold down oil prices is storage levels, and we think the shale band theory that everyone believes in will be debunked, as explained here by Open Square Capital.
We explained our thesis for why oil prices will move higher in a piece titled "Big Picture Outlook - Why We Think Oil Prices Are Heading Higher" to premium subscribers. If you are interested in reading our Big Picture Outlook, please consider signing up here. Thank you for reading our Oil Markets Daily.
Disclosure: I/we have no positions in any stocks mentioned, and no plans to initiate any positions within the next 72 hours.
I wrote this article myself, and it expresses my own opinions. I am not receiving compensation for it (other than from Seeking Alpha). I have no business relationship with any company whose stock is mentioned in this article.