Twitter (NYSE:TWTR) is broken. The company can't get itself sold and it refuses to take the necessary steps to turn around the company. Shares have come off the mid-$20s surge but are still hovering around $18 a share. As mentioned, I won't be interested until we see TWTR near all-time lows. The problem is that Jack Dorsey doesn't want the company sold and he's spending a ton of money on "nothing."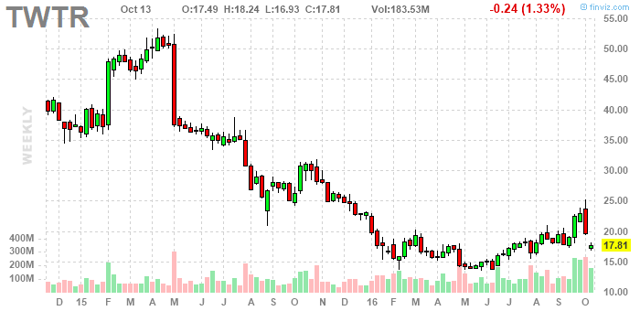 Dorsey doesn't know what he's doing anymore. He's stuck on the idea of running a public social media company, ignoring the sales process. Running two companies, the other being Square (NYSE:SQ), is nearly impossible. Dorsey, meanwhile, is playing the happy-go-lucky card, trying to rally the troops. Notably, Dorsey noted "we can do this!" in an email to employees.
While the board is looking to get the company sold, Dorsey is pushing a strategy that appears dead before it even starts - the "live" strategy. That is, focusing on video and breaking news. A strategy that lacks vision for monetization, which is what the investors are screaming for.
The buyout isn't coming, with most of the buyers backing away. Only Salesforce (NYSE:CRM) is left. But CRM isn't a likely buyer as its large shareholders have pushed back against such a deal.
Meanwhile, Twitter will continue to see slowing revenue and no user growth. Here's more of what Dorsey has to say - "People choose us for news because we're the fastest. Fastest to get news, and fastest to share news with the whole world. Now let's strive to be the first." But how do we make money with that, Jack?
We need an activist to really push for change here. We'll get more info on just how its new deals, such as the NFL streaming partnership, are doing on Oct. 27 when the company releases earnings. Did the NFL deal bring in some meaningful new users or did the fact that you didn't have to login to view the games work against TWTR?
Dorsey working against us
Dorsey wants to keep the company public so he ensures he'll be running it. If someone takes over the company, Dorsey is assured to be gone. Now, I love TWTR just like anyone else. However, TWTR is doing a poor job of monetizing all the time I spend on the site. The company not only needs new management but also needs to cut out some useless costs. The service hasn't meaningfully changed over the years and yet it's spending more than ever.
The fixes? The key is a management overhaul. It appears that Jack Dorsey needs to go. Running two companies just isn't working out. The TWTR job is too big - the best case is that Dorsey needs to run Square and let someone more capable take over at TWTR. Then we need to cut costs and unnecessary spending, plus a more aggressive approach to divesting non-core assets like Vine and Fabric. But, again, I don't think Jack's the man to lead us to the promise land.
Disclosure: I/we have no positions in any stocks mentioned, and no plans to initiate any positions within the next 72 hours.
I wrote this article myself, and it expresses my own opinions. I am not receiving compensation for it (other than from Seeking Alpha). I have no business relationship with any company whose stock is mentioned in this article.