Back in February I wrote about how at $7.34 per share I thought it was a good time to take a hard look at Consol Energy (NYSE:CNX). As per usual this idea was found by studying the portfolio of a world class investor.
In the case of Consol that investor was David Einhorn.
What I thought was especially attractive about Consol was that Einhorn had bought the stock at prices as high as $40 per share and as recently as November 2015 had said that Consol was still worth at least $35 per share.
I love following great investors into stocks and I really love it when I'm getting to buy shares at a significant discount to what the great investor paid.
Eight months have now passed and I think that an update on Consol is useful given how the story has played out.
This Couldn't Have Worked Out Much Better
Since February 2016 Consol's share price has done very well. From where our initial article was written Consol shares aren't far off having tripled.
That is obviously a great return over 8 months and good luck has had a big part in this.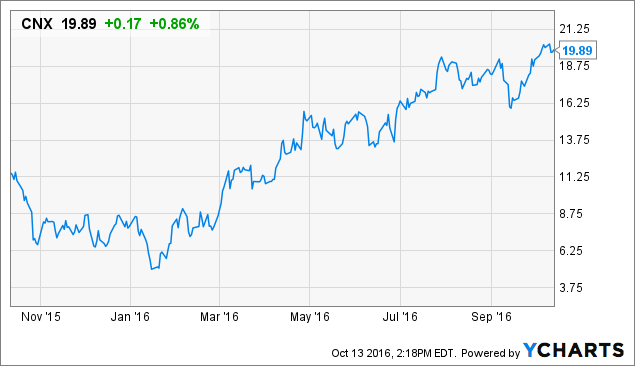 The company has had good news at both the company and the macro level.
Consol produces both coal and natural gas. Coal is the company's history and natural gas is its future. I'm not terribly bullish on either commodity over the longer term, but back in February it did seem like in the short term prices could improve.
I also liked the fact that Consol is one of the lowest cost coal producers and its natural gas property economics are also among the best in the industry.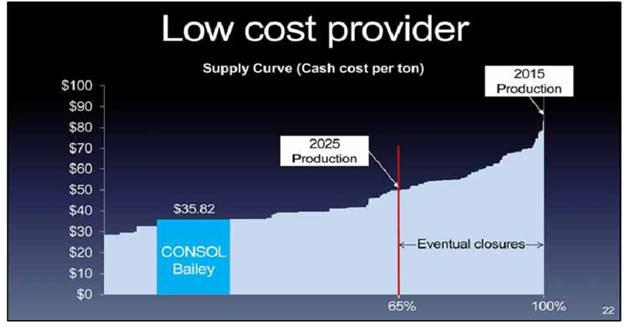 Source: Greenlight Capital
Coal is not going to be a great business going forward, but Consol should be one of the few company's that can generate positive cash flow producing it going forward.
The future of this company is going to be natural gas and it is natural gas that has been the tailwind for this company at the macro level in 2016.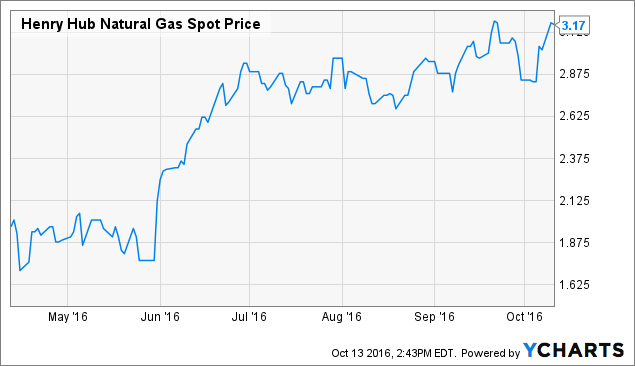 Henry Hub Natural Gas Spot Price data by YCharts
From absurdly low levels natural gas is now at a price of over $3/mcf. That is a price that works reasonably well for Consol's Marcellus and Utica assets where breakeven cash costs are now under $2/mcf.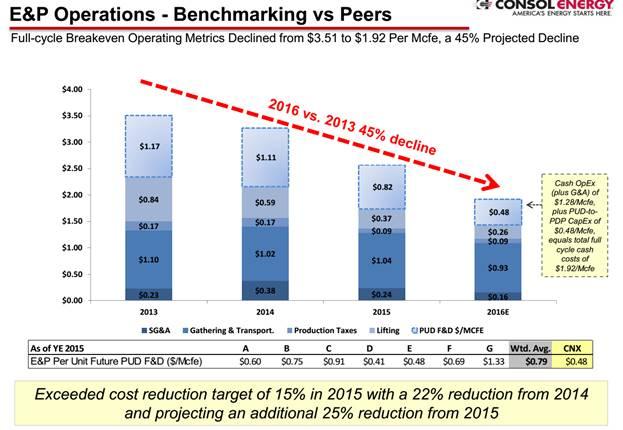 Source: Consol Energy Corporate Presentation
Einhorn Has Reduced And Why I Would To
Could there be further upside in Consol Energy shares? I certainly think so, yet I'd be inclined to sell today and lock in profits from the February entry price. The risk/reward ratio here has changed and we have already had help from commodity prices.
I take my cues from investors like Einhorn on when to get into a company and I take my exit cues from them as well.
Einhorn has been reducing his Consol position. At the end of the second quarter Einhorn's Greenlight Capital held 22 million Consol shares. That is down from 29.7 million at the end of the first quarter which is a 25% reduction.
I'd be inclined to reduce my position even more aggressively than he has given the gain we have had. There are a couple of reasons for that.
First is how scary I find natural gas. Give us a warm winter and this commodity can backtrack on us in a hurry. I am moderately bullish on natural gas over the short term if we have a normal winter. I believe supply has rolled over and it is going to take a while to get enough rigs moving to reverse that.
Despite those bullish beliefs I'm not willing to risk the gain we have had from $7.34 to nearly $20 on having a normal winter. I appreciate that Consol has a strong hedge book with nearly 70% of production hedged this winter, but the market isn't going to spare Consol's shares even with this protection.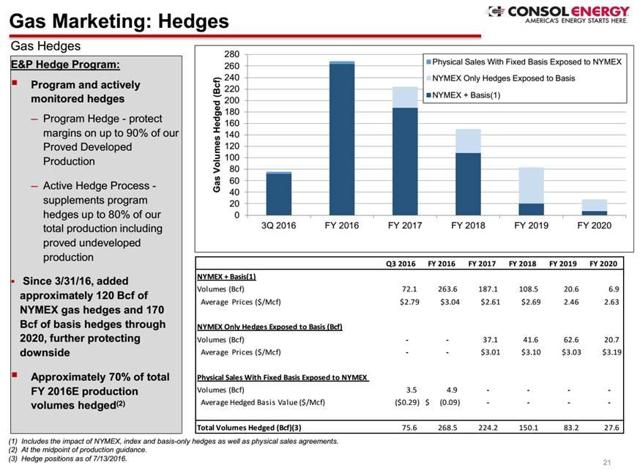 Source: Consol Energy Presentation
My second concern is how much debt this company has relative to the cash flow that it generates.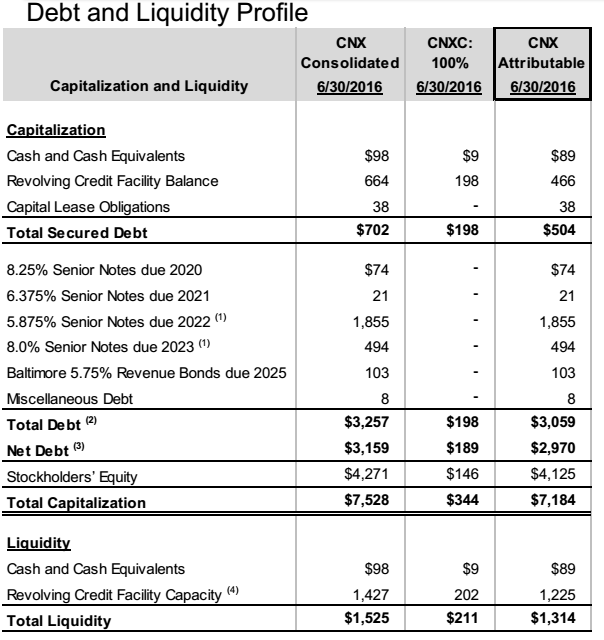 Source: Consol Corporate Presentation
At the end of June Consol has roughly $3 billion of net debt. Against that the company has generated $666 million of EBITDA over the past 12 months. If you annualize the EBITDA for the last quarter that figure shrinks to $544 million.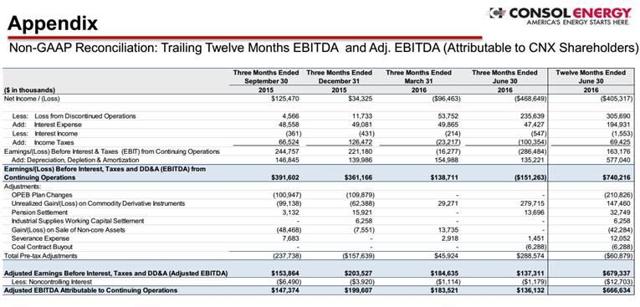 Source: Consol Corporate Presentation
With $3 billion of net debt that puts the company at a leverage of 4.5 to 5.5 times EBITDA depending on which number you prefer to use. That is a lot of debt, especially for a company relying on coal and natural gas prices. I like the amount of liquidity that Consol has given the room on its bank revolver but the absolute level of debt is still high.
I like the company's assets, even the coal ones. At this time though I'd be more apt to be a seller than a buyer of Consol, especially if my entry price was near the price where we originally wrote about this company.
To convince me to continue to hold shares would require me becoming extremely bullish on either natural gas or coal prices. So if that is your macro view on either commodity then Consol would look more attractive to you than me.
Thank you David Einhorn for an idea that has worked out very well.
About The Superinvestor Bulletin
Our subscriber service is off to a good start with 7 of 9 ideas ahead of the S&P 500 (this excludes Consol). The complete portfolio is ahead of the S&P by 11.63%. This is a pace that is going to be very hard to maintain but we are going to work hard to try. We are currently offering a free trial of our service for anyone interested. Just follow this link if you are interested.
Disclosure: I/we have no positions in any stocks mentioned, and no plans to initiate any positions within the next 72 hours.
I wrote this article myself, and it expresses my own opinions. I am not receiving compensation for it (other than from Seeking Alpha). I have no business relationship with any company whose stock is mentioned in this article.