Real-Life Portfolio Update: 2 Stocks Bought in Past Month, 1 Sold
As mentioned in an article published in July, I have an entire portfolio constructed of gold/silver explorers, junior miners and mid-tier mining companies that give me leverage to precious metals prices. I am expecting the portfolio to outperform benchmark indexes such as the gold miners index (NYSEARCA:GDX) and the silver miners index (NYSEARCA:SIL).
However, I am constantly tinkering with this portfolio, so my holdings and stock weighting are often changing. For example, in August, I added five new gold stocks to this portfolio - Avnel Gold (OTCPK:AVNZF), Eastmain Resources (OTCQX:EANRF), Mariana Resources (OTC:MRLDF), Silver Bull Resources (NYSEMKT:SVBL), and Sarama Resources (SRMFF)
The portfolio has done well year-to-date, as you'll see below, it has performed the PHLX Gold and Silver Index. At one point it was up over 200%, compared to a 5.7% gain in the S&P 500 (NYSEARCA:SPY), although you'll see in the past month, it has declined quite a bit due to the drop in gold and silver prices. These types of drops are expected from time to time, and present investors with a buying opportunity in my opinion.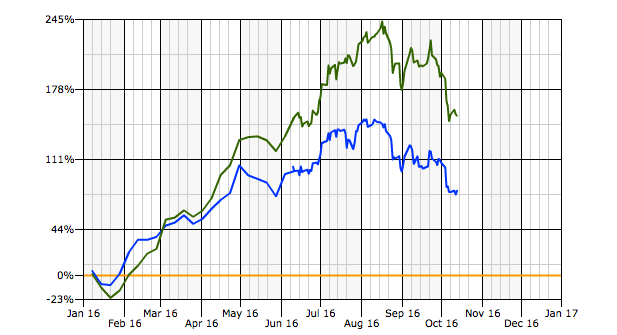 Here, I'll give readers a quick update on this portfolio.
Excelsior Mining (OTCQX:EXMGF)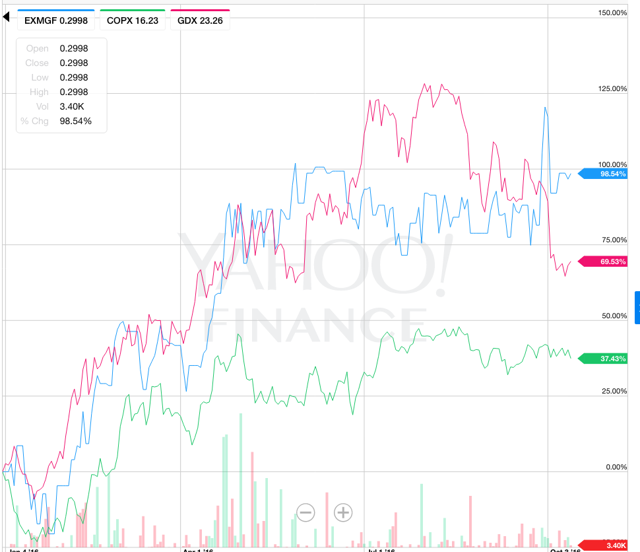 (Excelsior has outperformed the copper miners index (NYSEARCA:COPX) and the gold miners index year-to-date. Credit: Yahoo Finance)
I bought a new position in this copper explorer/developer earlier this month. The new position makes up 2.3% of this portfolio.
Why did I buy Excelsior? After all, it's not a gold or silver stock. However, I believe this company has huge upside potential with less downside risk than investors may expect, so I felt the need to discuss it here.
Excelsior currently carries a market cap of $41.1 million. The company is developing the Gunnison copper project, which is a low cost in-situ recovery (NYSEMKT:ISR) copper project located in the mining friendly jurisdiction of Arizona. First production is expected in early 2018.
The project carries pretty excellent economics, according to an updated prefeasibility study. Based on an initial production rate of 25 million pounds of copper production per year, and using a $2.75 per pound copper price, the study says the project carries a post-tax net present value (7.5% discount) of $829 million, with a rate of return of 45.8% and payback period of 2.6 years.
But even using a $2 copper price (copper currently trades at $2.12 per pound) the post-tax net present value still stands at $395 million. The project is flexible in that production is staged, ramping up to 75 million pounds in year 4 and then full production of 125 million pounds in year 7. This reduces the upfront capital requirements, with just $45.9 million required. These are excellent economics, especially when you consider Excelsior's market cap is less than $50 million.
I bought shares after Excelsior announced it had completed a $14 million financing, which fully funds Excelsior through a decision to construct the project in Q3 2017. It was a major accomplishment as the financing was done at a premium to the current share price and gives the company enough cash to advance Gunnison through next year.
Another positive is high insider ownership, as management owns 9.1% of the company, according to its corporate presentation. This shows me that insiders have skin in the game and are highly motivated to see this company succeed.
So, what are the risks? The project has yet to receive all of its permits, which are expected in Q2 of next year. There's no guarantee it will receive the permits, of course, but I think it is likely as a few other ISR copper mines have received permits in the past in this region. For example, Curis Resources was acquired by Taseko Mines for its Florence copper project, phase 1 production is set to commence shortly at that mine. There's also two other past-production ISR copper mines that were previously operated by BHP and Magma Copper.
In conclusion, I think Excelsior Mining is highly undervalued and the potential rewards far outweigh the risks. I don't think permitting will be an issue for the company, and I think the company is a takeover target as well. I may buy a few more shares if the stock dips below $.30.
Newmarket Gold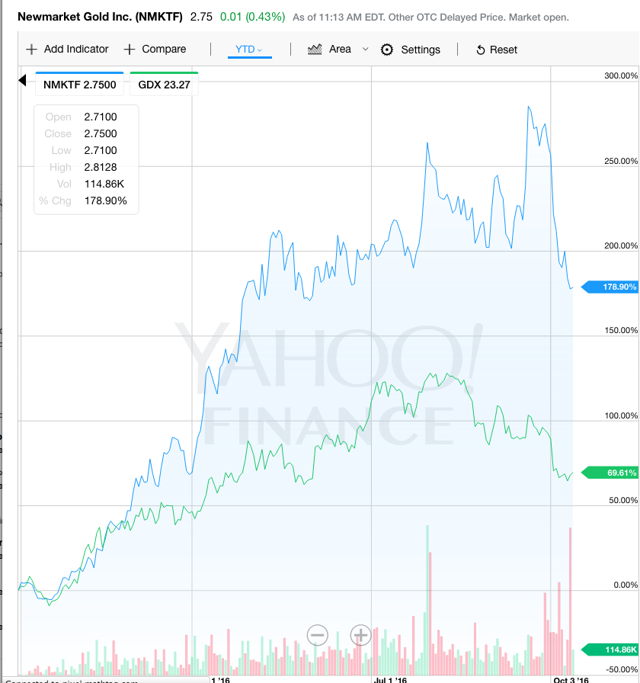 (Newmarket Gold has outperformed the GDX by a wide margin, even with the decline this past month. Credit: Yahoo Finance)
I finally pulled the trigger on Newmarket Gold a few weeks before it was announced the company would be acquired by Kirkland Lake Gold (KGILF) in an all-share transaction, which is another holding of mine.
Existing Kirkland Lake Gold and Newmarket shareholders will own approximately 57% and 43% of the combined company. For Newmarket shareholders, the takeover is at C$5.28 per Newmarket common share based on the closing price of Kirkland Lake Gold on Sept. 28, 2016. This is a big premium to Newmarket's current share price on the TSX of $3.79.
Since the takeover was announced, both stocks have sold off sharply, which I think is mainly due to the dip in gold prices. Kirkland Lake has sold off a bit more than Newmarket, so it looks like shareholders of that company were not pleased with the deal. I then bought more Newmarket recently at $2.70 per share, as I intend to hold my shares of the newly formed company.
Newmarket was my #1 overall top gold stock to own in 2016, and I have confidence that this deal with Kirkland Lake Gold will work out for both companies. The deal combines Kirkland Lake's high-grade Macassa Mine Complex (average gold grades of 19.2 g/t gold), along with Newmarket's Australian gold assets, including its flagship Fosterville gold mine, which contains 1.5 million ounces of gold in reserves at 19.2 g/t.
The combined company will produce over 500,000 ounces of gold this year at AISC less than $1,015 per ounce. The company will have a cash balance close to $300 million with significant free cash flow expected to finish off 2016.
Newmarket also recently announced that it has produced a record 175,041 ounces of gold for the first nine months of 2016, and said it has $82.5 million in cash on hand, a $12.6 million improvement from Q2 2016. Recent drilling results at Fosterville were very impressive and included 194 g/t gold over 14.3 meters, including 1,135 g/t gold over 2.3 meters.
I'm a fan of Newmarket's deal with Kirkland Lake, and I expect the deal to go through as planned. If the stock sells off again, I'll buy even more shares. The stock currently makes up 5.8% of my portfolio.
NuLegacy Gold (OTCQX:NULGF)
I took some profits off the table recently when I sold some shares of NuLegacy Gold. I was sitting on gains of 200%, so I felt the need to lock-in some profits. The stock currently makes up 1.8% of my total portfolio.
Readers may remember that I previously listed NuLegacy Gold as one of three gold explorers to put on your radar when shares traded at $.316. I expressed excitement in NuLegacy's Iceberg deposit and said shares could go even higher following the release of new drill results.
While I'm not bearish on NuLegacy Gold here, I do think the stock's upside is limited here given the company's recent C$9 million private placement, as it issued 20 million units at C$.45 per share. Also, the stock has had a great run this year, but with a market cap well over $100 million, I'm not as confident in the valuation. I would consider buying more shares only if the stock fell below $.25.
Note: All of my other positions remain unchanged from my last update.
Disclosure: I am/we are long ALL STOCKS MENTIONED.
I wrote this article myself, and it expresses my own opinions. I am not receiving compensation for it (other than from Seeking Alpha). I have no business relationship with any company whose stock is mentioned in this article.
Editor's Note: This article covers one or more stocks trading at less than $1 per share and/or with less than a $100 million market cap. Please be aware of the risks associated with these stocks.