Background
This month's article marks the nineteenth installment in my on-going series which outlines my efforts to achieve dividend growth success. The portfolio is nicknamed the MnM portfolio, which is a moniker for "Minne(sota) 'n Monthly."
I titled the article this month to highlight that even as the stocks in the portfolio have pulled back, the income stream they are generating has done the exact opposite and continued its upward march.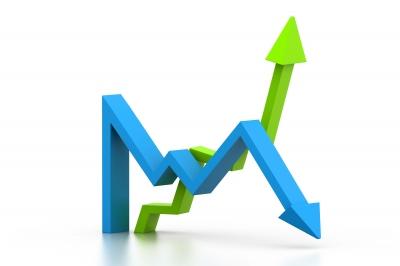 This month the portfolio surpassed my expectations and saw four increases come across. To give some context, I have only been expecting about two increases per month during the back half of this year, as raises typically slow down during these months.
Note: The portfolio continues to hold 35 stocks which is at the lower end of my target portfolio size of ~35 - 40. I feel that the portfolio holds a sufficient number of stocks such that I can effectively follow them all. I will work towards achieving more equal weightings, as this will provide strong diversification with each stock representing approximately 2% - 3% of the portfolio total. I also receive 100 free trades each year from my brokerage, so I can trade in small quantities without worry about brokerage trading costs.
That being said, here's what happened in September.
September 2016
I have captured the activity for September and for the year-to-date in the standard rollforward summary below. The portfolio continued its pullback from August, posting a 1.5% decline. The decline this month was somewhat across the board; however, retailers Target (NYSE:TGT) and CVS Health (NYSE:CVS) continue to struggle and Wells Fargo (NYSE:WFC) slumped amid the revelation of a scandal involving sales goals and pressure to open new accounts.
As the title of the article alludes, I'm not fazed by the sell-off one bit. If anything, I have been waiting for a sell-off for some time. The stretched valuations that we were looking at all summer were nothing but frustrating as they made finding options for reinvestment much more difficult.
Even in the face of the decline, the net performance of the portfolio of 13.7% year-to-date continues to outperform the S&P 500. The portfolio collected $244.19 in dividends during the month, all of which was recurring on positions held.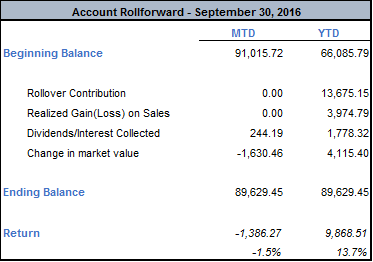 The portfolio was comprised of the following securities as of September 30, 2016: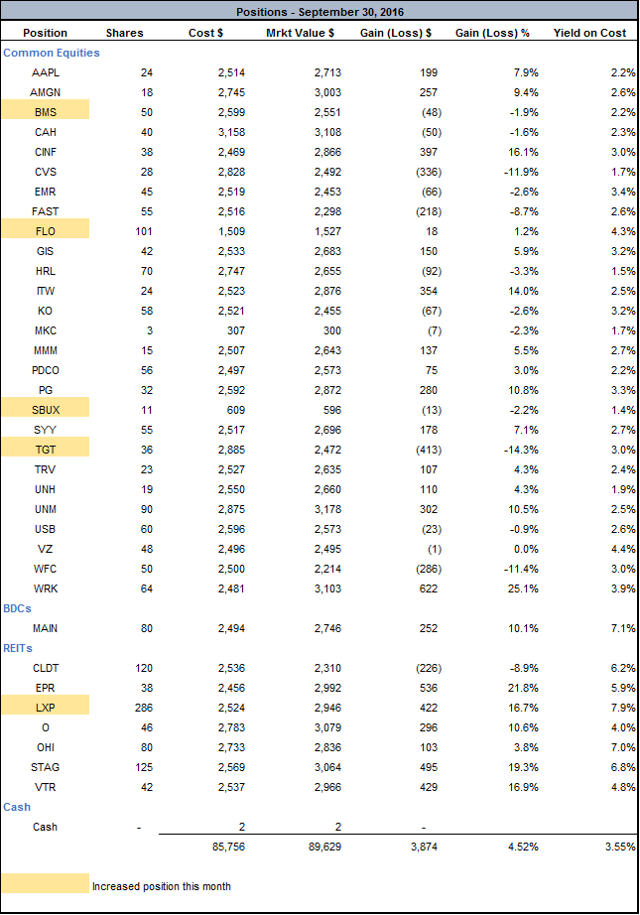 The following sections go into greater detail of the events that have occurred since the end of August.
Sales
None
Additions
With the portfolio now fully invested, the only funds available for new investment came from dividends. My purchases continued to be focused on securities that have generally struggled thus far this year, and whose valuations remain attractive. I also have the goal of building up my newer positions, so additions were made to a couple of them as well.
Working under this strategy I added shares of Bemis (NYSE:BMS), Target, Starbucks (NASDAQ:SBUX), Flowers Foods (NYSE:FLO) and Lexington Realty Trust (NYSE:LXP).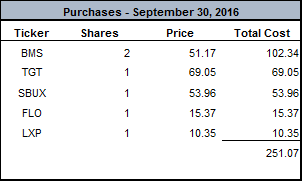 Dividends Collected
As mentioned already, I collected $244.19 in dividends and interest during the month, all of which was recurring. I have included the forward-looking dividend summary which has now been rolled forward as we begin wrapping up 2016 and looking towards 2017.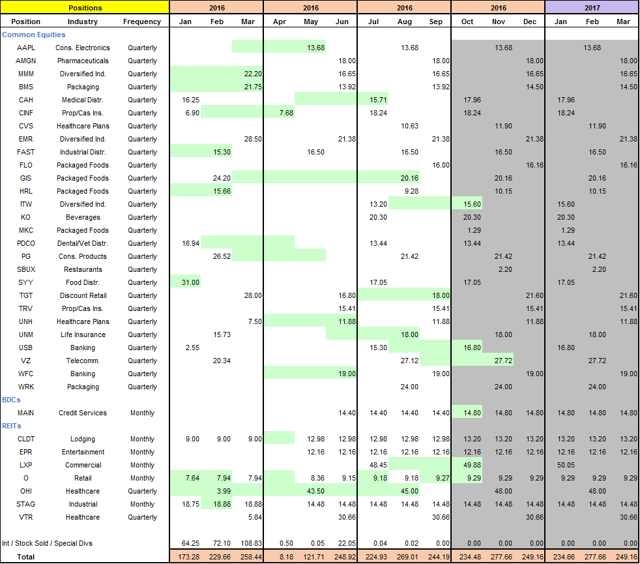 As mentioned last month, the portfolio is now entirely invested and full dividends will begin to be collected starting next month, which will be the baseline level to track growth in 2017 from.

Dividend Increases
Surpassing my expectations, the portfolio had four positions announce increased dividends during the month. This month the portfolio received a sizeable increase from US Bancorp (NYSE:USB), two modest increases from Verizon (NYSE:VZ) and Lexington Realty Trust, and an always appreciated, though small, boost from Realty Income (NYSE:O).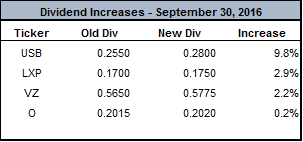 I continue to expect that the remaining quarter of 2016 will see dividend increases come across at a pace of 2-3 per month. What's incredible to me is that the portfolio has now seen its income rise on 35 separate occasions during 2016 from raises alone. I am optimistic that the portfolio will crack forty increases by the end of the year.
I have updated the income trend line for 2016 and have now added the first quarter of 2017 as well. I would highlight that the gap in income for the first quarter year-over-year is largely attributable to the rollover contribution; however, as we get further into 2017 any upward trend will be organic, driven off of dividend increases and reinvestment.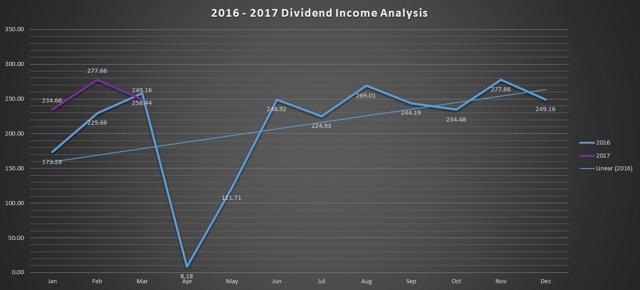 Closing Thoughts
It wasn't a pretty month for the portfolio, but they aren't always going to be up, up, up. Many of the positions struggled as the market is increasingly pricing in a near-term rate hike by the Federal Reserve. The diversification of the portfolio proved strong as the struggles of Wells Fargo only had a minimal impact on the portfolio as a whole.
What I feel is most important to bring to your attention is that even with the declining valuations, income rose, and by a good clip. One of the best tenets of the dividend growth method of investing is just how easy it is to shrug off declines. I'm not sweating these price movements at all. To the contrary of what some might think, in my mind, overall the month was a win.
For October I am still seeing attractive valuations in a number of securities. In addition to those I added in September, I like what I am seeing in Cardinal Health (NYSE:CAH) and Chatham Lodging Trust (NYSE:CLDT). Further, McCormick (NYSE:MKC) is finally coming down in price as well so it may be a candidate for addition at some point during the upcoming quarter.
It's time to start looking ahead, and maybe you noticed, but I have updated many of the schedules to reflect 2016 - 2017, retiring 2015 figures. I am optimistic that 2017 will be another year of continued gains and progress under the dividend growth strategy. We may see more sell-off, but diligence and adherence to the strategy will continue to serve the portfolio well.
Lastly, each month I am getting increasingly anxious to be eligible and to start participating in my employer's 401K. I will begin reporting these funds in January 2017. In addition to building the portfolio from the inside, I will be able to show outside assets as well, which one day will enter the portfolio.
It's coming quick, only a quarter away.
Disclosure: I am/we are long THE STOCKS LISTED IN THE PORTFOLIO.
I wrote this article myself, and it expresses my own opinions. I am not receiving compensation for it (other than from Seeking Alpha). I have no business relationship with any company whose stock is mentioned in this article.