The U.S. Treasury announced this morning that it will reopen CUSIP 912810RR1 in a $5 billion auction on October 20, creating a 29-year, 4-month Treasury Inflation-Protected Security.
This TIPS originally auctioned on February 18 with a coupon rate of 1.00% and a real yield (after inflation) to maturity of 1.12%. As it ends up, that was probably the most attractive TIPS auction of the year. The 30-year TIPS yield has been declining steadily since then:

At the same time, this TIPS has greatly increased in value, making it a prize for buy-and-trade TIPS investors who got in back in February. Here's what we can say about CUSIP 912810RR1 one week away from its reopening auction:
Bloomberg's Current Yields page shows it currently trading with a real yield of 0.70% and a price of about $107.84 for $100 of par value. The original price in February was $96.79, meaning that this TIPS has jumped in value 11.4% in eight months. Buy-and-traders, rejoice. (Then sell, in my opinion.)
The Wall Street Journal's Closing Prices page shows that this TIPS - which matures 2046 Feb. 15 - closed Monday with a real yield of 0.706% and a price around $107.78.
Finally, you can look at the Treasury's Real Yields Curve page to find the Treasury's estimate of the real yield on a full-term 30-year TIPS. As of Monday, the estimate was 0.73%.
If you are thinking about investing in this TIPS at auction, you should continue to check the above links up to the morning of the auction. Yields appear to be rising slightly today, and the U.S. election is causing a lot of market volatility.
The negatives
I'm not a fan of the 30-year TIPS because this maturity doesn't fit my buy-and-hold-to-maturity strategy. I'd be 92 years old when this TIPS matures. In addition, 30-year TIPS are extraordinarily volatile, as shown by the 11.4% move in eight months. If this TIPS auctions with a yield around 0.70%, it would be the lowest yield for any 29- to 30-year TIPS auction since February 2013, when the Treasury was forcing down bond yields with QE3.
Another problem with this TIPS is that it won't provide cash flow if held in a taxable account. The IRS views the inflation adjustment to principal a taxable event for the current year. If inflation averages 2.0% a year, taxes would eat up your cash flow.
$10,000 in this TIPS will generate $100 a year in immediate cash flow, rising with inflation.
If inflation averages 2.0% a year, the TIPS principal will increase $200 a year, rising with inflation.
If you are in a 35% tax bracket, your tax bill in year one will be $105 on the $300 total you received.
You are $5 cash flow negative.
Don't buy this TIPS in a taxable account.
The positives
It's significant that the Treasury is only offering $5 billion of this TIPS in the October auction. In the last three years, the amount has been $7 billion for the 29-year, 4-month term. Will that cause increased demand? We'll see.
The key to the current demand for TIPS is the 'inflation breakeven rate' and expectations of rising inflation. With a 30-year nominal Treasury currently yielding 2.47%, this TIPS would have an inflation breakeven rate of 1.77%. That means it would outperform a traditional Treasury if inflation averages more than 1.77% over the next 29 years. This is low by historical standards, but about 25 basis points higher than the breakeven rate at the originating auction in February.
Inflation expectations are rising, and that should create higher demand for this TIPS reopening. Here's the long-term trend in the 30-year breakeven rate:

I'm expecting a fair amount of volatility next week. The September inflation number will be announced Tuesday at 8:30 a.m. If inflation continues its recent mild march upward, you can expect both stocks and bonds to react to the fear of a possible near-term interest rate hike from the Federal Reserve.
If you are investing in this TIPS, keep an eye on the markets, all the way to Thursday morning. Non-competitive bids have to be placed by noon.
Here's the history of every 29- to 30-year TIPS auction. Note how sharply the 'Per $100' can swing after the initial auction. This is a very volatile breed of Treasury.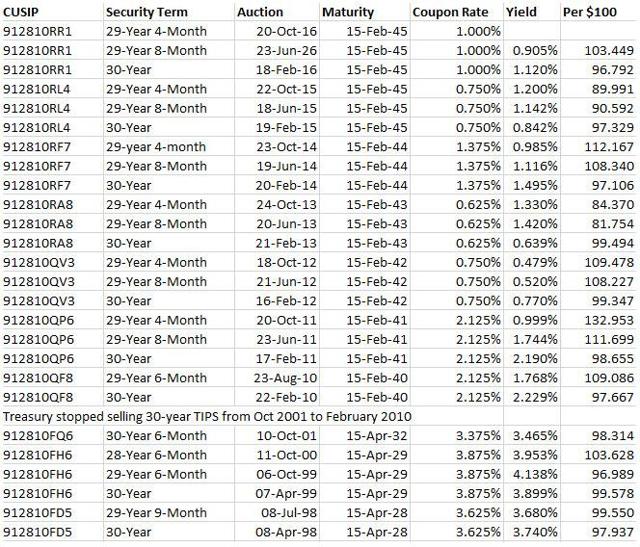 Disclosure: I/we have no positions in any stocks mentioned, and no plans to initiate any positions within the next 72 hours.
I wrote this article myself, and it expresses my own opinions. I am not receiving compensation for it (other than from Seeking Alpha). I have no business relationship with any company whose stock is mentioned in this article.