SolarCity (SCTY) has experienced a major reversal of fortune over the past year. After years of rapid expansion, SolarCity has finally started to stagnate in terms of growth. To make matters worse, SolarCity's cost structure is becoming increasingly less competitive. While the rooftop solar industry will likely continue to prosper, SolarCity's place within the industry appears to be less secure than it once was.
Despite the massive challenges facing SolarCity, the company still has a great deal of potential. SolarCity is currently working hard to address the many problems plaguing the company. With Tesla's (NASDAQ:TSLA) backing, SolarCity should have a far easier time resolving its issues. Tesla should be particularly helpful in product differentiation, which is a major weakness in SolarCity's business. Given the growing competition in what is essentially an installation industry, product differentiation will likely be key to long-term success for SolarCity.
Accelerating Innovation
SolarCity has long been the pioneer in rooftop solar. Despite SolarCity's relentless push for lower costs and mainstream rooftop solar adoption, there has been an absence of truly revolutionary changes in the industry over the past few years. The major innovations occurred primarily on the financial side of rooftop solar. In the likely event that the SolarCity-Tesla merger follows through, the rooftop solar industry will likely undergo a radical transformation.
SolarCity and Tesla recently announced that they plan to release a highly innovative Solar Roof product. While full details about this product have not been fully revealed, many are expecting it to be game changing for the industry. In fact, Elon Musk plans to hold an announcement regarding this product in a few weeks. With the rooftop itself functioning as solar panels, SolarCity and Tesla's new solar roof product will likely open up an entirely new market for the company. From what we know so far, the solar roof product will also come with the Powerwall 2.0 and Tesla charger.
Such an innovative product will almost certainly be a huge differentiator for SolarCity. Currently, SolarCity's products are not much different from those of major competitors like Vivint Solar (NYSE:VSLR) and Sunrun (NASDAQ:RUN). Even the products offered by regional installers are not much different aside from financing. With a solar roof product, SolarCity could find itself far ahead of the industry once again.
What's more, SolarCity will also have access to Tesla's advanced energy storage products, putting SolarCity at an even greater advantage compared to its competitors. SolarCity is clearly aware of the challenges facing the company and is doing everything in its power to push the frontiers of rooftop solar. Currently, there are very few rooftop solar companies capable of such innovations. It will be extremely hard for companies like Vivint Solar or even SunPower (NASDAQ:SPWR) to replicate such a product.
Huge Challenge Is Still Loom
SolarCity is currently in a highly unstable situation. The company is having an extremely hard time maintaining a high growth rate as a result of growing competition and a rapidly evolving rooftop solar landscape. The company's cost situation is even more worrying, especially considering the fact that cost is perhaps the largest differentiator in the rooftop solar industry. While SolarCity managed to bring its total cost structure down from Q1 to $3.05 per watt, this cost structure actually represents an increase YOY.
SolarCity has experienced an alarming rise in its cost structure over the past few quarters.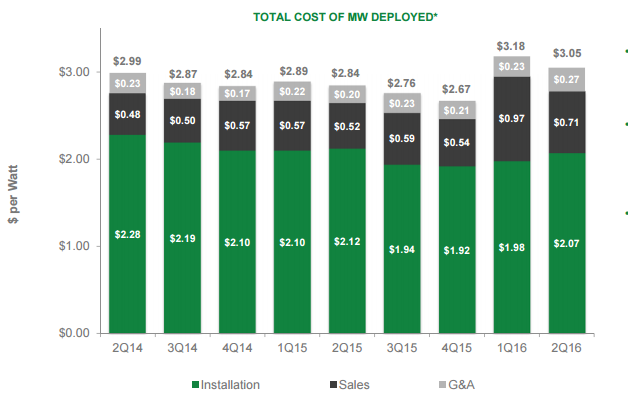 Source: SolarCity
Considering the fact that SolarCity previously aimed to have a cost structure of $2.25 per watt by 2017, SolarCity is clearly falling behind its own schedule. Even worse, competitors like Vivint Solar are closing the cost gap. If the SolarCity-Tesla acquisition is successful, however, SolarCity will likely see it's cost structure drop dramatically due to lowered sales and acquisitions costs. With Tesla's help, SolarCity will have a far greater reach and will likely have an entirely new market available to it.
Despite SolarCity's current troubles, the company still has a firm grip on the US rooftop solar industry in terms of market presence. However, this could easily change if SolarCity continues to go down its current path of stagnating growth and bloated costs. Together with Tesla, SolarCity has a reasonable chance at remaining the dominant US rooftop solar company. In terms of market share, SolarCity is still far ahead of even its closest competition.
Conclusion
The rooftop solar industry is currently undergoing some major changes. Most notably, a massive shift from the lease/PPA model to the loan model is taking place. SolarCity has done a poor job of keeping up with such changes and is now suffering as a result. If, however, SolarCity can manage to successfully launch its solar roof product and bring overall costs back down, the company has a great chance at reclaiming its prior dominance.
Despite all the troubles facing SolarCity, the company is still a worthwhile investment at its current market capitalization of $2 billion. Given that the company's stated "net present value of recurring cash flows (after project financing) exceeded the $2 billion mark" by the end of the latest quarter, there is much more room for upside. Even if SolarCity's long-term assumptions are overly optimistic, the company's current market capitalization suggests that the company is undervalued. While the Tesla acquisition will certainly benefit SolarCity, the company could still do well on its own.
Disclosure: I am/we are long SCTY.
I wrote this article myself, and it expresses my own opinions. I am not receiving compensation for it (other than from Seeking Alpha). I have no business relationship with any company whose stock is mentioned in this article.