Oil prices, despite soaring over the past couple weeks in response to favorable pledges from OPEC and some news that non-OPEC member Russia would be willing to collaborate on bringing the oil market back to balance, has pulled back a little recently. Though fears pertaining to OPEC's willingness to follow through with a deal was the primary contributor to the decline, another factor appears to be data provided by the IEA (International Energy Agency), which shows some mixed oil-related data. In what follows, I will go over this data and give my input on what it likely means for investors in companies like Memorial Production Partners (NASDAQ:MEMP), Approach Resources (NASDAQ:AREX), and Legacy Reserves (NASDAQ:LGCY), as well as for the United States Oil ETF (NYSEARCA:USO) and other oil-related ETFs moving forward.
A look at inventories and region-specific data
According to the IEA, the oil (which includes non-crude petroleum products as well) picture for inventories for OECD nations actually improved for the first month since June during the month of August (September data isn't out yet). Led by positive developments in the U.S. oil market, total stocks managed to dip down by 10 million barrels during the month, falling from 3.102 billion barrels to 3.092 billion. In the grand scheme of things, this is not a material move by any means, but the fact that total stocks fell during a time when many have forecasted an increase in inventories is a positive.
Now, during the month of September, some negative data was released. If the IEA's estimates are correct, total supplies for the month rose by 0.6 million barrels per day, driven mostly by an uptick in non-OPEC nations (mostly Russia and Kazakhstan) of around 0.5 million barrels per day. This brought total global supply for the month up to 97.2 million barrels per day. This represents a switch compared to what has been happening in the recent past. You see, while non-OPEC output was higher, the Middle Eastern OPEC members are the nations that have a history of seeing output increase. Year-over-year for the month, for instance, these nations saw production come in by an extra 1.1 million barrels per day.
Besides the production side of things, we need to be cognizant of some demand related factors that could prove to be headwinds for the price of oil if the organization is correct. You see, according to the IEA, demand is weakening right now and while the group did forecast demand coming in at about 1.3 million barrels per day above last year's demand figure a little earlier this year, they now believe that the actual number will be about 1.2 million barrels per day, which is what their estimate stood at for much of this year. This is driven by poor expectations associated with OECD nations, as well as by a slowdown in China.
Some interesting data to be aware of
Though the IEA's report was mostly bearish, some interesting points popped out in my opinion. One of these relates to the fact that, despite an uptick in the rig count in the U.S., as well as in Canada, the group believes output for non-OPEC nations this year will still fall by around 0.9 million barrels per day and that it will rise by around 0.4 million barrels per day next year (both of these are approximately the same as their prior month's forecast).
The organization is also of the opinion that we are near an end to the oversupply of crude (from a production, not a storage, standpoint). If OPEC is unable to stick to what the group said they would do later this year and cut output to between 32.5 million barrels per day and 33 million barrels per day (down from about 33.6 million barrels per day last month), then we won't see an end to the excess production until demand outpaces supply around the end of the first half next year. However, if OPEC does, indeed, work together, then the rebalancing will start "faster".
More interesting than any of this to me, however, is an error I think I may have found on their website. In the graph below, you can see the quarterly demand data estimated through 2016 for the entire world. While the IEA says that demand will increase year-over-year this year by around 1.2 million barrels per day, if you average out demand this year it comes down to about 96.25 million barrels per day. Last year's, according to the graph, should average around 94.83 million barrels per day. If you figure out the difference here, it should mean demand growth this year of around 1.43 million barrels per day, far more than the 1.2 million they forecasted.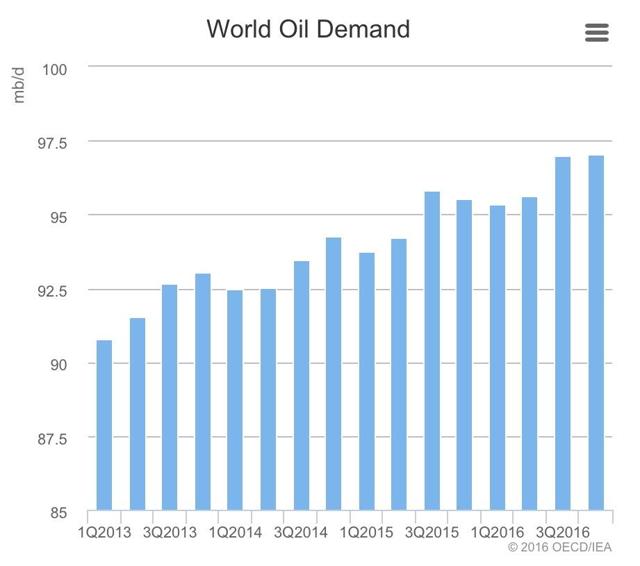 *Image taken from the IEA's Website (linked to above)
I'm not sure if somebody at the IEA made a mistake in the graph or if they made a mistake on the wording of the report, but those numbers are too far apart to rationalize as being anything other than a rounding error. Should the graph data actually be accurate, then the demand picture would look far better than they stated in their report, but it could also be the other way around as well.
Takeaway
Based on the data provided, it seems pretty clear that the IEA's report is less appealing than oil bulls like myself would like it to be. On the other hand, with willingness from OPEC and Russia to work together (so far), inventories having dropped in August, and the possibility of demand being higher than the IEA stated in their report, there are still, without any doubt, some positive factors at play here.
Disclosure: I am/we are long MEMP, AREX, LGCY.
I wrote this article myself, and it expresses my own opinions. I am not receiving compensation for it (other than from Seeking Alpha). I have no business relationship with any company whose stock is mentioned in this article.
Additional disclosure: I own LGCYO, not LGCY
Editor's Note: This article covers one or more stocks trading at less than $1 per share and/or with less than a $100 million market cap. Please be aware of the risks associated with these stocks.