Level 3 Communications (NASDAQ:LVLT) is in the communications services sector. Its core offerings are in its Core Network Services segment and are based on providing connectivity services to institutions. The company also operates a dwindling Wholesale Voice Services segment that earns its sales from wireline voice services.
Level 3 is a challenger in the network services industry with AT&T (NYSE:T), Verizon (NYSE:VZ), BT Global Services (NYSE:BT), and Orange Business Services being leaders in the industry, according to Gartner. With network services being a highly competitive industry and 83% of Level 3's sales coming from the U.S., I'll focus on the Level 3, AT&T, and VZ. The industry leader, AT&T is increasing international investment in an effort to improve its quality of service and maybe to lower the cost of service, with cost in developing markets frequently cited as an issue. Verizon's strength globally is its network with quality of service delivery and support improving but still trailing competitors. Level 3 has a strong U.S., European and Latin America presence but lags in Asia and Africa in addition to lagging in technical capabilities.
Level 3 ranks third in overall product or service scores for wireline telecom services in the U.S. behind AT&T and Verizon. Level 3 is well positioned to serve as a secondary vendor in midsize-to-large enterprise multivendor network service provider environments. In large-enterprise unmanaged use cases, Level 3 and Verizon have almost the same score (4.08 and 4.05) with Verizon having a slight edge. In hybrid core WAN network use cases, Level 3 has a slight edge on Verizon. Verizon's potential acquisition of XO Communications should solidify its #2 ranking by score and sales while Level 3 has the potential to move ahead of CenturyLink and become the third largest earner of enterprise telecommunications revenue.
As is common with communications enterprises, Level 3 has a substantial debt footprint ($10B+). Given Level 3's financial profile, I figure that the bonds might represent an attractive income opportunity for some investors. The bonds that trade more actively are maturing in 2023-2025 period and were trading with a yield to maturity in the 4.15%-4.66% range. US Treasuries maturing in that time frame trade at approximately 1.5%-1.68%. AT&T's bonds maturing during the same time period were trading in the 2.95%-3.07% range. In addition to the typical default, inflation, re-investment and interest rate risks, Level 3's bonds also feature call risk; if interest rates decline and/or the company's credit position improves materially, these bonds could be retired prior to maturity.
The common equity is trading at a premium to the industry and a discount to the Nasdaq. Level 3 is trading at 1.9x FY17 sales with revenue forecasted to increase by 5% while the industry is trading at 1.4x TTM sales. EPS is forecasted to increase 27% in FY17 with Level 3 trading at 21x FY17 EPS while the Nasdaq trades at 31x EPS. The valuation doesn't clearly indicate that Level 3 is overvalued or undervalued, but I'm bullish on the shares of Level 3. I view LVLT as market performer over the next 12 months with potential to outperform.
Flat Sales with Improving Profitability
Level 3's sales are forecasted to be about equal to last year's sales as revenue growth from Transport and Fiber tapered off while revenue from Voice Services and Wholesale Voice Services declined. Growth in IP and Data Services revenue isn't enough to offset declines in the aforementioned segments. At the same time, the operating margin is expected to continue to improve; the OM came in at 11% in FY13 and is expected to come in at 18% this year, improving to 20% in FY17 when sales growth resumes.

Data courtesy of Morningstar and forecast courtesy of Bottom Up Investing
Turnover is forecasted to come in at $8.22B this year compared to $8.23 in FY15; the average analyst estimate is $8.29B. Operating income is expected to increase to $1.49B from $1.33B as management exercises expense discipline and the gross margin expands. EPS for the year is expected to come in at $1.68. There was a substantial tax benefit that was used in FY15, but more importantly, the company still has almost$10B in tax loss carryforwards that it can use. The timing of the use of tax loss carryforwards is difficult to predict as consequently EPS could differ significantly from my estimate.
For FY17, sales are anticipated to come in at $8.6B because of the resumption of growth in Core Network Services. Operating income is forecasted as $1.72B with net income of $772M and EPS of $2.13. My forecast for FY17 is in line with the street's expectations; this isn't by design.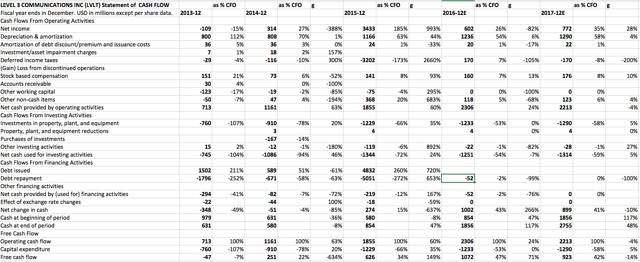 Data courtesy of Morningstar and forecast courtesy of Bottom Up Investing
Cash flow from operations is expect to come in at $2.3B in FY16 and $2.2B in FY17 with free cash flow of about $1B in both years. The highlight from the cash flow statement is the stockpiling of cash over these two fiscal years. That opens to door for acquisition(s) and/or share repurchases during FY17. I'll touch on this a bit more in the next paragraph when we look at the balance sheet.


Data courtesy of Morningstar and forecast courtesy of Bottom Up Investing
The leadership team wants to get the net debt to EBITDA measure closer to 3. (Leadership uses an adjusted EBITDA while I use EBITDA.) Net debt to EBITDA will be in the lower end of the range during the back half of this year or during FY17 and could dip below the low end of the range. With the preferred leverage ratio being at the low end of the range or below the range, leadership could use about $3B for acquisition and/or share repurchases, assuming new equity isn't offered and new debt is issued. An acquisition of that size could bring in about $1B to $2B of revenue.
Primary Bear Market and a Mixed Valuation Picture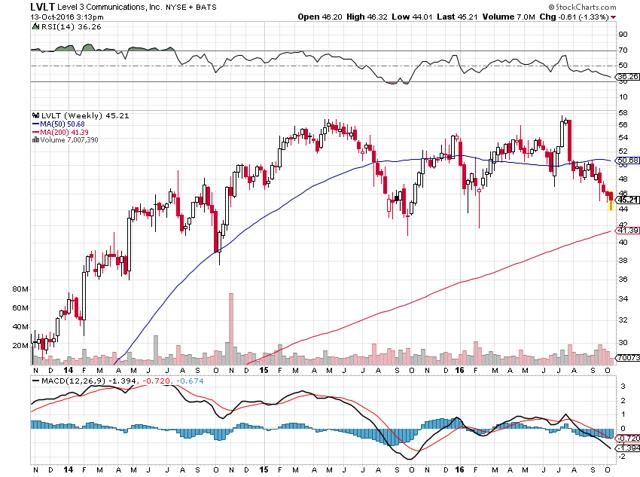 Shares of LVLT are in a primary degree bear market that has lasted for over one year. I expect the bear market to end in the coming months and a new primary degree bull market to begin. The share price would easily surpass $60 per share with some resistance at $70 and even more resistance at $80 and $90. Technically, I estimate that the primary bull market reaches $70 per share, or about 55% higher than the current share price.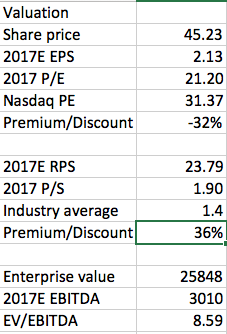 Courtesy of Bloomberg, Morningstar and Bottom Up Investing
LVLT is trading at a 32% discount to the Nasdaq with EPS anticipated to increase by 27% in FY17. Sales are forecasted to increase 5% with the industry sales CAGR over the past five years being 8.4%. The EV/EBITDA is in a range where LVLT could be a takeover target.
Disclosure: I/we have no positions in any stocks mentioned, and no plans to initiate any positions within the next 72 hours.
I wrote this article myself, and it expresses my own opinions. I am not receiving compensation for it (other than from Seeking Alpha). I have no business relationship with any company whose stock is mentioned in this article.