It's official, the OPEC production freeze/cut chatter has become a complete and total farce.
I mean don't get me wrong - it was already a farce. But over the past several days it's just turned outright ridiculous. It's just an endless game of headline hockey that all sides are pretending has everything to do with the dynamics of the market (i.e. supply and demand) and nothing to do with geopolitics.
Here's what the picture looked like over the past several days on the heels of comments out of the Kremlin, OPEC reports that the cartel pumped at an 8-year high last month, and an API report that on Wednesday afternoon showed the first inventory build in six weeks:

"Lots of questions to answer and noises coming from the parties involved can be contradictory. Volatility is all but guaranteed," analysts at PVM said in a note seen by Reuters.
Yes PMV, I'd call that a safe bet. They'll of course be an official OPEC meeting next month and other interested parties (Russia included) will meet in Turkey this week to try and hash out some of the details ahead of next month's cartel powow. Here's a summary from Bloomberg as of Wednesday evening:
Oil extends drop below $50/bbl after U.S. industry data showed stockpiles grew and differences emerged within OPEC over how members will share production cuts.
U.S. crude inventories +2.7m bbl last week, API said to report
While OPEC pledged to trim output, disputes have emerged over individual targets with group's latest estimates showing 500k bbl discrepancy over how much 2 key members are pumping
Russia ready to participate in "technical exchange" to set road map for production levels: Energy Minister Alexander Novak
Nov. WTI -38c to $49.80/bbl on Nymex at 9:07am in Singapore; total volume -49% vs 100-day average
Prices -61c to $50.18 Wednesday, falling for 2nd day from highest close since July 2015
Dec. Brent -32c to $51.49/bbl on ICE Futures Europe
Brent at $1.24 premium to Dec. WTI
There are of course a number of interesting sellside notes on the subject. Here are a few excerpts from Goldman's Jeff Currie (one of the most notable of notables):
Average YTD production is down 175kbpd yoy, bringing the market closer to rebalancing. However, a deeper analysis of declines shows that rather than being broad based, declines have been surprisingly narrow, driven by almost unprecedented levels of disruptions and more fundamentally by 5 major countries: US, China, Colombia, Mexico and Venezuela. In the US, China and Colombia production declines have been aggressive, driven by shut-ins and a collapse in activity, reflecting the higher cost and short-cycle nature of the regions; in Mexico and Venezuela driven more by years of underinvestment.
Ok, so if these disruptions are "easing," what about supply?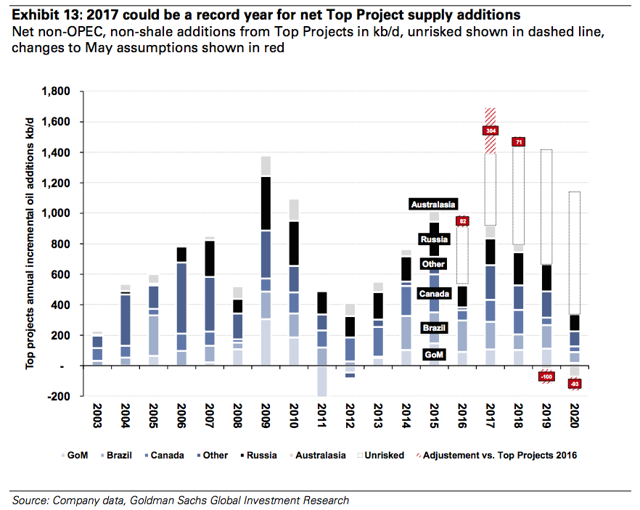 (Chart: Goldman)
Ok fine, but there's rising demand right? Here's Goldman again:
Recent demand data points suggest continued deceleration
Now unlike some, I'm not into copy and pasting whole notes, but I think you get the picture. In Tarzan/Jane language: "Supply strong, demand weak."
And here's something else interesting from SocGen (emphasis mine):
The 2008/9 OPEC output cuts, which amounted to about 2.5 Mb/d, significantly sped up the rebalancing of the market causing oil prices to trend higher and their volatilities lower.

We have been surprised by the surge in producer hedging since the OPEC deal was announced. The rally in crude oil prices was met by significant producer selling of calls and buying of puts which increased the 12-month risk-reversals (25 delta puts minus calls) from already elevated levels. Producers, and especially US-based producers, remain very active, possibly because hedging is a requirement in order to secure funding and for M&A activity. Consumer hedging has remained surprisingly muted. We had expected a surge in consumer hedging now that the OPEC deal has put a floor under oil prices.
As much as I really do like SocGen (seriously), the fact is that it could be no one is buying this crap (pardon the crassness).
As I've been saying since the beginning of the year, there's too much at stake here from a geopolitical perspective. There's Russia/Iran/Iraq on the Shiite side fighting on the same side of the sectarian war in the Mid-East, and there's the Saudis/Qatar/the UAE/and Kuwait fighting on the Sunni side. And it's not all about oil (NYSEARCA:USO).
This is about blood; and control of the Arabian Peninsula and the contiguous area.
This isn't diplomacy; this is war.
Oil is just another form of ammunition.
Ask yourself this: if you were Iran, and you had just gotten your cache of bullets back, would you give a portion of them up in less than a year just when you were gaining ground? And if you were Russia, their superpower backer, would you fail to support them in the face of an "enemy" (Washington) that supports the very same regimes that are literally (and openly) arming the Sunni extremists wreaking havoc on the Mid-East and beyond?
None of that's to say the Iranians and Russians are correct in their approach. They're almost assuredly not from a nuanced perspective. But that's just the problem. Moscow and Tehran aren't interested in nuance. They're interested in order. Washington and its allies are interested in a solution that benefits all parties - but what the West doesn't seem to understand is that at this point, that may not be possible. Does that make Russia, Iran, and Hezbollah right? Well absolutely not. Does it make them practical? Maybe.
Poor crude oil is just stuck in the middle. An innocent, fossil fuel bystander.
So just keep that in mind when you trade oil.
Disclosure: I/we have no positions in any stocks mentioned, and no plans to initiate any positions within the next 72 hours.
I wrote this article myself, and it expresses my own opinions. I am not receiving compensation for it (other than from Seeking Alpha). I have no business relationship with any company whose stock is mentioned in this article.