MasterCard: An Enigma Machine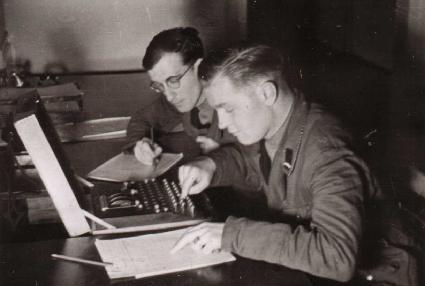 MasterCard (NYSE:MA) is indeed an enigmatic company. On the one hand, on the surface, it seems to be doing the right things, but I and others have begun to notice that all is not well in this company, and we could be in for a negative surprise.
It is my contention in this article to assert that the current litigation in the UK poses a bigger risk than many investors are thinking it is, and it is indeed a harbinger or a sign of leaner times to come.
In the book of Genesis in the Bible, there is a story about the seven-year long famine in Egypt. In this story, God showed the Pharaoh a dream where he saw seven fat cows swallowed by seven thin cows, but afterwards, the thin cows remained just as thin as they were before.
He also saw seven healthy ears of corn and seven withered ears of corn, and the same process applied in that the seven withered ears of corn consumed the seven healthy ears of corn, but remained just as withered as they were before.
The Bible records that Joseph was brought out of the prison and he interpreted the dream correctly that it represents a seven-year time of plenty followed by a seven-year time of a grievous famine, and he had the idea to store grain during the years of plenty, so that there will be enough to sustain everyone during the seven years of famine.
This story highlights a very important principle of business, and life in general, and that is, we experience life in cycles. The financial markets are cyclical, businesses are cyclical, and economies experience cyclicality, which is necessary for the removal of excesses, so that the economies can bounce back fitter and stronger.
This is why the global economy is still sluggish because there has been a lot of indigestion in the financial system that governments and central banks have simply not allowed to be released, and thus the whole system is sick and bloated.
All of these also affect MasterCard in various ways. The business model of the payment industry is at its heart a simple one, whereby the payment provider processes a payment and in return takes a small fee per transaction.
In MasterCard's case, it also holds receivables in the form of its customer credit card debt, from which it earns either directly or through the creation of credit card asset-backed securities.
The keys to success in the MasterCard, and indeed the whole credit cards and payments industry, are volume and margin. Volume in relation to both volume of transactions and volume of customers.
Both of these sources of earnings are experiencing shocks because, in many respects, the time of plenty is over, but MasterCard did not take the necessary steps to adjust its business model to prepare it for the inevitable down cycle, and thus, it is exposed from the risks outlined below.
Litigation Risks
The case against MasterCard in the British court is almost likely to result in a loss for MasterCard and force it to pay at least £14b, which represents an estimate of the actual amounts that was lost by clients. It is restitutionary in nature, but does not include any further compensation that the trial judge may also award for loss suffered as a result of the actions by MasterCard.
MasterCard will face an uphill battle to win the case because the European Court of Justice have already concluded that its fees were unlawful, and all that customers have to prove is the actions or omissions of MasterCard resulted in their suffering loss.
Industry Risks (Newer and More Agile Fintech Companies)
While MasterCard can shake off a large fine of at least £14b, it is unlikely that it will shake off the reputational damage it will incur, as more and more revelations come out during the trial. This is especially damaging in an environment where customers have more choice of very low cost payment providers.
These newer players in the market will gradually begin to eat away the market share of MasterCard, and thus reducing its volume, and subsequently its earnings year on year.
Regulatory Risk - Basel III and Basel IV
One of the reasons why MasterCard cannot compete with newer fintech companies is its business structure. It has a symbiotic relationship with the banks, and with Basel III and IV being implemented whereby banks have to hold more capital for their RWA (risk weighted assets) amongst others, it will have a direct impact on MasterCard and other large payment companies.
It will have an impact because under Basel III, banks will need to hold more equity of having a large credit loans book on its balance sheet; in many cases, it will be between 5-10% more capital.
Even if the profits on the credit card business does not fall over the next few years, which is unlikely, it will be deemed increasingly unprofitable for the banks causing them to shrink their credit card exposure considerably and focus on higher return on equity ventures.
Economic risks
The global economy plays a major part in the profitability of credit card companies because it drives spending, and globally, we are seeing reduced spending, especially in developed markets, and also reduced velocity of money, which suggests two things; firstly, people are saving more because they are more concerned about their economic future, and secondly, people do not have more money as their current debt obligations are already too high.
Whichever one is correct, it will place considerable pressure on earnings in the credit card business, and as if these were not enough, there is one more significant risk to consider and that is investment risk.
MasterCard and other credit card companies make substantial use of securitization where they take a pool of credit card loans paying a certain amount of interest per year, put them together, and create a credit card asset-backed security ((NYSE:ABS)), which is then sold off in the market particularly to institutional investors.
We are seeing more and more that there is less of an appetite for these types of securities as most institutional investors are already significantly overweight on debt instruments, leaving them very exposed to interest rate fluctuations.
This will greatly affect MasterCard because it will reduce its ability to fund its operations, and will gradually need to downsize in order to stay in business.
In conclusion, this is why I started by saying MasterCard is an enigma because we have seen strong growth in its share price this year, but when one looks deeper at its business model and also that of its rivals like Visa (NYSE:V) and American Express (NYSE:AXP), we begin to see a huge change and disruption in the heart of the industry with significant headwinds creating a perfect storm from which we will see a totally different industry by 2019.
MasterCard has benefitted a lot from the low interest rates it has been paying for buying its money, as the graph below clearly shows.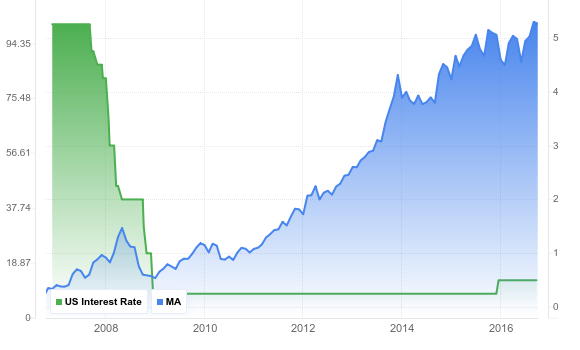 We can also see this chart from the revenues angle (sign-in required) because in 2006, it was $3.326 billion, in 2007, it was $4.068 billion, in 2008, it was $4.992 billion and so on until 2015 when it was $9.667 billion and estimated to be $13.218 billion in 2018.
At the same time throughout this decade, SG&A have averaged at about $3 billion while margins have increased from 1.5% in 2006 to 39.4% in 2015.
Looking at its balance sheet, it does not look like the company has invested more or streamlined operations to earn the huge returns that it has enjoyed over the last decade because spending has remained flat.
There is an expression that says that 'not all growth is good', it is undeniable that MasterCard has benefitted immensely from the actions of the Fed and other central banks around the world.
We now have a situation at the moment where the Fed finds itself between a rock and a hard place because with interest persisting this low, the banks will struggle with profitability issues, and when this is combined with Basel III and IV, it will also seriously affect MasterCard's operating margin.
On the other hand, a voluntary increase in interest rate is unlikely because the Fed is afraid of various unintended circumstances, which could result in another financial crisis.
Nevertheless, it is my firm belief that while the Fed and other central banks continue to hesitate, circumstances will appear most likely within the European banking sector or Asia that will force their hand to move interest rates higher.
It is very likely that MasterCard will be caught in the crossfire in relation to what I have said above.
With regards to the case in the UK courts, we should see a verdict in 2019, but as I said above, the verdict is almost a side matter, but the damage from the litigation will be the label as the brand that steals money from its customers.
This is why I believe that the price of its shares will fall from 102 where it is right now to between 22-30, which I believe is where the company needs to be when one considers the fundamentals and prevailing sentiments. Anything above this is market froth.
It is also interesting to note that short interest is also beginning to pick up. It is currently 0.5% of the total shares outstanding; while it is not a lot per se, it is a sign that the smart money is beginning to position themselves to short this company.
There is no such thing as a sure bet in the investment game, as market watchers, speculators, traders and so on, our job is as much the same as a judge presiding over a case.
We need to listen and read, then stack what is at best circumstantial evidence, meaning that it is evidence that relies on an inference to connect it to a conclusion of facts.
We must then assess the evidence in both ways, and at this point, a pattern will begin to emerge, and this pattern will tell us that on the balance of probabilities, there is a 60% or an 80% chance of this event taking place.
At this point, we must now test our hypothesis with a small fraction of our funds, and then if we see that it is moving in the direction of our belief, then we add a little bit more, but if we see that our hypothesis was wrong, then we cut our losses.
This is what I advise investors to do with MasterCard. For those who are already in, I suggest you begin to cut your holdings gradually because it is very likely that we are at the top, and you want to sell while there are still buyers in the market who believe that it will keep going higher.
In conclusion, I believe this is a stock that should be shorted, but one must pivot carefully because the buy momentum is still very strong and one must tread carefully but surely in the shorting or selling direction.
Disclosure: I/we have no positions in any stocks mentioned, and no plans to initiate any positions within the next 72 hours.
I wrote this article myself, and it expresses my own opinions. I am not receiving compensation for it (other than from Seeking Alpha). I have no business relationship with any company whose stock is mentioned in this article.