During a year when naysayers continue to whine about how they don't trust this bull market, my scan for U.S. stocks has more than 350 stocks up 40% or more this year. Investors can focus on the Fed, and worry about the next news to come down the pipeline, or they can transfer that energy looking for the next best opportunity in the market. Despite a year where there is so much pessimism and pervasive bearishness, there have been several opportunities to make a lot of money. My goal as an investor is not to care what the next piece of news is that I can't predict, but instead find the bright spots in the market that are trading "in their own world." This means that I love to see stocks that are outperforming the general market and making new highs, despite the S&P 500 (NYSEARCA:SPY) treading water. Fresh Del Monte Produce (NYSE:FDP) is one of these companies and has seen a massive 55% year-to-date return thus far this year.
The produce space on the U.S. stock market continues to get smaller as both Dole and Chiquita were bought out in the past 3 years. The remaining companies offering exposure to produce are Calavo Growers (NASDAQ:CVGW), Seneca Foods (NASDAQ:SENEA), Limoneira (NASDAQ:LMNR) and Alico (NASDAQ:ALCO). Fresh Del Monte Produce is the largest of the companies by a wide margin, as the majority of the produce companies are micro-caps. The total market capitalization of Fresh Del Monte's 4 competitors is $1.8 billion, while FDP is worth over $3 billion at current prices. This means that for investors looking for exposure to margins in the produce industry, their only choice for a non-micro cap stock is either FDP or CVGW. As an investor in FDP, this is certainly a positive going forward. When your competitors are limited to ones that are much smaller than you, or are no longer publicly traded, it naturally brings more investors to your stock.
My investment strategy for equities is a trend following approach as I'm a huge proponent of Richard Dennis. Richard Dennis was a commodities speculator known as the "Prince of the Pit" at the Chicago Board of Trade. He had an impressive career, transforming himself into a millionaire before the age of 26. In 1974, he made a $500,000 profit on a soybeans trade after pyramiding his long position as the price rose. 1986 was a great year for Richard Dennis, he made $80 million, which catapulted his total trading profits above the $200 million mark. These enormous gains came despite him beginning his trading career with barely $50,000 in 1970.
Richard's success came from his style of making much more money on his winning trades than he lost on his losing trades. This allowed him to have a win-rate of roughly 50%, yet still have an extremely profitable system. His strategy was to ride his winners as long as they remained in an uptrend, and cut his losers as soon as they invalidated their uptrends. I have tweaked Richard's Turtle Trading system in a few ways to better adapt to current markets, and my risk profile. Despite this being system built primarily on technical analysis and trends, I still put some weight into fundamentals when looking at new positions.
The fundamental approach to my system is derived from William O'Neil's CANSLIM method, and I use the "CAN" to help select fundamentally strong stocks. The "CAN" in his CANSLIM method stands for the following:
C - Current Earnings: William pointed out the importance of choosing stocks whose earnings per share (EPS) in their most recent quarter had grown from the previous year.
A - Annual Earnings: William also believed annual earnings growth to be very important. Companies being selected for investments according to William should have good annual earnings growth over the past 5 years. As William stated, "Who wants to own part of an establishment showing no growth?" Due to this, William recommended buying stocks with annual earnings growth of at least 25%.
N - New: The N in Williams CANSLIM stock selection approach stood for new, which meant the company recently underwent a change of some type. Whether it be a new product, entering a new market, or a new high in price. In my application of this method, I place the most emphasis on a new high in price as this confirms my primary trading strategy.
When I find stocks that meet all of the above criteria, I begin to assess the risk-reward to see if it fits as a new long position. The system allows me to find fundamentally strong stocks, and time them with momentum to generate maximum returns. This aids my process as I see much less drawdown, and waste much less opportunity cost, compared to buy and hold investors. While most buy and hold investors simply buy good companies and hold on for the long term, I wait for a confirmation signal to buy. My confirmation signal is new 3-month highs for the stock, while it trades above its 50-day and 200-day moving averages.
Looking at Fresh Del Monte Produce from a "CAN" approach
C - Current Earnings:
Fresh Del Monte Produce's current earnings could not be more impressive. The company has seen absolutely massive growth year-over-year in its diluted EPS. The company's Q2 diluted EPS came in at $1.86 per share, which is more than a 50% increase from its Q2 earnings last year. Even more impressive for the company was its Q1 results which nearly doubled in growth over the 2015 quarter. Fresh Del Monte Produce reported diluted EPS of $1.57 in the first quarter, compared to $0.80 in the first quarter of 2015.

Source: Ycharts.com
A - Annual Earnings:
In terms of annual earnings, Fresh Del Monte Produce has been all over the map. The company's annual diluted EPS has trended higher over the past 5 years, but has seen its share of hiccups. The company saw an annual loss of $0.61 in diluted EPS in 2013, but this was an isolated event. Regardless, its annual earnings have made significant headway the past half decade, as they are set to nearly triple from 2011 levels this year. The company has already reported bi-annual diluted EPS in Q1 and Q2 of $3.43 thus far this year. To put this in perspective, this is the highest annual diluted EPS for the company in the past 5 years, and this is only using two quarters of reporting. The company's total diluted EPS for the year is on track to reach the $5.80-$6.00 mark, which would be 4 times the diluted EPS it reported last year.

Source: Ycharts.com
N - New
In terms of new for the company, I have explained in the article I place the most emphasis on a new technical barrier that has been breached. As of today, Fresh Del Monte Produce has not only made new 3-month highs to trigger an entry, it has also made new all-time highs. The stock has spent the past two and a half months building a base at the $60 level, and today saw a strong breakout on volume. For trend followers, this represents a new long entry as there are new 3-month highs that have been made with conviction. This was not a marginal break to new highs of a couple pennies, this is a breakout of more than 2% above the previous highs, and on significant volume.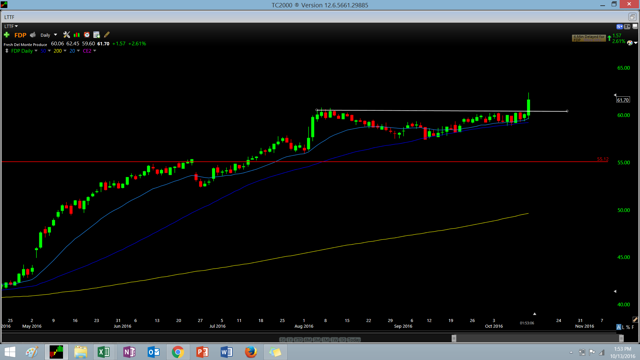 Source: TC2000.com
Taking a look at the above chart of FDP, we can see the breakout very clearly. The stock's consolidation period over the past two months has allowed the 50-day moving average to catch up to price, which is also a very bullish development. I am not a huge fan of chasing breakouts, and much prefer base breakouts where the moving averages are aligned closely below price. This means that once the breakout occurs the stock has often already tested its 50-day moving average breakout, and does not need to do so again once the breakout is in progress.
I believe this to be an excellent entry for those looking for a winning stock with increasing margins that is outperforming the market. The fact that FDP broke out to new all-time highs on a day when the market was testing its uptrend line is a huge positive. This shows that Fresh Del Monte Produce is in its own world, and does not need to rely on the market's strength to see a continuation of its uptrend. I have entered Fresh Del Monte Produce today at $61.30 with 10% of my portfolio. My stop on this position is on a close below the $55.12 level. I have chosen the $55.12 level as this is below the July lows and sideways range the stock has been in. In addition to this, the $55.12 level is also below the small gap in the chart which should act as support on a pullback. This stop represents a risk of $6.18 cents on my position, or roughly 10% from my stop to my entry. I only risk between 1 and 1.25% of my portfolio of any one trade, therefore I have used 10% of my portfolio to enter this trade. A position risk of 10% with a portfolio sizing of 10% equates to a total risk on the portfolio of 1%. While many see this current chart and stock as very overbought, I politely disagree. The company is on track to see 300% diluted EPS growth this year over its 2015 figures, and is one of the only produce stocks left on the U.S. markets to invest in. Fresh Del Monte Produce is one of my top 5 picks for Q4 2016, and I expect the stock's uptrend to continue through 2017. Given the stock's current trend strength, I would not be surprised to see the stock at triple-digits in 2018. As long as Fresh Del Monte Produce can remain above the $55.12 level on a closing basis, it should be an excellent addition to portfolios going forward.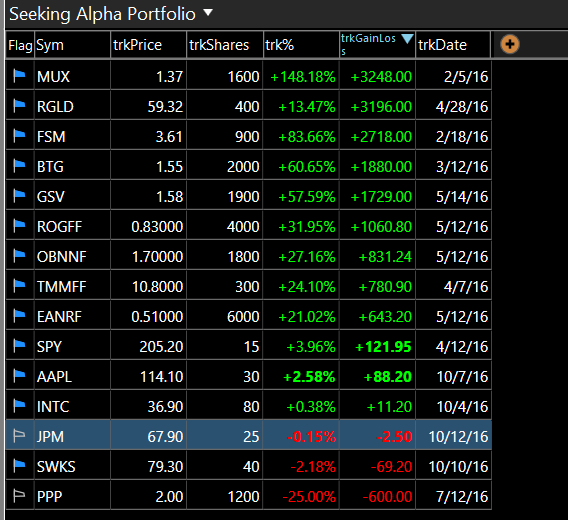 Source: TC2000.com
I have included all of my long positions this year from my Seeking Alpha articles to show my momentum investing strategy's results. As you can see below, I have very large winners and some small losers. The large winners I continue to ride, while the small losers I watch closely to invalidate their stops. This portfolio shows how it pays off to invest in strong stocks and winners, and avoid the weak ones. While many prefer to buy value and stocks in downtrends, I much prefer to buy stocks as they make new highs. My current year-to-date performance on equities based on my Seeking Alpha articles is over 35% on my average position, with a win rate of over 70%. Each stock is sized for an average $3,000.00 with a total of 20 positions available across my 2 U.S. portfolios I trade. Each portfolio has a value of $30,000 at inception, and therefore each position is made up of between $2,500 and $3,500 based on the amount of risk on the position.
Disclosure: I am/we are long FDP, SPY.
I wrote this article myself, and it expresses my own opinions. I am not receiving compensation for it (other than from Seeking Alpha). I have no business relationship with any company whose stock is mentioned in this article.
Additional disclosure: If you liked this article and found it useful, please feel free to follow me by clicking on my name next to my avatar at the top of this article. I also invite you to check my performance at TipRanks.com where I am ranked in the Top 100 Contributors for performance with an average return this year of 65% on new long positions.