Kinder Morgan (NYSE:KMI) is slated to report earnings on October 19. The stock had fantastic performance in Q3, increasing over 20% and outpacing the broader market. This was largely on the back of declining crude oil and natural gas inventories, as well as pricing strength in both of those categories. Kinder Morgan has now rallied about 40% YTD, despite weakness in the last couple of sessions. Based on the earnings estimates I'm viewing, I believe the company could be earnings; however, I am more focused on the company's short-term guidance related to distributable cash flow and capital expenditure as I want to see the company really start to grow the business at a faster pace.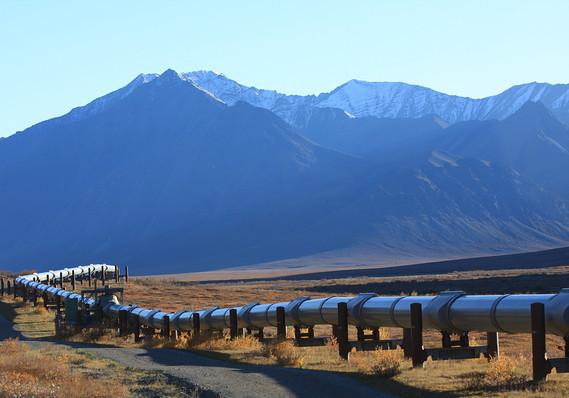 Source: MarketWatch
Current Estimates
Right now, the street is expecting that Kinder Morgan will post EPS of $0.156, revenue of $3.445 billion, net income of $351.7 million, and EBITDA of $1.769 billion. As you can see below, these expectations have fallen slightly in recent weeks, but not materially to the point where the stock becomes a screaming buy ahead of earnings.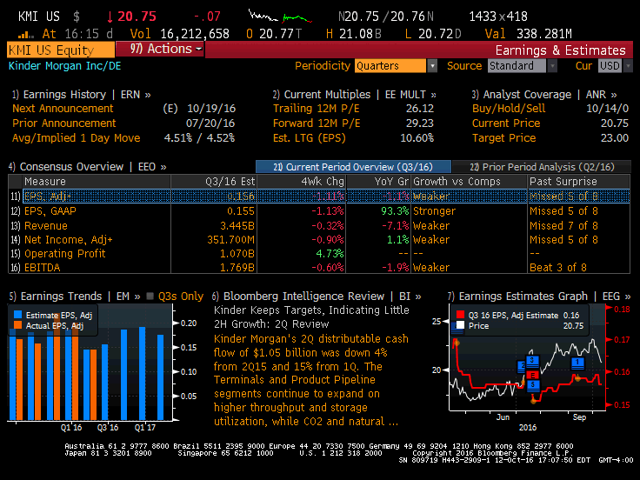 Source: Bloomberg
So, are these earnings estimates feasible? For the top-line figure, we'd be looking at roughly a 10% increase from Q2. That number by itself isn't unattainable, but given that crude oil pricing was essentially flat QOQ, I'm not sure this figure can be hit. Natural gas prices, however, did show strength in Q3 - increasing well over 10%. In that regard, the expectation looks like it can be beat. If I tried to quantify the impact based upon the company's sensitivities to commodity price, however, I fall short of the estimate. Thus, it depends on whether or not the company contracted greater volumes during the quarter.
As for the bottom line metrics, I think the net income expectation is an easily attainable figure. Net income in Q2 was $375 million and the expectation for this upcoming quarter is about a 7% slide. YOY, however, they'd be looking at nearly a 95% increase from $182 million. While there's a lot of conflict in these perspectives, focusing in on the short-term and realizing that commodities prices have improved slightly in Q3, I think net income can beat. My line of logic for EPS is the same as my logic for net income.
Also, considering that KMI reports MLP-type metrics, even though it is a C-Corp, like distributable cash flow and dcf/share, it's tough to say that the investors of Kinder Morgan will even pay attention to non-MLP metrics. With reference to distributable cash flow, I'm really looking for the company to be on track towards full year 2016 $2.00 dcf/share. If the Q3 results indicate that, then I am a happy shareholder. I'd be surprised to not see that, in light of the operating environment efficacy as of late. I'm sure the rest of the investing community would be surprised, as well, if this didn't occur.
In terms of guidance, I'm really looking for an exact time frame on when they expect to restore capital expenditure to previous levels. Capex is down nearly 66% since its peak in 2013 and it has hurt the company. This is especially true given the rampant divesting in the O&G industry currently. Assets sell for much lower multiples now than what they would have just a few years ago and it is a shame to see KMI be unable to take advantage of the situation. If management shows that their strategy over the NTM is to raise capex at least once, that would result in positivity for the stock.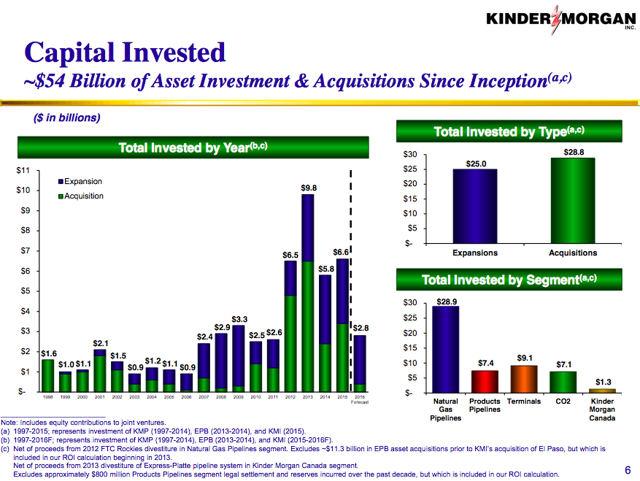 Source: Investor Presentation
Q3 Performance and Q4 Outlook
Q3 performance was exceptional. The stock rose over 23% and finally broke out of a multi-month trading range sub-$20/share. It's hard to ask for a better quarter than this one. Factoring in about a 0.60% increase, due to the quarterly dividend, shareholders netted over 24%. A repeat of Q3 performance would allow KMI stock to hit the $25/level and perhaps even break that critical resistance level. Below you can see the stock against crude in Q3, for which the company resumed a correlation with the commodity. The stock looks slightly overbought at current levels, but the stock has come down in the past few sessions, so I am not necessarily concerned by this momentum.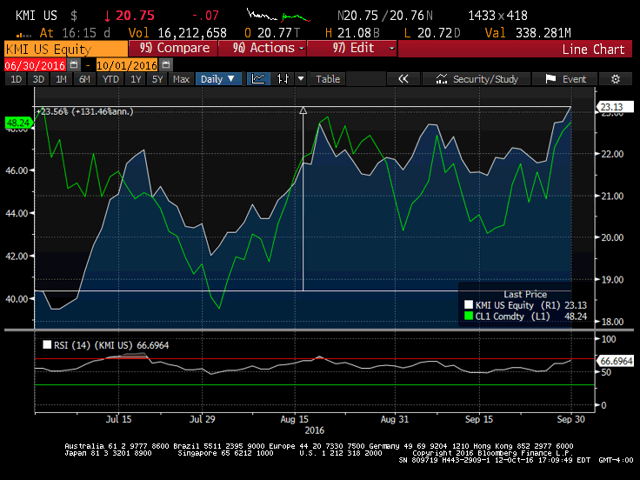 Source: Bloomberg
The question remains whether or not Kinder Morgan can outperform like this in Q4. First, investors should consider the pricing environment that the company currently operates in. Natural gas has been on a tear, which will help boost the volumes that the company sees over the next three months. The breach of the $3/MMBtu was a critical development seen in the market in the last couple of weeks that will materially support the company's distributable cash flow. I largely believe this will lead to greater contracted volumes.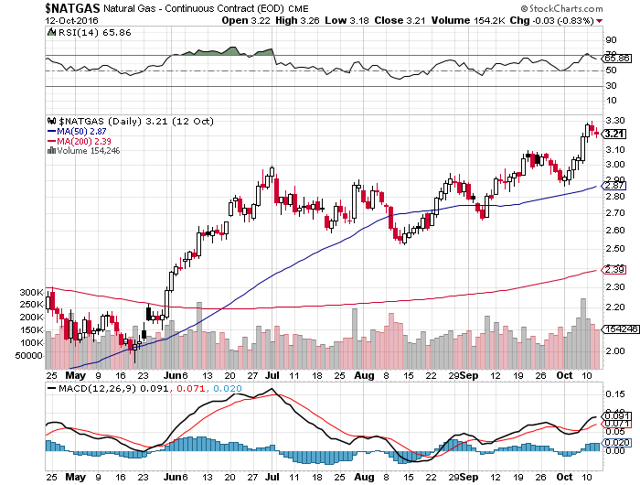 Source: StockCharts
At $3.21/MMBtu, I'm not massively confident that the level is sustainable just because of the pacing the commodity has taken over the last few months. While early weather reports indicate that the upcoming winter is going to be far colder than normal, which would lend support to prices, a repeat of last year could easily send this commodity back down to early summer levels. However, a positive development for natural gas has been that inventories have retracted significantly. That kind of progress made is crucial in allowing KMI to control the amount of volume it services. Yet, interestingly enough, there's been a build the last two weeks in the inventories, yet natural gas prices continue to go up as they are beating expectations. So, perhaps investors are optimistic for another reason that I'm not pricing in myself.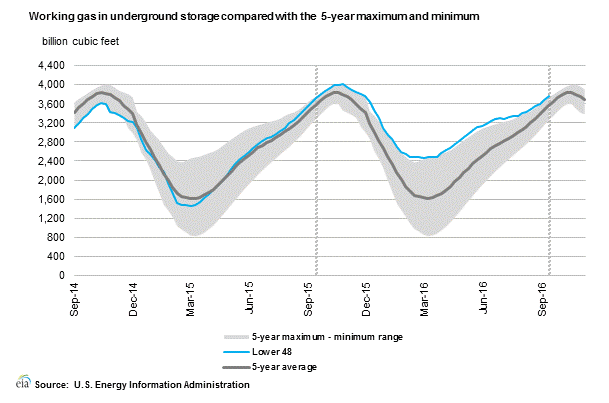 Source: EIA
As of now, natural gas inventories need to come down close to 200 Bcf in order to be at the 5-year average. Should this occur in Q4, expect Kinder Morgan to see significant price support towards the $25 level. As for crude oil, I see the commodity being stuck range bound. This is both positive and negative. It's positive in the sense that Q4 will show an average realized price per barrel that's higher than the Q3 amount, but negative in the sense that upside for the commodity is capped. I believe it is limited because OPEC has to start putting their money where there mouth is and show significant production curtailment or Iran and Libya need to stop scaling as to reduce the top production level.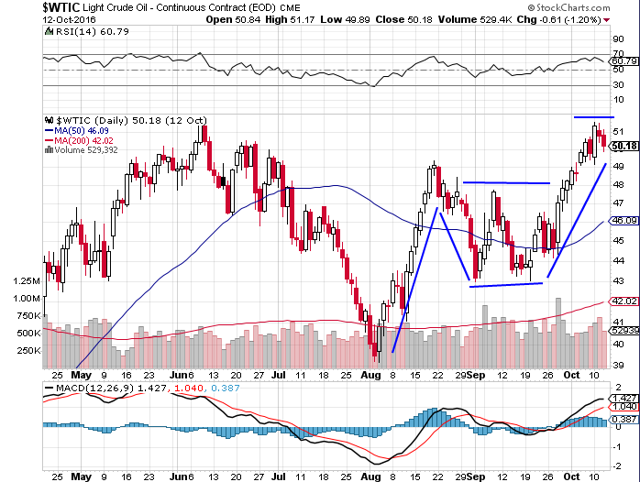 Source: StockCharts
If production reductions don't occur in Q4, then we're going to see American producers take advantage of the current price environment and produce more output, in line with levels seen in the first half of this year. This hurts Kinder Morgan because crude oil holds a strong sensitivity to the company, as per $1/barrel change in the WTI, the company's distributable cash flow changes $6.5 million.
Conclusion
I think Kinder Morgan has fair but beatable expectations for their Q3 earnings report. Kinder Morgan, in times of good news and bad news, has the potential to spike to the up or downside. We saw this with the dividend cut last year, when the stock fell from $25/share to the low-teens, and we saw it rally up significantly from $11 share when Berkshire Hathaway took a position. An earnings report can have the same effect and based upon the estimates in front of me, it does look like the company has a fighting chance at beating expectations.
Disclosure: I am/we are long KMI.
I wrote this article myself, and it expresses my own opinions. I am not receiving compensation for it (other than from Seeking Alpha). I have no business relationship with any company whose stock is mentioned in this article.