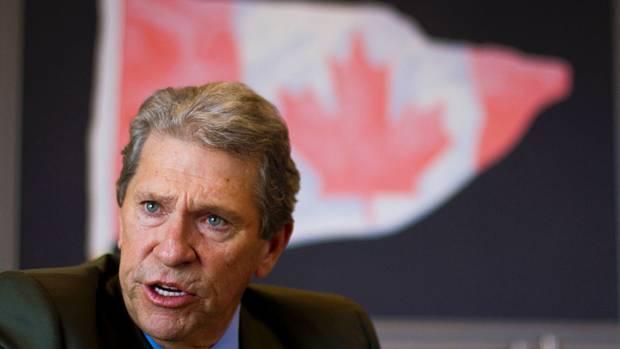 Canadian Pacific CEO Hunter Harrison
Canadian Pacific (NYSE:CP) dominated the headlines in Q4 2014 with its unsolicited takeover bid for Norfolk Southern (NYSE:NSC). Backed by Bill Ackman's Pershing Square (OTCPK:PSHZF) and mercurial CEO Hunter Harrison, the company cut costs to become one of the most efficient railroads in the industry. Harrison was loud and proud about the company's best-in-class margins. After Norfolk Southern told him to go pound sand and Ackman cut his investment, not much has been heard from Harrison. Now all CP bulls have to look forward to are railroad's earnings. That's scary as the business is beginning to show cracks.
Double-Digit Revenue Declines
I suspected that eventually what has plagued U.S. railroads -- dismal top line growth -- would eventually catch up with Canadian Pacific and Canadian National (NYSE:CNI). For the first 40 weeks of 2016 total carloads for the U.S. and Canada were down Y/Y by 6.9% and 5.7%, respectively. That said, the bull case is difficult to justify when top line growth is in decline. Canadian Pacific's Q2 revenue fell 13% Y/Y.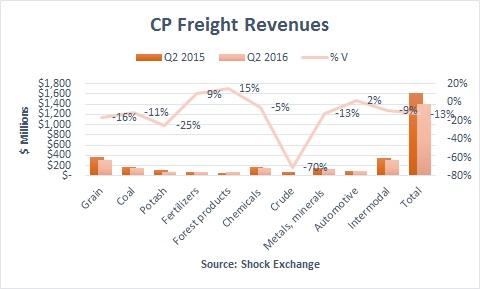 Revenue fell in seven of 11 product categories; the company's five largest product categories -- Grain (down 16%), Coal (down 11%), Chemicals (down 5%), Metals & Minerals (down 13%) and Intermodal (down 9%) -- all experienced revenue declines. Total carloads fell by 6% Y/Y and even more damning, freight revenue per carload was off 3%. The company had previously enjoyed pricing power, which offset declines in carloads. Now that prices are also in decline I expect freight revenue to continue to slide.
EBITDA Margins Might Have Peaked
Canadian Pacific boasts best-in-class EBITDA margins. Harrison and Ackman got in on the cost-cutting trend early; their plan to rightsize competitors pushed Norfolk Southern, Union Pacific (NYSE:UNP), et. al to also cut costs. EBITDA margins were 51% in Q2 2015, but fell to 49% in the most recent quarter. Fuel costs (8% of revenue) and purchased (14% of revenue) both ticked up slightly in Q2 2016. That might have been partly due to declining economies of scale.
As revenue continues to fall I expect EBITDA margins to come under pressure. This comes as no surprise given Harrison's desperation to acquire Norfolk Southern. I suspected that he saw the handwriting on the wall -- falling revenue and margins -- and wanted to change the narrative before
Takeaway
Harrison and Canadian Pacific have waved their pricing power and robust EBITDA margins in the faces of competitors. Now they are beset with falling revenues and declining economies of scale. Pride comes before the fall. CP is flat Y/Y versus an 8% return for the S&P 500 (NYSEARCA:SPY). CP will head lower once its declining earnings become a trend. Avoid this stock.
Disclosure: I/we have no positions in any stocks mentioned, and no plans to initiate any positions within the next 72 hours.
I wrote this article myself, and it expresses my own opinions. I am not receiving compensation for it. I have no business relationship with any company whose stock is mentioned in this article.