Cabot Oil & Gas (NYSE:COG) is one of the largest natural gas producers in the Marcellus shale and as such its stock has taken it on the chin over the past couple of years when the price of natural gas was unusually low. However, natural gas has rebounded sharply from the sub $2 price seen in February through May of this year, and was up 4% today after release of the latest EIA weekly inventory report. NYMEX natural closed today at $3.34/MMBtu. Meantime, COG's stock closed down 4.7% to $22.75/share. As the following chart's show, over the past 6 months natural gas (as measured by the Henry Hub spot price) has risen over 50% while COG is actually down a couple percent: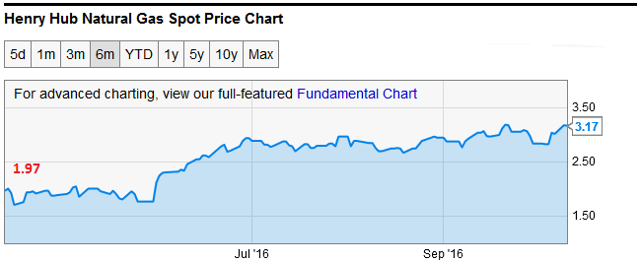 Source: Ycharts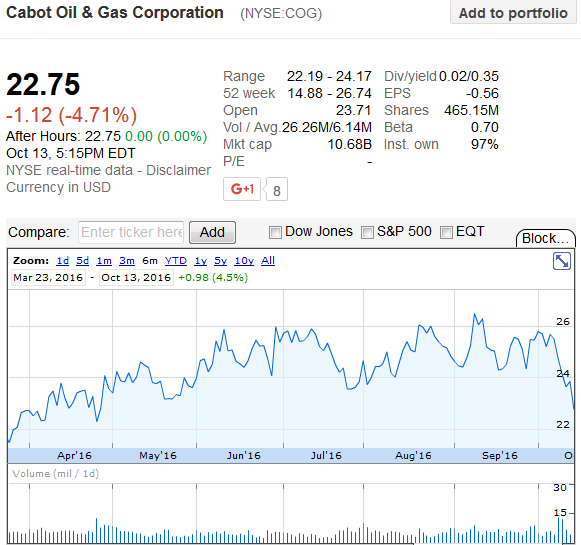 And COG is down ~12% just since the start of October on an uptick in volume. So the obvious question is, why is COG's stock so weak in the face of a significantly higher natural gas (and oil) price?
I think it is due to three primary reasons:
Marcellus production is constrained due to a lack of adequate takeaway capacity.
Realized prices for COG's Marcellus production are generally below the HH (or NYMEX) price.
COG has exposure to the Eagle Ford shale (85,000 net acres) where returns are challenged due to high NGL content and current low NGL prices.
As everyone familiar with the O&G business is aware, the prolific Marcellus shale suffers from one main drawback: adequate exit capacity. That is, the region suffers from a lack of adequate pipeline capacity to transport the huge volumes of natural gas the producers in the region can extract. As a result, producers end up competing against each other and prices fall. So today's press release announcing that the Federal Energy Regulatory Commission ("FERC") is "evaluating certain alternatives to the Central Penn Line North and South routes, which are portions of the Atlantic Sunrise Project" was obviously not received well by the market. The Atlantic Sunrise Pipeline - which was scheduled to go online late next year - was to be the first of several pipelines to relieve COGs takeaway capacity constraints: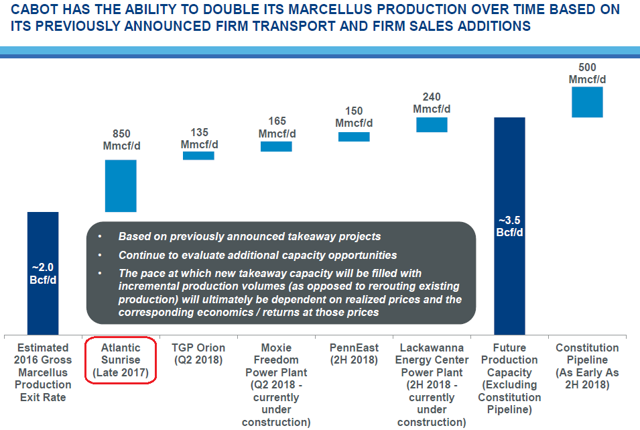 Source: COG September Presentation (available here)
Mostly due to this lack of lack of adequate pipeline exit capacity, COG's realized dry gas price in Q2 was only $1.63/Mcf, and that included hedges:

In the Q2 press release, COG said realized prices (not including hedges) for the quarter were a $0.40/Mcf discount to NYMEX settlement prices. So even as Henry Hub and/or NYMEX prices rise, COG will likely not see the benefit of the price rise as compared to producers in other regions of the country.
Meantime, the company's Eagle Ford position hasn't been much of a boon to performance either. While production did increase in Q2 by 10% sequentially, the company did not drill any new wells during the quarter. It did complete three DUCs and placed them on production. The company had 23 DUCs in the Eagle Ford at the beginning of the year and expect to have 14 by year-end. BUt 2016 activity levels in the Eagle Ford have been limited to maintaining the company's current leasehold position. It is certainly not a growth catalyst at the current strip - although that could change if WTI can maintain $50/bbl or higher.
On the bright side, in July Cabot announced a long-term sales agreement to supply natural gas to the Lackawanna Energy Center power plant in Pennsylvania. At maximum capacity, the facility will burn up to 240,000 dekatherms of natural gas per day (which is roughly equivalent to 240 MMcf/d). To put that in perspective, COG's total gas production in Q2 from the Marcellus was 1,535 MMcf/d.
The bad news is that commercial operations at the plant are not expected to begin until mid-2018.
Summary & Conclusion
Cabot Oil and Gas has some of the best acreage in the Marcellus shale of Pennsylvania (18 of the top 20 wells drilled in Pennsylvania since 2012 belong to COG). But due to the lack of adequate pipeline exit capacity, the company remains in a holding pattern - production is flat. Yet the company has kept the balance sheet relatively strong despite the low O&G price environment: net debt to EBITDA is ~1.8x today, down from 2.5x at the end of 2015.
If the recent FERC announcement ends up delaying Atlantic Sunrise further, that would certainly be a negative. By today's market reaction, it obviously considered it to be "bad news".
In the meantime, not much can be done to lift realized prices for Marcellus production. However, longer term the company is in a great position to profit when the tide turns as it will be able to ramp up production in the Marcellus very quickly once the outlook brightens. And COG, like most shale producers, has done an excellent job of reducing costs - both in the Marcellus and in the Eagle Ford. But for now, investors should not be surprised that COG isn't tracking natural gas prices higher. In addition, I can't see a short-term catalyst that makes a compelling investment thesis. However, investors should take advantage of any potential price dips below $20 and establish a position. COG is a sleeping giant.
Disclosure: I am/we are long COG.
I wrote this article myself, and it expresses my own opinions. I am not receiving compensation for it (other than from Seeking Alpha). I have no business relationship with any company whose stock is mentioned in this article.
Additional disclosure: I am an engineer, not a CFA. The information and data presented in this article were obtained from company documents and/or sources believed to be reliable, but have not been independently verified. Therefore, the author cannot guarantee their accuracy. Please do your own research and contact a qualified investment advisor. I am not responsible for investment decisions you make. Thanks for reading and good luck!