Presidents and Bank Stocks 1981-2016
Background
It's election season.
Should bank investors care whether Hillary Clinton and the Democrats or Donald Trump and the Republicans win?
The purpose of this analysis is to provide a fact-based examination of key bank performance data under the presidencies of Reagan, Bush, Clinton, Bush, and Obama. It will also evaluate bank performance based on political party in office. The analysis is not intended as political commentary.
Also, to acknowledge the obvious, while the data and analysis assume each president starts their term of office with a clean slate, the truth is that bank performance during a president's first or second year in office often reflects the prior president's legacy.
Methodology
There are two sources of data for this analysis. The first is the stock price performance of 24 banks that have continuously traded since at least 1986. In addition, the analysis considers new bank charter and failure rates since 1981.
The 24 banks analyzed for stock price performance are: Associated Banc (NYSE:ASB), Bank of America (NYSE:BAC), Bank of Hawaii (NYSE:BOH), Bank of NY Mellon (NYSE:BK), BB&T (NYSE:BBT), Citibank (NYSE:C), Comerica (NYSE:CMA), Fifth Third Bancorp (NASDAQ:FITB), First Citizens BancShares (NASDAQ:FCNCA), First Horizon National (NYSE:FHN), Cullen/Frost Bankers (NYSE:CFR), Huntington BancShares (NASDAQ:HBAN), JPMorgan Chase (NYSE:JPM), KeyCorp (NYSE:KEY), M&T (NYSE:MTB), Northern Trust (NASDAQ:NTRS), PNC (NYSE:PNC), SunTrust (NYSE:STI), Trustmark (NASDAQ:TRMK), United Missouri Bank (NASDAQ:UMBF), U.S. Bancorp (NYSE:USB), Webster Financial (NYSE:WBS), Wells Fargo (NYSE:WFC), and Zions Bancorporation (NASDAQ:ZION).
Best Stock Price Performance
As the first chart shows, bank investors have experienced an average of 38% stock price appreciation during the terms of office of US presidents since 1986. Bank stocks have performed better than twice as well when Democrats have been in office (+54%) versus Republicans (+23%).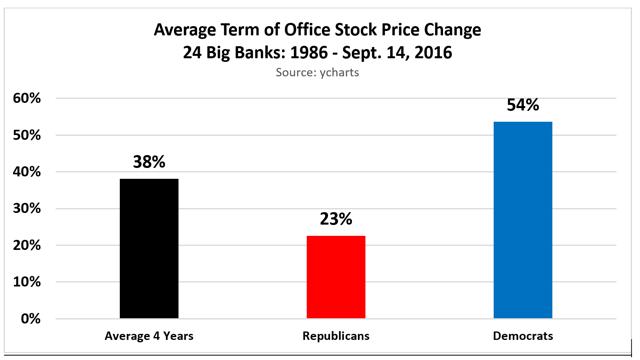 While bank stocks have performed better on average since the mid-1980s when a Democrat has held the office of president, the best four-year bank stock price appreciation occurred from 1989 through 1992, when George Herbert Walker Bush was president. During this time, bank stocks doubled in price (+103%). The worst performance occurred during the second term of his son's presidency, George W. Bush (-36%).
It should be noted that under the Obama administration, bank stocks have performed roughly in line with the average experienced under the three recent Republican presidents.
(click to enlarge)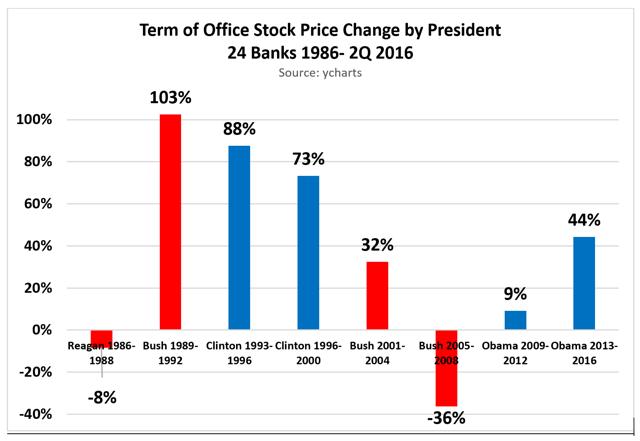 Bank Profitability
Bank profitability as measured by return on equity has averaged 9.48% since the mid-1980s. When Democrats have been in office, the average return on equity is 10.51%, while the average is 8.45% under Republican presidents.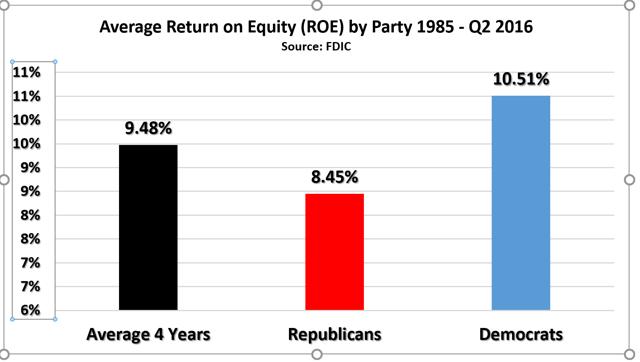 The best four-year average return on equity for any president occurred during George W. Bush's first term of office (14%). The worst average return on equity was during Barack Obama's first term (5.2%).
Under Bill Clinton the banking industry's return on equity averaged 13.75%, the best of any two-term president. During Barack Obama's nearly 8 years in office, the industry's average return on equity is 7.2%, a number 120 basis points below the Republican average. This fact tells investors that the superior return on equity experienced by banks under Democrat presidents is dependent entirely on the Bill Clinton years.
In fairness to Obama, it can certainly be argued that he inherited low returns during the first couple of years in office. However, as will be discussed shortly, the industry's low returns in 2009-2010 were arguably not as bad as reported.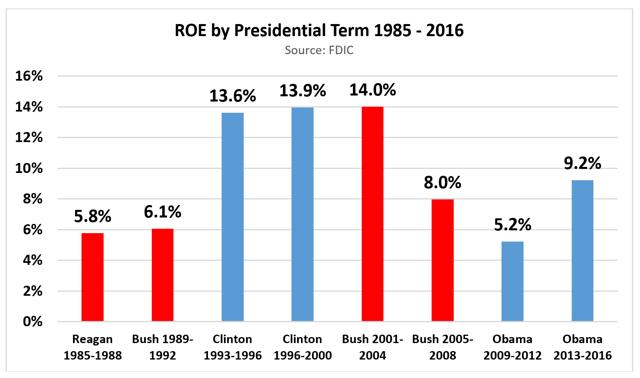 Bank Failures by Presidential Term of Office
The next chart captures a key indicator of the health of the banking industry since 1981: bank failures by presidential term of office. Politicians, especially Democrats, go to great lengths to describe the recent "Financial Crisis" (2008-2009) as the worst economic disaster in the history of the United States since the Great Depression (1930s).
The historic record suggests that the 1980s were much more devastating to bank performance than what was experienced during the Financial Crisis. The next chart proves that point as it shows the number of bank failures under each president.
Ronald Reagan "leads" with a total of 1,480 bank failures during his eight years as president. Most of these occurred well into his presidency. The worst four years for bank failures (1,368) occurred when George Herbert Walker Bush was president.
Contrast these numbers to "only" 448 bank failures during Barack Obama's first term. The least failures (19) during any one term of office were during Bill Clinton's second term, closely followed by George W. Bush's first term (22).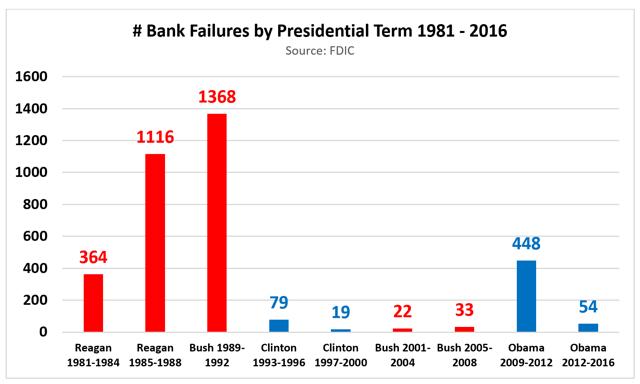 The "Bailout" of Banks 2008-2009
It is possible that some investors believe bank failures would have been much more widespread in 2008-2009 if the industry had not been "bailed out" by the US government. This argument has certainly been made by politicians, especially those eager to gain control of the government at the time. But is it a valid argument?
My examination of bank balance sheets and income statements challenges the view that the banking industry was on the brink of massive failures in 2008-2009. As described in my book (Investing in Banks, RMA, 2016) as well as my writing for the industry's daily newspaper, the American Banker, there are two facts that get in the way of the popular bailout narrative.
The first: bank capital ratios were higher at the beginning of 2008 than at any point since the Great Depression. The record shows that bank capital ratios increased every year since the early 1990s after the failure of nearly 3,000 banks in the 1980s and early 1990s.
The second fact is related to the first and this has to do with the peculiar accounting of the banking industry. Banks must take a loan-loss provision expense in anticipation of future charge-offs. Provision expense impacts a bank's allowance for loan and lease losses, a balance sheet item. Many bankers view the allowance as an extra layer of capital. When loans are charged off, the allowance declines. However, if charge-offs are not realized, allowance remains elevated.
During the second half of 2008 and especially during 2009 and early 2010, bank regulators prodded bankers to increase provision expense in order to pump up the allowance for loan and lease losses. As this occurred, income statements took a hit. However, the reality is that actual losses never materialized at the pace of loan loss provision. As a result, banks of all sizes and from all parts of the US found themselves with way too much allowance by late 2010.
Having over-provisioned in response to regulatory fears (and political pressures?), banks reached a point by 2011-2015 where provision rates fell to historic lows. As the provision fell to such lows, earnings in recent years got a big boost. (As an aside, as this ratio reverts to historic averages, bank profits will get squeezed, returns will fall, and likely bank stock prices will suffer.)
All of this background is not to suggest that banks did not have their problems during the Financial Crisis. The industry's chief problem was related to liquidity. This means that a number of banks experienced funding problems as depositors, bond holders, and investors responded to fears of bank failures.
Washington Mutual and Wachovia fell victims to liquidity crises, not bad loans. Obviously JPMorgan Chase and Wells Fargo, the acquirers of Washington Mutual and Wachovia respectively, understood the difference. The absence of significant credit problems is the real reason why the FDIC did not suffer any losses associated with Washington Mutual and Wachovia. It also explains why earnings at JPMorgan Chase and Wells Fargo popped so nicely in the immediate aftermath of the Financial Crisis.
Bank Start-Ups by Presidential Term of Office
Another way to evaluate the health of the banking system is to consider the number of new banks chartered by presidential term of office. On this measure, Ronald Reagan is the far-and-away leader with 2,116 new banks started during his eight years in office. His optimism about the future and confidence in American ingenuity are reflected in the rapid pace of new bank start-ups.
The Reagan years produced nearly twice as many new bank start-ups as under Bill Clinton (1,114) and George W. Bush (1,055).
On the measure of new bank charters, there is no question that the worst performance has occurred since Barack Obama became president (31). The reality is that 29 of the 31 banks started during the Obama administration were actually organized before Obama became president.
Obama's greatest banking legacy will be Dodd-Frank legislation which created the unintended (?) consequence of the rise of mega-banks and the rapid decline of smaller ones. The absence of new bank charters during the past six years is testimony to investor aversion to small banks. Further evidence can be seen by the record pace of small bank consolidation since Dodd-Frank was signed into law by the president in July 2010.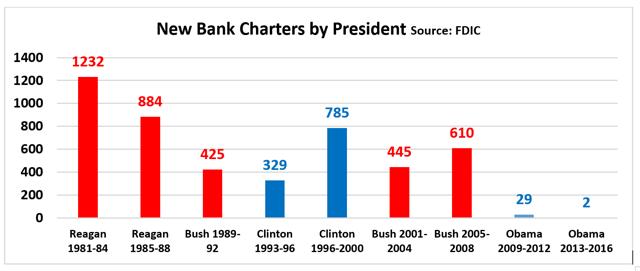 Conclusion
Banking has been a top shelf issue for US presidents dating back to George Washington. Presidents Reagan, Clinton, and Obama each signed into law significant legislation that changed the course of banking.
Past performance of banks under various presidents may have zero implications to a future Clinton or Trump administration. But here are the facts:
Over the past three decades, bank stocks and returns have been better under Democrat presidents (really, just Bill Clinton) than Republicans.
Bill Clinton's eight years in office are associated with the best bank profit numbers and stock price performance.
Under Republicans bank start-ups and failures are much greater than under Democrats.
Since Obama took office, big banks have gotten a lot bigger while smaller banks disappear.
Expect the election of 2016 to bring a major surprise for bank investors. To understand the surprise, it is necessary to deep dive into banking during the Bill Clinton years. This will be the topic of my next post.
Disclosure: I am/we are long CFR, FITB, HBAN, JPM, PNC, USB.
I wrote this article myself, and it expresses my own opinions. I am not receiving compensation for it (other than from Seeking Alpha). I have no business relationship with any company whose stock is mentioned in this article.
Additional disclosure: Though I own no BAC shares, as a retired employee (2011), I have other financial interests in BAC.