The China economic data hit the copper market on Thursday sending Freeport-McMoRan (NYSE:FCX) down below a key level of $10. While short-term supply/demand questions are ruling the market now, signs continue to emerge that the lack of capital spending on copper mines will lead to an imbalance in the future.
The stock hit lows not seen since the rally that ended in April. The sector news continues to suggest that Freeport-McMoRan sold too many assets earlier this year, but the opportunity for the company is being overlooked based on some supply fears.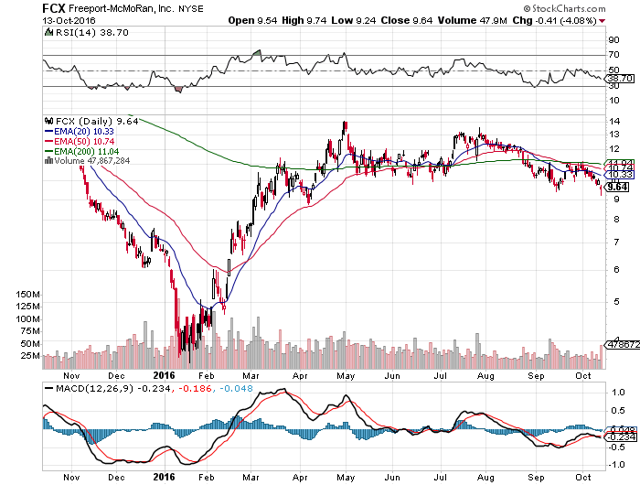 One of the biggest impacts on the copper market (via WSJ) could be the weakness in Chile. Codelco remains under huge financial strain as the state copper miner is required to support government spending like the armed forces causing corporate losses on otherwise profitable copper production.
The impact is that Codelco now plans another postponement in capital projects needed to maintain production levels. The original proposal was spending $25 billion on projects and now the goal is only $18 billion by 2020. A project like Radomiro Tomic is being delayed all the way until 2024.
The scenario continues to back up the theory projected by Freeport-McMoRan that supply constraints are going to start showing up in the near future. Based on the Codelco news, the approximate 4 million tonnes decline in base mine supply has merit when the leading copper producer can't even afford required upgrades.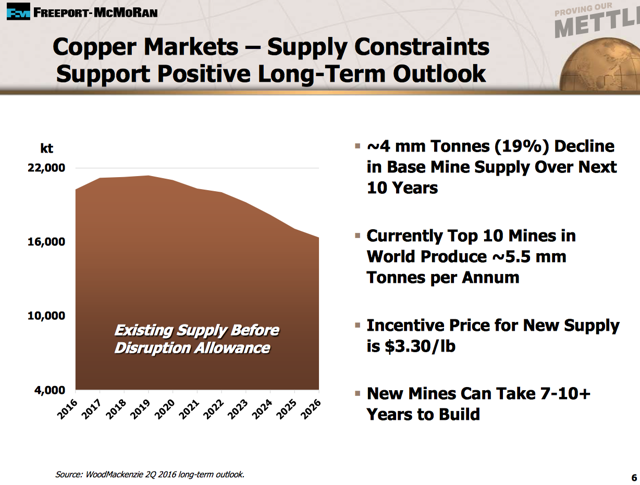 Source: Freeport-McMoRan presentation
The difference with Freeport-McMoRan from Codelco is that the company has similar debt issues, but the copper miner has a path to strong free cash flows since it doesn't have to subsidize government spending. The company estimates a $0.10 impact to copper prices impacts 2016 EBITDA levels by an incredible $325 million.
The Chinese export data was a horrible sign for copper. Copper prices though shrugged it off with only a $0.05/lb drop in prices on the day. The prime reason being the above issue of where lower prices from here only further hurts long-term supply and encourages more demand.
Goldman Sachs continues to maintain the thesis that copper is about to hit a wall of supply. The investment bank had previously stated that copper faces supply issues with the large producers planning to increase production by up to 15% by early 2017.
These numbers are reflected in the above chart from WoodMacKenzie. The issue is also reflected via the rising LME inventories to levels not seen since the end of 2013. The weak winter demand could push these levels even higher.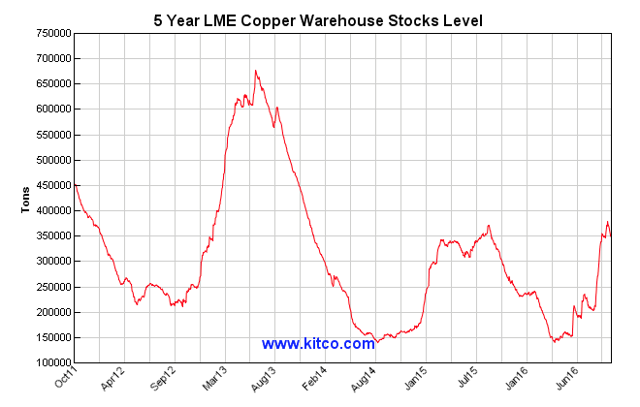 The key investor takeaway is that the copper market is reaching peak production levels as projects started before the collapse in the commodity finally come online. After this last surge in supply, copper is set to go through a period where supply starts shrinking as capital budgets struggle to keep up with existing production.
If copper continues to hold up above $2/lb, investors need to watch Freeport-McMoRan for a long-term position as the commodity that drives profits heads into a bull market following this temporary supply storm.
Disclosure: I am/we are long FCX.
I wrote this article myself, and it expresses my own opinions. I am not receiving compensation for it (other than from Seeking Alpha). I have no business relationship with any company whose stock is mentioned in this article.
Additional disclosure: The information contained herein is for informational purposes only. Nothing in this article should be taken as a solicitation to purchase or sell securities. Before buying or selling any stock you should do your own research and reach your own conclusion or consult a financial advisor. Investing includes risks, including loss of principal.