We view GoPro's (NASDAQ:GPRO) sharp move lower Thursday, 10/13, on news that the company stopped shipping to Amazon (NASDAQ:AMZN) as overdone and a buying opportunity for the stock into the important November/December Holiday shopping period. The bearish note from Piper Jaffray which kicked off a sharp pre-market sell-off feels slightly biased to us, and follow-up notes from JP Morgan and Dougherty & Co. provide what we view as a more complete outlook on the situation.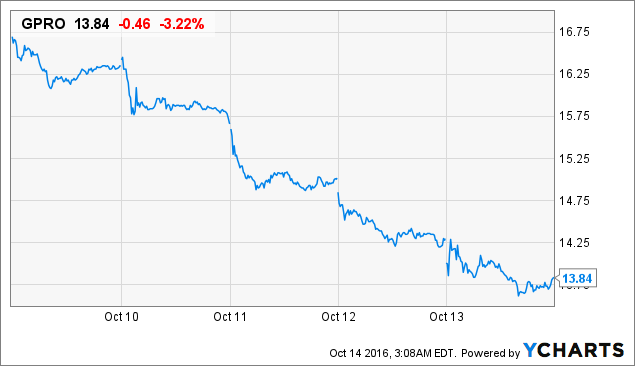 GPRO Price data by YCharts
Connecting dots between the Dougherty and JP Morgan notes, it appears Amazon and GoPro were in conflicts over product pricing wherein Amazon, as the always-low-priced retailer, was undercutting the floor retail price. The implications of Amazon undercutting retail prices has been recently magnified with Best Buy (NYSE:BBY) and others now offering price matching, so lower retail prices at Amazon have a negative ripple effect on retail prices everywhere. All this means that GoPro's full retail priced products on the company's online store, the highest profit channel for the company, become less attractive to consumers, with the net result being lower sales through GoPro's highest profit channel.
With this in mind, GoPro's decision to temporarily stop shipping product to Amazon is more of a strategic decision than a decision forced by supply chain issues. It is concerning that GoPro has stopped shipping to the world's largest online retailer just over 2 months before Christmas, and that this channel represents roughly 10% of the company's sales, but the shipment halt is only for a month and the excess product is being shipped to other retailers.
We think the outcomes from this decision range from a narrow revenue shortfall on the bear side to higher earnings on the bull side. The stock, however, fell as if the situation were a significant revenue shortfall, and that disconnect creates what we see as a buying opportunity into the November/December shopping season.
GoPro expects to begin shipping to Amazon again by the end of the month, so Amazon sales are only offline for GoPro for October. Street revenue estimates put GoPro's Holiday quarter sales somewhere in the ballpark of $700 million. October sales will likely be significantly less than a third of total Q4 sales (sales grow sequentially each month into Christmas), so we think October is somewhere around a $150 million sales month at most.
Amazon represents 10% of that, so the revenue shortfall could be as large as $15 million, but that is assuming the excess product won't be sold anywhere else. According to Dougherty, GoPro's other retailer partners have picked up the excess units, so some portion of that $15 million will be sold through non-Amazon channels. Moreover, as JP Morgan pointed out, some of the sales slack will also be picked up by GoPro's online channel, implying proportionately higher sales flowing through GoPro's highest profit margin channel. At worst, then, GoPro experiences a $15 million revenue shortfall in Q4, while at best, the company has no revenue shortfall and earnings are positively affected.
Given the Hero5's early success, we think the latter is more likely. It appears the Hero5 is well received by consumers, but more importantly, the product is selling extremely well so far. The Hero5 Black has the top-selling spot on Best Buy, Target (NYSE:TGT), and B&H's websites. More importantly, the Hero5 is significantly more searched on Google (NASDAQ:GOOG) than other new action cameras, so it appears that competitive concerns to-date have been exaggerated.
Current high interest and top selling trends imply GoPro's Holiday growth story remains on track. As a result, we maintain that a solid trading strategy for GoPro is to buy the stock significantly below $16 (our fair value) and sell as the stock approaches $16. At $13.84, we see more than 10% upside to fair value and feel this is an appropriate time to pull the trigger, especially against the backdrop of strong early Hero5 data.
Disclosure: I am/we are long GPRO, AMZN, BBY.
I wrote this article myself, and it expresses my own opinions. I am not receiving compensation for it (other than from Seeking Alpha). I have no business relationship with any company whose stock is mentioned in this article.