Boeing (NYSE:BA) and Airbus (OTCPK:EADSY) are practically operating in a duopoly. However, unlike conventional monopoly or a duopoly, these companies do not enjoy the pricing controls. The main reason behind this is the scale of the deals and the customers that these two companies have. These customers have the ability to negotiate prices according to their liking due to the large production orders. Since there are only two reliable suppliers in the market, there is always a chance of loss if there is any type of inefficiency. Airbus is experiencing this first hand due to the loss of production order from Qatar Airways to Boeing. The total value of this order is in excess of $18 billion, and a total of 100 planes will be bought. The scale of this order means that the Middle Eastern airline will get considerable discount on the list price.
While this is a big win for Boeing, it will not be the only beneficiary of this contract. The reason behind this order cancellation is delays from Airbus due to the faulty engines by United Technologies' (NYSE:UTX) subsidiary, Pratt & Whitney. General Electric's (NYSE:GE) aviation segment will also benefit from this deal. Aviation segment is the largest profit contributor for GE and will feature heavily in its future plans to make GE industrial its core business. The image below will show segment revenue and profit for industrial segment.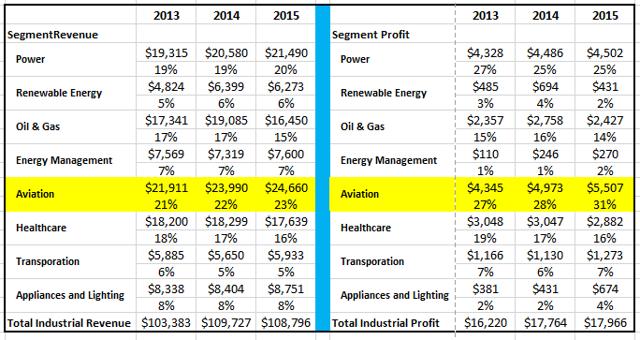 Full year 2015 revenue for the aviation segment was 23% of total industrial revenue and the segment profit was 31% of the total industrial profit. We can assume a considerable increase in aviation segment EBITDA and operating income from this win for Boeing. The order backlog will also grow further. The image above shows the whole industrial segment in order to make it clear how important the aviation segment is for the company. 2015 revenue was generated by selling 2,588 commercial engines and 260 GEnx engines. The total sales also included military engines and some spares. However, the commercial and GEnx engines were the main products sold.
Sixty of these 100 jets will be 737 MAX and 40 will be 777 and 787 twin aisle jets. Qatar airways' refusal to accept delivery due to the faulty engines might open more opportunities for the company. Pratt and Whitney's turbofan engine has been having troubles for quite some time and this has negatively impacted the stock price of UTX. There is a serious possibility that buyers might switch to other engine suppliers. General Electric's engines are a good option for the buyers to replace Pratt and Whitney engines. Airbus will not want to see more cancellations if the problems with the engine continue.
Qatar Airways deal is not the only positive for GE. It has added to its renewable energy segment by buying LM Wind Power. This acquisition will add considerably to its renewable energy business. The deal will bring in vertical integration for GE as LM Wind Power was already supplying wind turbine blades to the company. According to GE, about half of the new installed power generation capacity was from renewable sources and wind accounted for about 35% of that growth. The valuation looks a bit rich at the moment. The total deal value of $1.65 billion translates in to EBITDA multiple of 8.3x. The EBITDA figure used for valuation is expected EBITDA of 2016.
GE seems to be putting a real effort into its renewable energy segment. The major economies like the US, China and India are now willing to give a chance to renewable energy and GE sees an opportunity here to grow its industrial profit. Renewable energy segment net margin is over 10% and if the growth in installed capacity continues, there is real chance of further enhancement through economies of scale. At the moment, renewable segment net margin is lower than almost all the other major segments. Only, Transportation, Appliances and Lighting, and energy management segment net margins are lower than this segment. All the other major segments have net margins in the range of 14-23%. Aviation has the highest net margin of 23%.
Restructuring is going according to the plan as the company has returned more cash to its shareholders than it previously planned. Dividends to GE from GE capital have been healthy (more than $25 billion in 2015). This has allowed the company to return more cash to shareholders. These asset sales have resulted in lower revenue and EBITDA for the company. However, as GE capital becomes slimmer and the company focuses on more profitable areas, total profit margin should increase.
Overall, GE is becoming a more efficient business. The management is focusing on its strengths and the industrial income is increasing. There is scope for further growth from the industrial segment, especially from the renewable energy and aviation. Recovering oil prices should also help it grow oil and gas segment net margin as the oil companies start to increase their budgets in the next few months.
Disclosure: I/we have no positions in any stocks mentioned, and no plans to initiate any positions within the next 72 hours.
I wrote this article myself, and it expresses my own opinions. I am not receiving compensation for it (other than from Seeking Alpha). I have no business relationship with any company whose stock is mentioned in this article.
Editor's Note: This article discusses one or more securities that do not trade on a major U.S. exchange. Please be aware of the risks associated with these stocks.