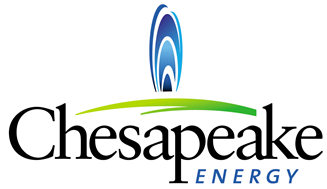 The direction of stock prices is influenced by a whole range of factors: Business performance, market expectations, acquisitions and asset sales...all these factors affect stock prices, in one way or another. Stock upgrades or downgrades are other impact factors that can make or break an investment case over the short haul. Stock upgrades/downgrades are usually closely watched by investors who may try to profit from any insights the analyst in question is providing.
However, sometimes analysts are also wrong, and I think this especially is the case with UBS, an investment bank that took the opportunity lately to ring the alarm bells again with respect to Chesapeake Energy's (NYSE:CHK) levered balance sheet (UBS has a Sell rating on the oil and natural gas company).
UBS had this to say about Chesapeake Energy's position in the deleveraging cycle:
Liquidity position has improved but debt load remains too high: Chesapeake has reduced its principal debt by >$1.0bn YTD through 3Q and slashed its 2017 debt maturities by two thirds to $658MM. While much of this was achieved through debt re-financing and dilutive debt-for-equity swaps that increased shares outstanding by 34%, near and medium term liquidity concerns have been addressed. But financial leverage still remains far too high in our view and Chesapeake should lay out details on how it plans to reduce debt by $2-$3 billion over the next few years.
Bottom line: The company has to cut more debt.
Leverage remains a hot button issue in the energy sector, but one also has to give credit where credit is due. Chesapeake Energy has come a long way in the last few years, and has made great progress addressing the most important issues (debt, liquidity) during this energy downturn: The company reduced its leverage significantly, and, most importantly, Chesapeake Energy always retains the option to sell more assets if need be.
As a matter of fact, Chesapeake Energy has reduced debt and cash costs by ~50 percent since 2012.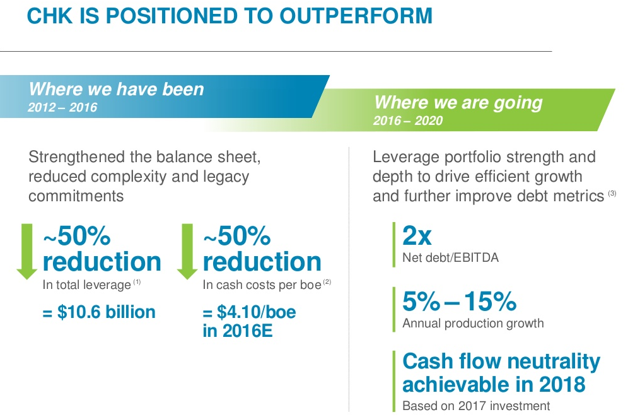 Source: Chesapeake Energy
I am not saying that the company will manage to shave another 50 percent of its debt balance over the short haul, but Chesapeake Energy clearly has demonstrated that it is on the right path and that it is capable of addressing the most pressing jobs (something it doesn't seem to get credit for from UBS). As far as I am concerned, Chesapeake Energy continues to deserve the benefit of the doubt at this point of the restructuring.
Read also: "Chesapeake Energy: 25% Off Latest High, Time To Jump Into The Breach Again?".
Your Takeaway
The bottom line is that Chesapeake Energy's debt is high, Yes, but manageable. Chesapeake Energy is pulling all the right strings, and the company deserves a lot of credit for what it was able to pull off in terms of debt reduction in this difficult market environment. Further, Chesapeake Energy deserves a lot of credit, too, for keeping its head above water, while other companies have already filed for bankruptcy. In addition, Chesapeake Energy should be able to pay back debt at a good clip moving forward, and the company may do so even faster than some (i.e. UBS) expect at this point. Speculative Buy for capital appreciation.
If you like to read more of my articles, and like to be kept up to date with the companies I cover, I kindly ask you that you scroll to the top of this page and click 'follow'. I am largely investing in dividend paying stocks, but also venture out occasionally and cover special situations that offer appealing reward-to-risk ratios and have potential for significant capital appreciation. Above all, my immediate investment goal is to achieve financial independence.
Disclosure: I am/we are long CHK.
I wrote this article myself, and it expresses my own opinions. I am not receiving compensation for it (other than from Seeking Alpha). I have no business relationship with any company whose stock is mentioned in this article.