The Buy Thesis
Hannon Armstrong Sustainable Infrastructure (NYSE:HASI) provides investors with a rare combination of shareholder friendly attributes. It is growing like a tech company and stable like a REIT, yet has a lower multiple than both. This article will detail HASI's competitive advantage and how it can be exploited to obtain double-digit growth for the next ten years. Trading at a 5.4% yield, the market is not pricing in much growth, so HASI has substantial upside as its EPS increases. Let us dig right in to the mechanism that makes HASI so effective.
Competitive advantage
The REIT structure gives a substantial advantage for a green financing/infrastructure business and HASI is the only REIT in the space. As a REIT, it enjoys tax advantages and an exceedingly low cost of capital giving it a superior spread to most finance companies.
REITs are less restricted than SIFIs which affords HASI greater flexibility in matching financing to the needs of the borrower. Efficiency projects are often case specific and it can be difficult to convince the borrower that the improvements will pay for themselves and even be cash flow positive within a reasonable time period.
Finally, the REIT structure gives greater optionality as to where in the capital stack HASI wants to be. For wind or solar projects, a REIT may be a direct owner of the land or an equity holder of the infrastructure, while affording the greater security of taking the most senior position for efficiency lending.
Protected advantage
HASI has 2 characteristics which serve to protect its competitive advantage.
Barriers to entry
Existing relationships
A couple of years ago there was a wave of REIT conversions that spilled over into non-traditional REIT sectors like infrastructure, data centers, cell towers, farmland and a variety of others. While the government still largely supports REITs, the REIT tax code was established to encourage growth, but it began to be used as a tax loophole. When a REIT develops an office building for example, that directly contributes to the economy, but when a company like Darden spins its already existing Olive Gardens into a REIT, it does little more than evade taxation.
Since the REIT laws were written, there have always been minor exploitations to this effect, but during the tremendous wave of REIT conversions that took place in the past few years, it became clear that too many companies were abusing it.
Consequently, the IRS has become stricter in its interpretation of the law which can make the conversion process slower, more expensive, or more difficult. HASI became a REIT before the more stringent standards and while it operates in compliance with REIT tax laws, I believe it will be significantly more difficult for established competitors to convert.
Additionally, HASI's existing relationships will partially sustain its competitive advantage even if there are entrants in the green financing REIT space. Many of HASI's projects are with the government which tends to be exceedingly loyal in its choice of providers. The bureaucratic chain of command causes people to hire the provider that is least likely to get them fired rather than the one offering the lowest price.
HASI's competitive advantage facilitates its growth by maintaining its excess profitability beyond an economic return.
Growth
A healthy spread and huge TAM make HASI's growth almost as sustainable as the infrastructure it finances. The unlevered yield on HASI's current portfolio is 6.3%.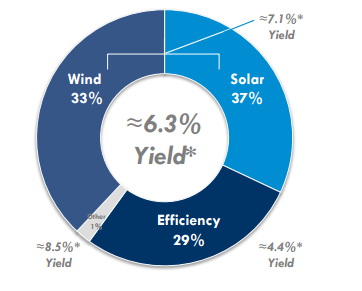 Source: HASI
10-year yields have come up since HASI put out this information in early August 2016, so incremental cap rates on future acquisitions could be slightly higher. However, for the sake of conservancy, our growth model will just use the 6.3% figure.
This cap rate is not out of line with REITs, but HASI's cost of capital is really low. Shown below is our WACC model for HASI.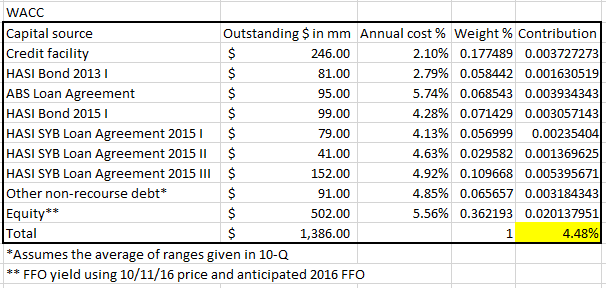 Information from HASI's 2Q 10-Q
If we assume leverage neutral growth, HASI's cost of incremental capital is around 4.5%. This creates a healthy spread on external growth of about 1.8%. With big banks claiming NIM of around 3%, 1.8% does not seem like much. However, this is a very clean 1.8% spread between ROIC and WACC. It is leverage neutral and quality neutral so it can truly be thought of as incremental accretion. A 0% spread over WACC would grow the company's size and be neutral to its value per share. The 1.8% represents excess profits over a fair economic return and when it is applied to a large acquisition pipeline, the growth can be material.
Transaction pipeline
HASI claims to have a $2.5B acquisition pipeline over the next 12 months, but I find this rather ambitious for a company with a market cap under $1B. I think it would be more realistic to go by recent acquisition rates.

Source: HASI
HASI acquires approximately $250mm quarterly or about $1B annually.
Using the 1.8% spread we calculated above, this translates to accretion to annual cash flow of $18mm or about $0.41 per share. That is 33% growth over 2016 estimated EPS of $1.23.
While the growth rate will likely slow from 33%, we believe HASI can maintain double-digit growth for many years. Its total addressable market is enormous and underserved. LEDs in their present form have only been around for a few years and the rollout is just beginning. These can save as much as 80% of the power consumption and have IRRs that exceed most other capex. With Democrats likely to maintain power, subsidies for energy efficiency are likely to remain or increase, so the political threat to green energy has been greatly reduced in recent weeks.
Price target
Our 1-year price target for HASI is $29.50 which represents 33% upside from its current price. Essentially, we think it will continue to trade at approximately its current multiple, so the growth we are projecting will go straight to the share price. This represents an 18X multiple on forward earnings 1 year from now.
Valuation
A quick look at HASI's price chart makes it look quite expensive.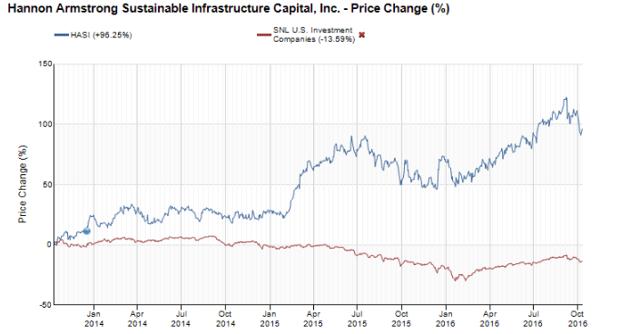 HASI has outperformed peer lenders by about 110% over the past 3 years, so I can certainly understand why it would appear overpriced. It is, however, in a very different business. Most lenders take on excessive levels of risk with the combination of high leverage and speculative transactions, while HASI keeps a tighter ship.
98% of HASI's lending is to investment grade borrowers and the loans are often considered an operating expense which makes obligations to HASI senior to other debt.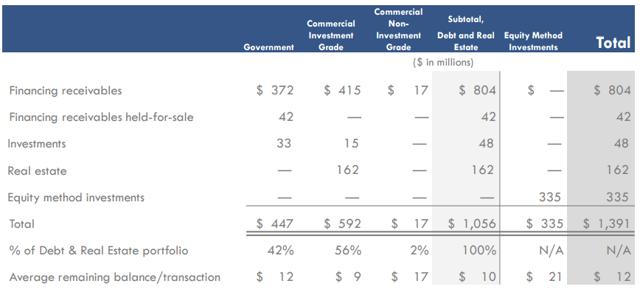 Source: HASI
From this position, HASI has experienced little to no losses while peers have battled tremendous bad debt expense. In many cases, this makes HASI's realized returns higher than the higher yielding yet riskier investments of peers.
With a cleaner pool of assets, HASI should trade at a substantial premium to mREITs and should instead trade closer to equity REITs as its cash flows are similarly dependable. We believe the 18X multiple tied to our price target is appropriate as it represents a discount to eREITs and a premium to mREITs.
This multiple should be supported in the market by HASI's superior dividend.
Future dividend champion?
When it comes to dividends, there are 4 aspects that matter most.
Magnitude of yield
Growth of dividend
Sustainability of dividend
Taxation of dividend
Treasuries are sustainable yield, but the yield is small and not growing. Dividend champions like Realty Income (NYSE:O) or Johnson & Johnson (NYSE:JNJ) have consistent dividend growth, but the magnitude of yield is rather small. Companies like Gladstone Commercial (NASDAQ:GOOD) hit 3 of the criteria with a highly dependable 9% tax advantaged yield, but its dividend is not growing. Remarkably few investments are strong in all 4 which makes HASI a unique opportunity.
At its current price of $22.13, HASI boasts a 5.4% yield which greatly exceeds REITs and the broader market. This distribution rate is growing at a fairly rapid pace and is on pace to go up next quarter as shown below.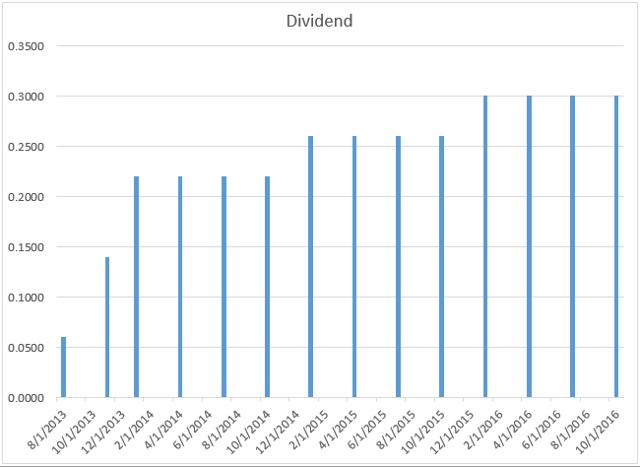 Data from SNL Financial, graphed in Excel
Sustainability comes from HASI's strong source of consistent income along with its well-hedged balance sheet. Finally, a majority of this dividend comes tax deferred with about 80% of it coming as a return of capital over the past 3 years.
If HASI can sustain its growth as our analysis suggests, it is in the early stages of 20+ years of dividend growth and that is when you want to catch a dividend champion. Realty Income's early investors have made a multiple on their investment.
Risks and concerns
The primary threat to HASI's earnings is reinvestment risk. Unlike traditional real estate where the property persists beyond the expiry of the lease, HASI's loans are gone once they expire. Given the credit quality of borrowers and where HASI's loans sit in the capital stack, they are very likely to get all of their principle back along with the interest, but this still poses a threat to cash flows. HASI will need to reinvest the principle at a similar rate to maintain cash flows.
We do not see this as a problem in the near term as the pipeline is so vast, but if there comes a time when opportunities dry up, cash flows could suffer. It would not result in a loss, but mere recovery of principle is not enough for HASI as it is trading at a substantial premium to book value. It therefore has an enhanced onus to generate accretive cash flows.
The bottom line
HASI is one of the last bastions of growth in a world where nearly all developed nations are stagnant. This growth is not priced in and we see it translating 1 for 1 to market price. Our analysis suggests 33% growth in EPS by the end of 2017 and this should result in substantial gains for shareholders who will be receiving a large and growing dividend as they wait.
Disclosure: 2nd Market Capital and its affiliated accounts are long HASI and GOOD. I am personally long HASI and GOOD. This article is for informational purposes only. It is not a recommendation to buy or sell any security and is strictly the opinion of the writer.
Disclosure: I am/we are long HASI, GOOD.
I wrote this article myself, and it expresses my own opinions. I am not receiving compensation for it (other than from Seeking Alpha). I have no business relationship with any company whose stock is mentioned in this article.