Dear readers and contributors,
We're running a new Seeking Alpha PRO contest over the coming weeks that I hope will interest you, whether as a potential entrant or as a reader looking for new ideas.
The contest is looking for your best Catalyst-Driven long or short idea.
For the catalyst, we are looking for a discrete event that will change the market sentiment about the stock. Examples include that the stock will be taken over, that it will split up, that management will change, a new product announcement that will be pivotal for the company, the entrant of a new competitor into a space (i.e. the 'oh no, Amazon is selling/making this too' effect), the advent of an activist, that a lock-up expiration is looming, or that the stock will report a specific earnings surprise for good or for ill. This list is not all inclusive by any means.
We are not looking for stocks that will gradually perform well or that are undervalued or overvalued but without a specific event that might change the market's perception. There should be a more precise driver that will make the pick a strong long or short idea.
The catalyst should take place sometime in the next 12 months.
In other words, we are trying to avoid generic long or short ideas that might have possible catalysts in favor of ideas that are more event-driven and where the catalysts are likely - hypothetical takeover plays, e.g., aren't a good fit.
As always, our focus is on compelling, fully developed theses, and that's what our judging criteria below focuses on. Winning entries will likely be fundamentally-focused and cover valuation, risk/reward, and market perception in addition to the catalysts raised. We encourage you to come up with a unique angle and to cover a stock that may not be widely followed, and we strongly encourage you to write up a company you haven't written about on Seeking Alpha recently (year to date, let's say).
Please make sure to read all of our criteria and entry details before entering.
Other entry details:
All entries must be exclusive to Seeking Alpha, submitted via our normal article submissions process.
To enter, you must check the 'enter competition box' and then select 'PRO Stock Pitch Contest' from the dropdown menu (see below). We will not be able to add entries to the contest after publication.
The article must be a long or short idea. We will not accept sell ("don't short it but sell it if you own it") or hold ideas, nor buy on a pullback ideas.
The article must qualify for publication to be entered in the contest.
We are not accepting ideas focused on ETFs, but we are open to bonds or preferred stocks if you feel a specific one qualifies. The idea must be about a company with a U.S. listing (whether main board, OTC, or ADR).
Articles on stocks below $100M in market capitalization will be subject to increased scrutiny, as always.
Each participant is allowed only one entry.
Winners will be selected by our SA PRO editorial team based on the following criteria:
How strong and effective is the case that the catalyst will happen, that it is not in the price of the stock yet, and that it will drive upside/downside?
Do you make a clear case for why the market has this stock wrong?
How is the risk/reward here skewed in investors' favor?
How material is your thesis to the stock's price?
Do you present an original thesis on the stock?
How did readers and PRO subscribers react?
We're selecting the top three entries for the contest to earn cash prizes:
1st place: $4,000 and three months access to SA PRO
2nd place: $2,500 and three months access to SA PRO
3rd place: $1,000 and three months access to SA PRO
4th place: $500 and three months access to SA PRO
We're also giving two weeks' PRO access to all entrants.
The contest is open to all investors. If you're already a Seeking Alpha contributor, you know how to submit an article. If this is your first article submission, please click here to register as a contributor and submit an article.
We will be selecting PRO-worthy articles as PRO throughout the contest, so initial entries may earn $150 if they meet our PRO criteria. All other articles will still receive standard exclusive article payments ($35 + $.01/PV). Winning entries will receive the stated prize, but not the additional amount for the article selection (so if a PRO article wins 3rd place, the total payment will remain $1000, not $1150).
Please note that we are not going to consider multiple submissions for the contest - if you submit one and ask for PRO publication, but it does not qualify for that category, you may withdraw it, but we will not consider a different entry from you for the contest.
All articles will be exclusive to PRO subscribers (including contest entrants) for 3 days after publication (4 for PRO articles). This is shorter than previous contests. They will then be made available to all readers as per standard publication. PRO entries will return to our PRO archive after another month.
Check the SA Contests Hub to see all entries to date, as well as results from previous contests.
We are accepting entries from today, October 24, through to 11:59 pm ET Sunday, November 13. To enter, you must check the box to enter a competition when submitting the article (on the last page of our submissions process), and then select "Catalyst-Driven - PRO Contest" from the dropdown menu. Please note there are several contests for college students only; please make sure you select the right contest.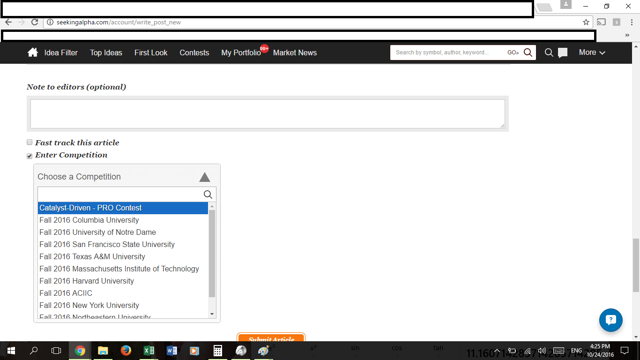 You can also put a note to the editors stating, "Please consider this article for the Seeking Alpha Catalyst-Driven Stock Idea contest." November 13 is the submissions deadline; the article may be published after the deadline as long as it was originally received on time, though realistically if we don't have it published in the first couple of days after the contest ends, it is likely not to qualify.
We hope to announce winners the week of November 21st (i.e. Thanksgiving week).
Please let us know if you have any questions in the comment stream below, or feel free to contact me directly via direct message. I'm looking forward to seeing your entries.
Good luck!