The second installment of this series will once again be discussing two South African companies each with a dividend yield of more than 4%. Readers should note that the two companies chosen for this part of the series are, unlike Vodacom (OTCPK:VDMCY) and MTN (OTCPK:MTNOY), fundamentally different companies both in terms of revenues and business models. The two companies discussed in this article are MMI Holdings (OTCPK:MPOHY) and Bidvest (OTCPK:BDVSY).
Please note that all figures are indicated in ZAR unless the contrary is indicated or reference is made to the ADR's ticker symbol. Also take note thereof that all figures are rounded.
Political Environment
Given the decision by the National Prosecuting Authority (NPA) to criminally prosecute the South-African minister of finance, Pravin Gordhan, it may be necessary to comment on the current political landscape in the country. The decision by the NPA has sent the rand nose diving, which of course has a negative impact on US investors' ADRs in South African companies.
There seem to be a general consensus amongst South Africans that the charges against him are trumped up and that this is another attempt by the South African president, Jacob Zuma, to rid himself of his current finance minister as he had done in the now infamous NeneGate, when South Africa had three different ministers of Finance within a week. The renowned South African Constitutional law expert Prof. Pierre de Vos has also stated that the charges seem to have little merit.
It does not ultimately matter, or at least not for investors, whether or not the charges against Mr. Gordhan are true; all that matters is that this is likely to give rise to increased volatility in the rand. Investors who are discomforted by this increased currency risk may wish to avoid the South African market in the near term.
These political issues are not likely to have a substantial impact on the two companies discussed in this article, beyond the impact of the currency risk.
MMI Holdings
MMI Holdings is engaged in the provision of long and short term insurance, asset management, employee benefits, property management and health risk management. The company's subsidiary, Metropolitan, is one of South Africa's oldest insurers.
MMI was formed by the merger of Momentum and Metropolitan insurance companies. MMI Holdings has a few competitors in the South African market, many of which are substantially smaller than it. It does, however, also compete with Sanlam which is significantly bigger than it.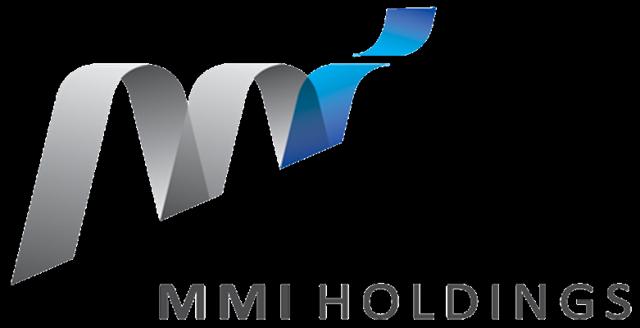 MPOHY currently has a TTM dividend yield of 6.65% and a forward dividend yield of about 6.9%, take note thereof that there is a lack of information available for the forward dividend yield on the ADR hence this figure was calculated by taking the forward dividend yield on the local market and reducing it by deducting withholding taxes and a small conversion fee.
MPOHY has outperformed the S&P 500 (the yellow line in the chart below) on a YTD basis. It has also outperformed some other companies in its industry group such as the South-African medical insurance provider Discovery (OTCPK:DCYHY) (the red line in the chart below). It has, however, slightly underperformed its larger competitor Sanlam (OTCPK:SLLDY) (the orange line in the chart below).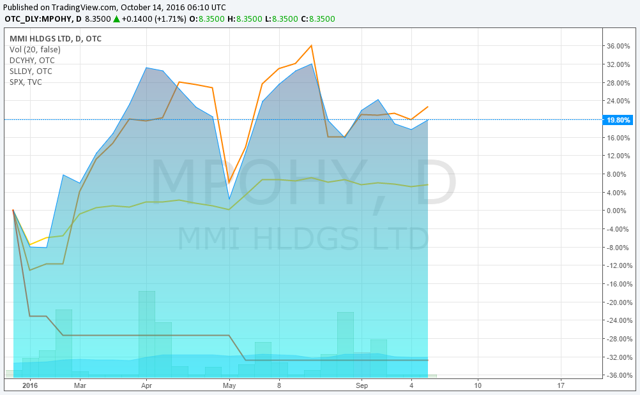 (Source: Tradingview)
MMI Holdings reported a 5.7% increase in Net insurance premiums for the 2016 financial year over the previous financial year. It also reported a 12.6% improvement in investment returns over the previous financial year. The company did, however, report a slight decline of about 0.8% in Net income over the previous financial year. This decline should not, however, concern investors as it was largely the result of lower fair value gains than that reported in the previous financial year.
It should be noted that although MMI Holdings operates in various countries such as Botswana, Ghana, Nigeria, etc. it earns the vast majority of its earnings from South Africa. Its Metropolitan subsidiary showcased a 4.4% improvement in retail premiums whilst corporate and commercial premiums declined by about 10% over the previous financial year.
The results may not seem that great when taken at face value, but were actually very good given the challenging economic environment witnessed in South Africa. MMI Holdings is currently trading at 11.01 times expected earnings for 2017 and 9.59 times expected earnings for 2018, which is below that of its peers such as Sanlam which is trading at a forward P/E ratio of 14.08.
MMI has a significantly lower price to cash flow than its industry group. It currently has a TTM price to cash flow of 9.57 compared to its industry group's average of 17.33. (Note that the industry group referred to is that of its South African peers rather than US insurers)
MMI is currently trading at 0.69 times TTM sales which is also below that of its industry group that is trading at 2.57 times TTM sales.
MMI may face some headwinds in the South African economy in the near term, but has good long-term growth potential, particularly in other African countries such as Nigeria which has good demographics and a low number of persons who currently have access to financial services. The company also seems attractively valued relative to its industry group.
Bidvest
Bidvest is one of the biggest conglomerates in Africa. It is also likely one of the most diversified companies in South Africa. It operates as an investment holding company with subsidiaries in the services, trading and distribution industries.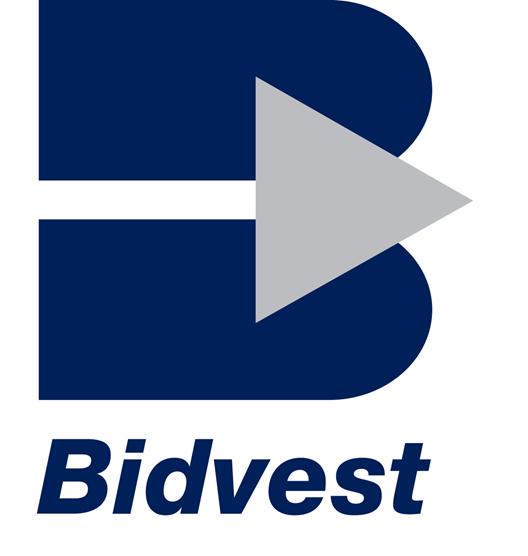 Bidvest had three main operating divisions namely Bidvest South Africa, which represented approximately 42% of Group Revenue; Bidvest Foodservice, which represented approximately 55.6% of group revenue; and Bidvest Namibia, which represented a much smaller portion of group revenue.
Bidvest South Africa is represented in a substantial number of industry groups. The division's main industry groups are Freight, representing 33.3% of the division's revenue, and the Automotive industry, representing 26% of the divisions revenue. Financial services represent a much lower portion at about 2.4% of the division's revenues.
Its representation in the automotive industry is largely through its car dealerships McCarthy, which is involved in the sale of new and used vehicles. This area of Bidvest's business may face increasing sales pressure if the rand declines further, given that car prices generally move up when the rand weakens.
The chart below shows a substantial drop in the share price, which at face value may seem disastrous. Readers should, however, note that the drop in the share price resulted in part from the spinoff of Bidcorp.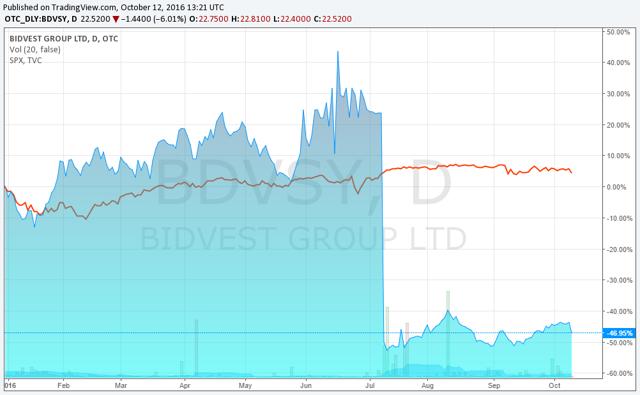 (Source: Tradingview)
The Bidcorp spinoff essentially included the Foodcorp assets, i.e. it was a significant portion of the group. In essence, Bidvest now largely consists of the two other divisions, Bidvest South Africa and Bidvest Namibia. This does, however, allow the group to increase its focus on other business areas.
BDVSY currently has a TTM dividend yield of 4.41%. I do, however, expect this dividend to decline in the next financial year, when excluding the portion attributable to Bidcorp. The dividend is unlikely to go below 3%, but the declining dividend may discourage some dividend investors (and technically, the stock would no longer meet the requirements for inclusion in this list).
I do, however, continue to have confidence in this company. Bidvest has grown its revenues at a compounded annual growth rate (CAGR) of 29.5% over the past 24 years and by a CAGR of 12.6% over the past 10 years. In 2016, Bidvest's revenue increased by about 12% over the previous financial year.
The company has also grown headline earnings per share at a CAGR of 19.6% over the past 24 years. Diluted EPS improved by approximately 25% in 2016 over the previous financial year.
The stock currently has a TTM P/E ratio of 23.85 which is below that of its industry group's average TTM P/E ratio of 25.71. Bidvest is currently trading at 3.68 times tangible book value which is below that of its sector which is trading at an average price to tangible book value of 4.31.
Companies included in its industry group are amongst others Barloworld (OTCPK:BRRAY), which mostly competes against Bidvest in the automotive business, and Remgro (OTC:RMGYY), which is also a very diversified conglomerate and now larger than Bidvest after the Bidcorp spinoff. Bidvest has underperformed these two peers on a YTD basis, which is to be expected in light of the spinoff.
Conclusion
Both companies have reasonable growth prospects and are likely to continue paying high dividends (if 3%+ can be seen as high in Bidvest's case). US investors may, however, prefer some stabilization in the political environment before investing in South Africa. In terms of valuation and dividend yield; I currently prefer MMI Holdings over Bidvest.
The third installment in this series will be discussing two companies that are from other parts of Africa (i.e. excluding South Africa). Thank You for taking the time to read this article.
Supporting Documents
Disclosure: I/we have no positions in any stocks mentioned, but may initiate a long position in MPOHY over the next 72 hours.
I wrote this article myself, and it expresses my own opinions. I am not receiving compensation for it (other than from Seeking Alpha). I have no business relationship with any company whose stock is mentioned in this article.
Editor's Note: This article discusses one or more securities that do not trade on a major U.S. exchange. Please be aware of the risks associated with these stocks.