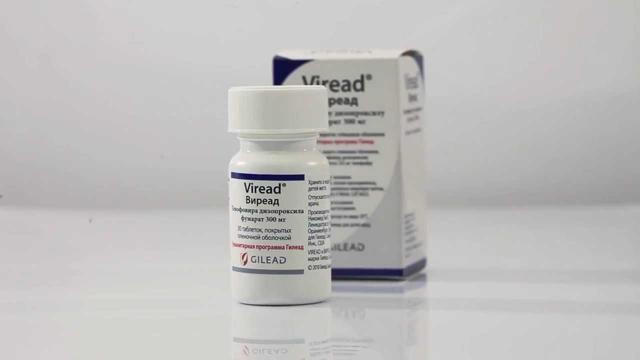 Thursday ContraVir Pharmaceuticals (NASDAQ:CTRV) announced positive interim results from a Phase 2a multiple assessing CMX157 compared to Gilead's (NASDAQ:GILD) Viread for the treatment of chronic HBV infection:
Data from 10 HBV-positive patients who completed 14 days of once-daily dosing of 25 mg of CMX157 and two patients who received 300 mg of Viread once-daily for 14 days showed an average 99% reduction in HBV viral load compared to baseline.

After a four-week dosing regimen and independent safety review are completed, dose escalation will continue at the 50 mg and 100 mg levels.
ContraVir believes it can deliver comparable efficacy to Viread at 1/12 the dosage with reduced side effects. If that is the case, it could have a major advantage over Viread. CTRV closed up 24% on the news.
The Situation
Success creates lots of enemies and Gilead appears to be on everyone's hit list. Bristol-Myers (NYSE:BMY), Merck (NYSE:MRK) and AbbVie (NYSE:ABBV) have all attempted to take a bite out of Gilead's HCV market share. While competitors have at times provided an alternative to Sovaldi/Harvoni, politicians have publicly scolded Gilead to make the price cheaper. As a result, HCV sales (50% of total product sales) fell 7% sequentially in Q2, while non-HCV product sales were up 8%.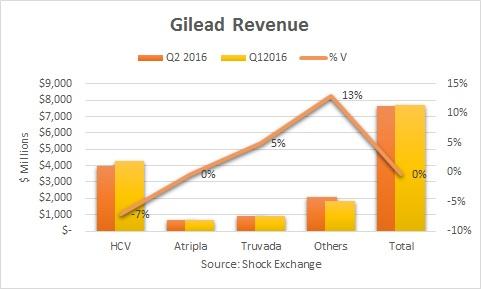 Viread generated revenue of $287 million in Q2 up 6% sequentially and 6% Y/Y. Over the past 12 months Viread contributed about $1.2 billion to Gilead's top line or about 4% of total revenue. Though the TAF-based HBV drug is not expected to grow very rapidly, Gilead can ill-afford to take another hit to revenue or margins. Operating income margins fell from 60% in Q1 2016 to 58% last quarter. Declining economies of scale could hurt margins even further.
The continued decline in HCV revenue is already baked into the story. Anything that could hurt non-HCV revenue could also hurt earnings and create further negative sentiment for the stock.
HBV Market
About 350 million people are infected with HBV worldwide, resulting in over 600,000 deaths each year; the lion's share of deaths are due to complications of the liver (cirrhosis). On a dollar basis the market size is over $3 billion and expected to grow by over 2% annually from 2014 to 2021. I understand that Viread is used for HIV and HBV, but it likely commands a sizeable share of the HBV market.
In early testing CMX157 has demonstrated the potential to put a dent in that market share. ContraVir's main focus is on the treatment of HBV. Like Viread, CMX157 is a prodrug of tenofovir. Prodrugs are designed to improve drug characteristics such as efficacy and lower pill burden. Lower dosage and higher efficacy helped Sovaldi/Harvoni disrupt the HCV market. If CMX157 can deliver higher efficacy at a lower dosage, it could potentially pose a threat to Viread on price and/or efficacy in the HBV space.
Conclusion
CMX157 has to complete at least two more phases before it receives approval from the FDA, if at all. That includes a more rigorous examination of the drug's efficacy. In addition to the diminution in Gilead's HCV franchise, CMX157 could potentially pose another threat to GILD. Avoid the stock.
Disclosure: I am/we are short GILD.
I wrote this article myself, and it expresses my own opinions. I am not receiving compensation for it. I have no business relationship with any company whose stock is mentioned in this article.
Editor's Note: This article covers one or more stocks trading at less than $1 per share and/or with less than a $100 million market cap. Please be aware of the risks associated with these stocks.