Today, the EIA released its October Short-Term Energy Outlook, commonly referred to as the STEO report. When I dug into the data, much to my surprise, I noticed the EIA made major downward revisions to its July through September 2016 "Total Dry Gas Production" data. Given these statistically sharp revisions, the strong natural gas (NYSEARCA:UNG) price recovery since June is starting to make more sense. Moreover, I owe an apology to my former acquaintance, the natural gas uber bull, who I referred to in my last piece, Summer Is Over. To his credit, he got the trajectory of the supply decline right as connecting new DUCs and increased drilling productivity wasn't enough offset the inherent well depletion curves. Although his forecast for 68 Bcf of supply by September 30th and 65 Bcf by December 31st are still too aggressive, he astutely pointed out during one of our many conversations circa January/February 2016, EIA data often gets revised and re-scrubbed as the agency sometimes misses the inflection points. As I have consistently said in the few natural gas pieces that I wrote during the summer, to get natural gas prices north of $3 mm/Btu it is all about supply cuts and the weather. That said, given the big leg up in prices and with prompt month Henry Hub gas today trading north of $3.30 mm/Btu, modest supply cuts are now appear baked into the price and consensus.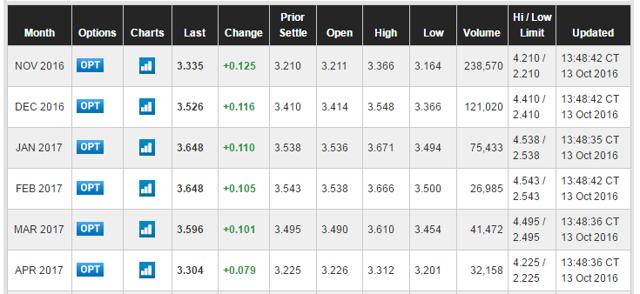 Source: CME Group
Where prices go from here is anyone's guess. It will be interesting to see how the major producers guide production for Q4 and the first half of 2017. Also, the commentary on the Q3 2016 conference calls should provide key insights as to how the big natural gas price recovery will influences their future production and drilling program decisions.
Here is the October EIA data.

Here is the September EIA data.

As we can see, the July through September revisions explain a 250 Bcf inventory difference. This combined with the 265 Bcf from higher June - August 2016 natural gas power burn account for much of well chronicled melting year over year inventory overhang reductions.

Disclosure: I/we have no positions in any stocks mentioned, and no plans to initiate any positions within the next 72 hours.
I wrote this article myself, and it expresses my own opinions. I am not receiving compensation for it (other than from Seeking Alpha). I have no business relationship with any company whose stock is mentioned in this article.