Bank of America (NYSE:BAC) has recently changed its accounting method related to premium amortization on debt securities.
Bank of America Corporation (the "Corporation") changed its accounting method for the amortization of premiums and accretion of discounts related to certain debt securities carried at fair value and held-to-maturity under FASB Accounting Standards Codification (ASC) 310-20, Nonrefundable fees and other costs(formerly known as "SFAS 91"), from the prepayment method (also referred to as the retrospective method) to the contractual method.
BAC has also restated prior periods to reflect this change in its accounting methodology.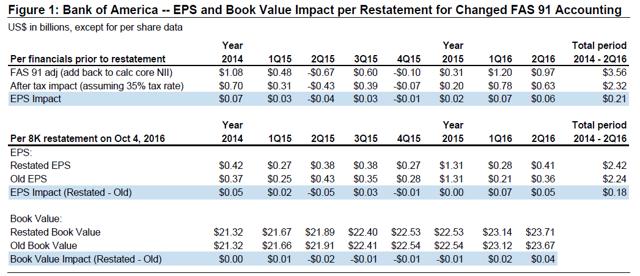 Source: Company data, CS Research & Analytics
Prior to the accounting change, Bank of America was thought of as one of the most interest-sensitive stocks, due to its high exposure to residential mortgage-backed securities and accounting principles the bank were using for these bonds. The following chart shows a correlation between BAC's 'market-related NII adjustments' (i.e. gains/losses from RMBS premium amortization) and changes in U.S. Treasury bond yields.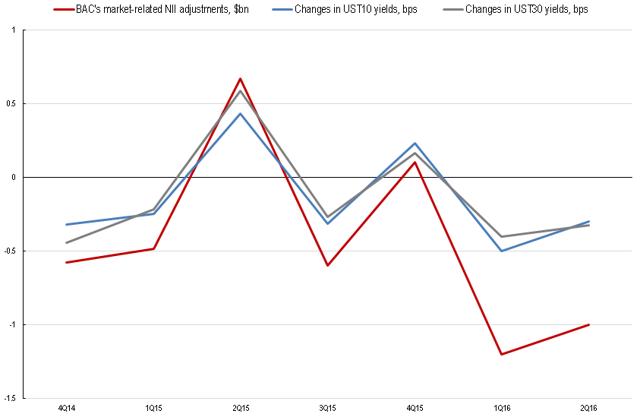 Source: Company data, Renaissance Research
Accounting for bonds purchased at a premium
With declines in medium- and long-term rates in recent years, most banks have been buying mortgage-backed securities at premiums. This premium gets amortized into (i.e. reduces) net interest income over the expected remaining life of the bond. For instance, a bank owns a RMBS, that matures in 20 years, with a face amount of $1000 and a 5% coupon (i.e. a coupon of $50 per year). Because rates are low, a bank bought this security for $1200 with a $200 premium to its face value. Accounting principles require that bank amortize this premium of $200 over the next 20 years. So, roughly speaking, each year bank gets a $50 in cash interest, but reduces its interest income by $10 to account for the $200 premium over the remaining average life of the bond.
Why the accounting method is so important?
By contrast to its large-cap peers, Bank of America had been using the retrospective method for premium amortization on debt securities. Under this accounting methodology, premiums on mortgage-backed securities are amortized over the estimated lives of these bonds. The estimated life of the RMBS is reassessed at the end of every quarter and primarily depends on where interest rates (mainly 10-year Treasury yields) are. If market yields and prepayment speeds change, banks have to adjust their assumptions on the remaining life of their bond book. So if yields decline, prepayment speeds go up and the estimated life of the mortgage-backed security declines. Looking back at our original example above, now accounting principles require a bank to amortize the $200 premium over 10 years instead of 20, doubling the charge it takes against its interest income. Under the retrospective method, banks need to catch up on the required higher bond premium amortization all at once. That results in a one-time negative adjustment to net interest income. On the flip side, if yields rise, prepayment speed expectations decline and the estimated life of the mortgage-backed security increases, resulting in a one-time positive adjustment to net interest income. While these are non-cash adjustments, they do add to earnings volatility. As such, the retrospective method significantly increases interest rate sensitivity of any bank using this set of accounting principles and BAC's case was a perfect example.
The new method is consistent with peers and will reduce earnings volatility
Under the contractual method, BAC will amortize premiums on mortgage-backed securities over the contractual lives of the RMBS. "The contractual life" principle means that the amortization period is fixed at the time the bond is purchased and is not reassessed every quarter. The new method is consistent with BAC's peers and will meaningfully reduce 'market-related NII adjustments,' i.e. non-cash charges/benefits.
What does this mean for BAC's Q3 earnings?
The change in the accounting methodology means that Bank of America will no longer receive the c.$0.5bn non-cash benefit it would have received from the higher 10-year Treasury yields (+13bps q/q in Q3) under the retrospective method in Q3. We note that this change is yet to be reflected in the consensus estimates. Although this is just a change in accounting method and it will not affect BAC's fundamentals, there is a risk that the market will be surprised negatively by BAC's decreased interest rate sensitivity.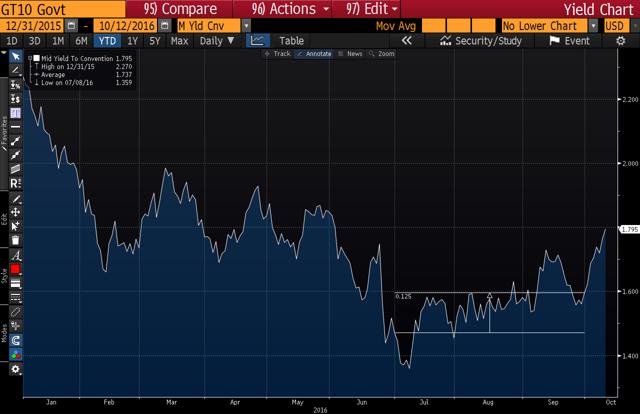 Source: Bloomberg
Thank you for reading. If you are interested in equity research on U.S., European, LatAm and CEEMEA banks/financial companies, including fundamental analysis, DCF/multiples valuation, commentaries on price-sensitive events and actionable trading ideas, click the "Follow" button beside my name on the top of the page.
Disclosure: I/we have no positions in any stocks mentioned, and no plans to initiate any positions within the next 72 hours.
I wrote this article myself, and it expresses my own opinions. I am not receiving compensation for it (other than from Seeking Alpha). I have no business relationship with any company whose stock is mentioned in this article.