MasterCard Inc. (NYSE:MA) is one of the world's largest payment processing companies. They have a global presence, a household brand, and serve governments, consumers and merchants around the world.
MA operates in a highly regulated and specialized field with a couple of big competitors, namely Visa (NYSE:V). I previously wrote an analysis of V. And given the strong competitive position they seemed to enjoy, I wanted to see if MA experiences similar benefits from their mutual duopoly. It's my suspicion the competitive position is similar, and I'm doubtful this global payment juggernaut is about to get disrupted in the near future.
However, instead of assuming this hypothesis is true, I want to try and get an answer from the data. Personally, I always like to work long-term financial metrics into my analysis. This way, I can get look at trends, which may help indicate the durability of the company's competitive advantage. If it turns out to be robust, I'll expect to see key operating metrics hitting all time highs. After all, that's what share price is doing.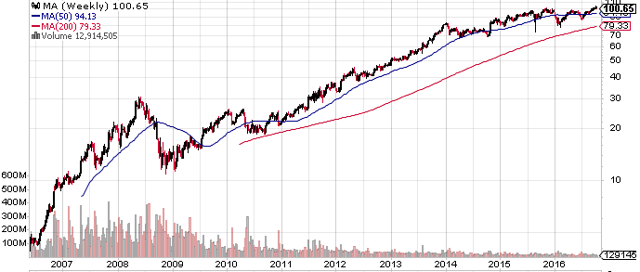 MA Business Overview:
MA was first established in 1966, when a group of banks banded together to create the Interbank Card Association. The MasterCard name came around in 1979. For the next 3 decades, the company grew through acquisition, large-scale advertising campaigns and international expansion. In 2006, following a corporate reorganization, MA began trading on the NYSE. It's now a publicly listed company with a market capitalization around $110B.
MA reports its operating activities under a single segment: Payment Solutions. However, while the company only has one segment, they are very diversified in their customers. No client makes up more than 10% of revenue, so there is limited concentration risk of a big client leaving. Additionally, MA has some geographic diversification, with about one third of revenues coming from outside the US.
Additionally, under the umbrella of Payment Solutions, MA offers a variety of branded solutions. The largest contributors, in terms of gross dollar volume, are Debit and Prepaid cards, with volumes of $2,112B and $2,077B respectively. Commercial credit contributes an additional $374M in dollar volume (source).
In terms of growth potential, I think there are a couple of tailwinds adding fuel to the fire. As money becomes more electronic, transaction processors like MA benefit. Additionally, because MA is operating at such a large scale, they are well positioned to grow organically and at relatively low cost, through strategic partnerships, acquisitions and up-selling existing customers.
I don't think these growth drivers are likely to be disrupted because MA has also done a good job adding value by offering both security and convenience. For instance, tapping to pay is the fastest and easiest way to make small purchases. At the same time, your credit card number provides an easy way to shop online. These are but a few examples of the ways that MA strives to add value for their clients. And I'm curious to see how it shows up in their financial statements.
MA Financial History:
To try and get a handle on the supposedly strong competitive posture of MA, I plan to look for trends in long-term operating and financial results. I find that by examining these numbers over a longer time period, I can spot trends that help quantify the qualitative competitive strengths of the business. It also provides helpful context for headline numbers. I'm particularly interested in finding reliable results that can be more consistently forecasted into the future.
In order to get underway, I always like to look at the top line. Using historical data available from Morningstar (source) we can plot results over the last 10 years and trailing-twelve months.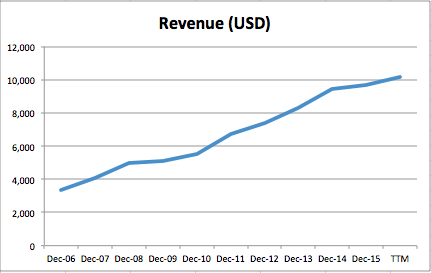 The reason I like to start with revenue is because it provides an unobstructed look at demand from customers. Companies that can keep growing sales year-over-year have the wind in their sales. And it certainly speaks to the quality of the business model.
In the case of MA, you can see that the revenue trend is quite consistent. It goes to show the company is consistently executing their growth plans, with no signs of slowing down. And given the mature business of MA, I expect that sales are coming in at a healthy profit. However, to verify how efficiently MA is running their business, let's take a look at operating margins.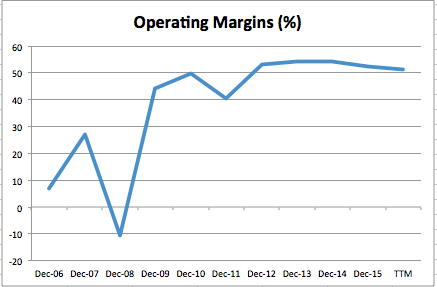 After a brief hiccup during the great recession, you can see operating margins have been consistently high. Intuitively, this makes some sense. MA operates in an oligopoly with a powerful brand name and valuable service. So it seems logical that they should be able to charge a premium for their services.
However, it's encouraging to actually see this consistently show up in the margin numbers. Based on the steadiness of these results, I'm optimistic the trend in earnings per share will also be heading in the right direction.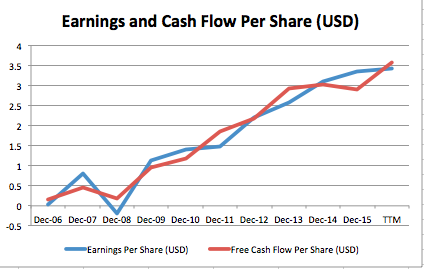 As you can see, both the earnings and free cash flow results have pretty consistent, especially lately. I'm always happy to see these results align, as it helps rule out accounting gimmicks that might mask low-quality earnings. But to my eye, so far MA has a lot of the characteristics of being a high quality business that throws off cash for owners.
One way shareholders have benefited recently is with the increasing dividend. While MA has had a dividend for years, only more recently has it begun to be raised. I'm curious to see to what degree this trend continues in the years to come. The current yield is under 1%, but the growth potential may make MA of interest to dividend growth investors.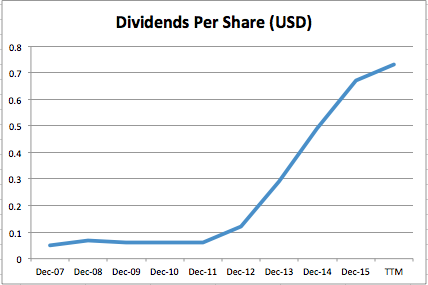 Additionally, I'm keeping my eye on book value per share for another gauge of shareholder returns. Historically, MA has done a pretty good job compounding capital, as represented in growth in equity per share. And personally, I always like to own stocks for the long term that are growing my ownership in the company. It's another margin of safety that makes the investment more attractive. So how does it look for MA today?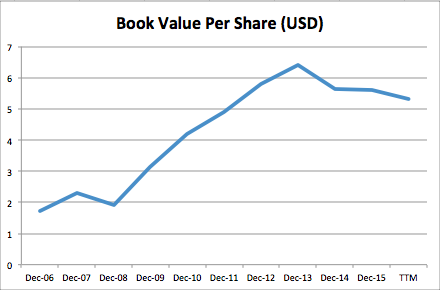 Overall, this trend is pretty good. But unfortunately, book value per share has taken a bit of a slump the last couple years. This isn't something I like to see. So what's the cause?
The primary reason for this decline in equity value is because of a corresponding increase in long-term debt. Luckily, the costs to carry this debt are quite low so using the proceeds to buy back shares and pursue growth isn't necessarily a bad thing. However, I'll be watching this trend going forward and become more critical if MA continues to lever up.
But that's not the only risk to consider.
Potential Risks to Investing in MA:
So far, it looks like MA has a lot going for it as far as investment potential. But as with any prospective investment, there's always risk. In the case of MA, it's important to consider the downside of their strengths. For instance, while operating in an oligopoly comes with benefits, there are limitations. MA needs to be careful to provide value and not squeeze clients too much, lest regulators intervene.
And not only does MA need to be aware of evolving regulations in markets across the world, but there are also significant compliance costs and potentially liability for any shortcomings. Of course, all of this is risk in addition to that of a general economic slowdown. In that case, MA could face delinquencies on credit facilities, and a drop in transaction volumes. This could be a one-two punch that would really hurt shareholder returns.
However, the biggest risk of all for potential investors in MA might be the price tag. As far as I can tell, at over 25 times cash flow, shares of MA are pretty pricey. While this might be the cost of quality, shares are definitely expensive. This chart from Morningstar helps put this into context.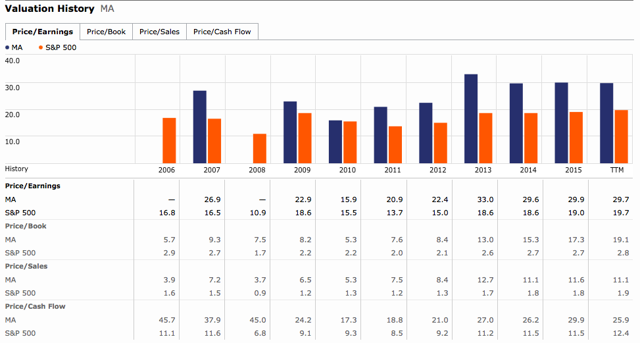 Per the graph above, shares of MA have been persistently trading at a premium when compared to the S&P 500 index. One mitigating factor for valuation is the internal brand-value of MasterCard. That's hard to quantify though and makes valuing this payment processor a little more challenging. Nonetheless, I believe shares are priced on the high side.
Conclusion: Waiting for an Entry in MA
I believe that shares of MA are pretty expensive, so right now, I don't happen to own any. That said, I'm eager to get exposure to this company and will be sure to keep it on my watch list. I believe it has a lot of the characteristics of a long-term capital compounder. I'll also be keeping a close eye on the book value per share results and will likely get even more enthusiastic if those numbers can start trending back up. But what do you think? Is MA worth a spot in your portfolio?
Disclosure: I/we have no positions in any stocks mentioned, and no plans to initiate any positions within the next 72 hours.
I wrote this article myself, and it expresses my own opinions. I am not receiving compensation for it (other than from Seeking Alpha). I have no business relationship with any company whose stock is mentioned in this article.