Natural gas has been rallying strongly lately and has clearly broken out. The November futures contract rallied 3.9%, rising 13. 1 cents on October 13th. The weekly storage report indicated supply had risen less than expected and the U.S. government raised its outlook for prices on the energy commodity until 2017. The closing price was the highest since December 2014 or almost two years. Other commodities didn't do as well that day because the economic reports coming out of China were weak. The natural gas market is regional to North America, however, so it is one of the few commodities that is not significantly affected by overseas events.
Natural Gas Two Years Price Performance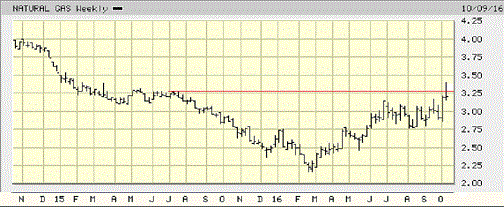 Red line represents the breakout level. Above it means the next price target is 4.00.
To participate in the natural gas rally, investors can buy either the commodity itself or the stocks of companies that explore for or produce it. The recent breakout was in natural gas was predicted here on October 7th (I first discussed investing in natural gas in an article on March 3rd, which turned out to be when the multi-year price bottom took place. See here to find out more). How to invest in the natural gas as a commodity was covered last week, but what about investing in the stocks themselves? The most important ETF for natural gas is FCG. This represents the ISE-Revere Natural Gas Index of 27 stocks most of which are focused on North America. Year-to-date, the price performance for FCG has tracked the commodity itself fairly closely. See the chart below.
2016 Year-to-Date Comparison of Natural Gas and FCG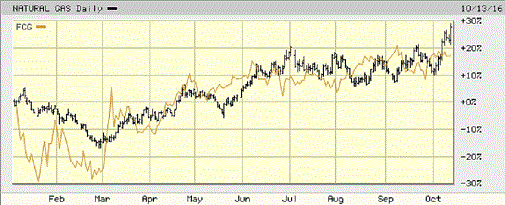 Black line is commodity natural gas and the gold line natural gas stocks
Like all indices some stocks in the ISE-Revere Natural Gas Index are, of course, doing better than the others. There are five standouts that have provided approximately 100% or higher returns in 2016 year-to-date. These are: Rice Energy (NYSE:RICE), Continental Resources (NYSE:CLR), WPX Energy (NYSE:WPX), Encana (NYSE:ECA), and SM Energy (NYSE:SM). These are some of the highest returns outside of micro cap/penny stocks in the entire stock market. Rice Energy is up around 150%, Continental Resources up 125%, WPX Energy and Encana up 120% and SM Energy 100%. Compare this to the S&P 500 (NYSEARCA:SPY), which is currently up in the neighborhood of 5% so far for the year.
Top Five Performing Natural Gas Stocks YTD in 2016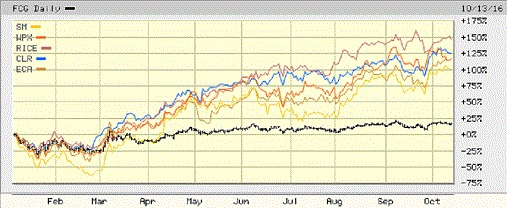 The black line is FCG, red line is RICE, blue line is CLR, orange line is WPX, brown line is ECA and yellow line is SM
There are another five natural gas stocks that are up between 50% and 100% since January. Southwestern Energy (NYSE:SWN) and Spectra Energy (NYSE:SE) are both higher by around 75%. Cimarex Energy (NYSE:XEC), Concho Resources (NYSE:CXO) and Range Resources (NYSE:RRC) have rallied between 50% and 60%. Other stocks in the index that are up by at least 30% on a year-to-date basis include: Devon Energy (NYSE:DVN), Anadarko Petroleum (NYSE:APC), Cabot Oil & Gas (NYSE:COG), EQT (NYSE:EQT) and Newfield Exploration (NYSE:NFX).
Natural gas and natural gas stocks have been some of the best market performers in 2016. The strongest stocks in the sector have generally only gotten stronger as the year has progressed. Seasonally the commodity is at its best period until the end of November and in March and April. The recent breakout indicates the bullishness will continue. The commodity hit its previous peak in 2008, and has only been rallying since March, so there could be a several year bull market in the making.
Disclosure: I/we have no positions in any stocks mentioned, and no plans to initiate any positions within the next 72 hours.
I wrote this article myself, and it expresses my own opinions. I am not receiving compensation for it (other than from Seeking Alpha). I have no business relationship with any company whose stock is mentioned in this article.