This article is about Pfizer Inc. (NYSE:PFE) and why it's a dividend income company that is being looked at by The Good Business Portfolio guidelines. The portfolio already has Johnson & Johnson (NYSE:JNJ) in the portfolio but is looking for a good pure pharmaceutical company with a good dividend. The question is can Pfizer Inc. with the new buys of Anacor and Medivation have enough addition to its pipeline to get the company growing again. Pfizer Inc. is a research-based global bio-pharmaceutical company. The company is engaged in discovering, developing and manufacturing of healthcare products. Fundamentals of Pfizer Inc. will be looked at in the following topics, The Good Business Portfolio Guidelines, Total Return And Yearly Dividend, Last Quarter's Earnings, company Business Overview, and Takeaways And Recent Portfolio Changes.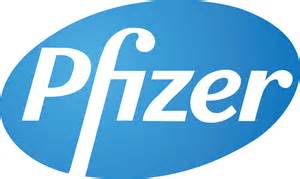 Good Business Portfolio Guidelines.
Pfizer Inc. passes 11 of 11 Good Business Portfolio Guidelines. These guidelines are only used to filter companies to be considered in the portfolio. For a complete set of the guidelines, please see my article " The Good Business Portfolio: Update To Guidelines and July 2016 Performance Review". These guidelines provide me with a balanced portfolio of income, defensive, total return and growing companies that keeps me ahead of the Dow average.
Pfizer Inc. is a large-cap company with a capitalization of $204 Billion. Pfizer Inc. is the largest American company in the pharmaceutical peer group and this gives PFE plenty of strength to increase its business and buy bolt on smaller companies and buyback its stock. The next biggest company is Novartis AG ADS (NYSE:NVS) with a capitalization of $186 Billion. The Good Business Portfolio did have NVS in it a couple of years ago but was sold since the pipeline was not growing much and the foreign tax problem was a pain in the neck.
Pfizer Inc. has a dividend yield of 3.6% and its dividend has been increased for eight of the last ten years. The average payout ratio of the dividends for the past 5 years is high at 73% with a annual DGR of 8.0% over the last three years. Pfizer Inc. therefore is a dividend income story. The dividend is normally increased in December and is expected to be increased again by $0.02/Qtr. or 6.7% as it has for the past 4 years.
Pfizer Inc. last quarter income was fair at $0.64/share beating the estimate of $0.62/Qtr., but the report was noisy with extraordinary items. This leaves Pfizer Inc. enough cash flow, to pay its above average dividend and have a enough left over for its expansion of the business and stock buybacks. Pfizer Inc. has a yearly positive total cash flow of $12 Billion.
I also require the CAGR going forward to be able to cover my yearly expenses. My dividends provide 3.2% of the portfolio as income and I need 1.9% more for a yearly distribution of 5.1%. Pfizer Inc. has a three-year CAGR of 9.0% (from Capital S&P IQ) more than meeting my requirement. This is very important to me since being in retirement I need a certain amount of growth that I can count on, right now Pfizer Inc. is buying companies to extend its pipeline while the world economy starts to grow again.
Looking back five years $10,000 invested five years ago would now be worth over $21,700 today. This makes Pfizer Inc. a good investment for the growth investor looking back and does pay a high current dividend.
Pfizer Inc. S&P Capital IQ rating is three stars or hold with a target price of $38. Pfizer Inc. is 12% under priced at present compared to the target and good for the dividend income and moderate growth investor.
Total Return And Yearly Dividend
The Good Business Portfolio Guidelines are just a screen to start with and not absolute rules. When I look at a company, the total return is a key parameter to see if it fits the objective of the Good Business Portfolio. Pfizer Inc. did better than the Dow baseline in my 45.4 month test compared to the Dow average. I chose the 45.4. month test period (starting January 1, 2013 and ending to date) because it includes the great year of 2013, and other years that had fair and bad performance. The total return of 42.71% makes Pfizer Inc. appropriate for the growth investor and PFE has a 3.6% dividend as a plus. YTD total return for Pfizer Inc. is good at 4.12% a little above the market short term. The dividend is well above average and covered by the earnings and has been paid and increased each year for eight of the last ten years. The dividend is expected to be increased again by $0.02/Qtr. or 6.7% in December 2016.
DOW's 45.4. month total return baseline is 38.14%
| | | | |
| --- | --- | --- | --- |
| company Name | 45.4. Month total return | Difference from DOW baseline | Yearly Dividend percentage |
| Pfizer Inc. | +42.71% | +4.57% | 3.6% |
PFE data by YCharts
Last Quarter's Earnings
For the last quarter on August 2, 2016 Pfizer Inc. reported earnings that beat expected at $0.64 compared to expected at $0.62 and last year at $0.56. Total revenue was higher at $14 Billion, higher than a year ago by 11% year over year and beat expected revenue by $140 Million. This was a good report. Earnings for the next quarter are due in early November and are expected to be at $0.61 compared to $0.60 last year.
Business Overview
Pfizer Inc. (Pfizer) is a research-based global bio-pharmaceutical company. The company is engaged in discovering, developing and manufacturing of healthcare products. The company's segments include Pfizer Innovative Health (IH) and Pfizer Essential Health (EH). Its bio-pharmaceutical products include Lipitor, Sutent and the Premarin family of products. Its biotechnology products include BeneFIX, ReFacto and Xyntha. The company's contract manufacturing business, Pfizer CentreOne, consists of its contract manufacturing and active pharmaceutical ingredient sales operation, including manufacturing and supply agreements with Zoetis Inc., and Hospira's One-2-One sterile injectables contract manufacturing operation. Its research focuses on six areas, which include immunology and inflammation, cardiovascular and metabolic diseases, oncology, vaccines, neuroscience and pain, and rare diseases. The company's subsidiaries include Hospira, Inc. and Medivation, Inc.
The company does have a headwind of the strong dollar which will most likely get stronger when the FED raises rates. The economy is showing moderate economic (about 2%) growth right now and the FED will most likely raise rates in December 2016 depending on the United States economy.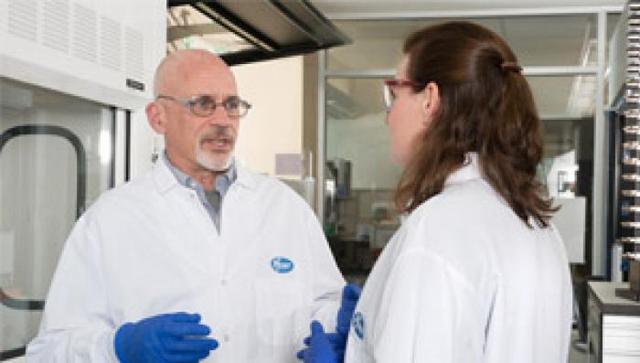 Over all Pfizer Inc. is a good business but is being hurt by the strong dollar. On the good side the company's business is defensive and dampens the market swings. The company is using its cash to buy other companies like Anacor for $5.2 Billion and Medivation for $14 Billion to grow its pipeline and business. They also still have $11 Billion left in their stock buyback authorization.
Mr. Ian C. Read (CEO) at the last earnings call concluded with this statement "I see our product pipeline along with the assets obtained from our recent business development initiatives as positioning the company competitively in those areas where I believe Pfizer's strengths can generate significant shareholder value over time while also benefiting patients,"
Takeaways and Recent Portfolio Changes
Pfizer Inc. is an investment for the dividend income investor and will be considered by The Good Business Portfolio when there is an open slot. The fair past total return and future earnings recovery and estimated dividend growth of 6.7% make PFE a good buy for the Dividend income investor. Negatives for Pfizer Inc. is the strong dollar headwind for their foreign operations and the weak worldwide economy but is mitigated by their stock buyback program and aggressive company buys.
Increased percentage in portfolio of Ingersoll Rand (NYSE:IR) from 2.8% to 3.1% of the portfolio. IR pays 2% average dividend and is growing nicely, I want to get this company to a full 4% of the portfolio position.
Trimmed Cabela's (NYSE:CAB) from 6.3% of the portfolio to 5.6%, they have received a bid of $65.50 cash for their shares, which to me is a fair price. I want to take a bit off the table in case the deal does not go through. I also would like to deploy the proceeds to increase the dividend paying companies in the portfolio.
Increased Omega Health Investors (NYSE:OHI) from 4.5% of the portfolio to 4.8% of the portfolio, I needed a little more income and OHI will give that to the portfolio. The portfolio will fill in the open portfolio slot with Kellogg (NYSE:K) when cash is available.
Sold some covered calls on Harley Davidson (NYSE:HOG), sold August 50's. If the premium gets to 20% of the sold premium price, I will buy them back with the hope that HOG goes up so I can sell the calls again in the same month for a Double. The HOG price is presently above the strike price and I have moved the calls up and out. On August 10 the portfolio moved the HOG calls up and out to November 52.5's. HOG sales are weak and I will hold the calls and collect the time value.
The Good Business Portfolio generally trims a position when it gets above 8% of the portfolio. The four top positions in The Good Business Portfolio are, Johnson and Johnson is 8.6% of the portfolio, Altria Group Inc. (NYSE:MO) is 7.8% of the portfolio, Home Depot (NYSE:HD) is 7.8% of portfolio and Boeing (NYSE:BA) is 8.1% of the portfolio, therefore JNJ and BA are now in trim position with Home Depot and Altria getting close.
Boeing is going to be pressed to 10% of the portfolio because of it being cash positive on individual 787 plane costs, announced in the 2015 fourth quarter earnings call. For BA from the second 2016 earnings call deferred costs increased $33 Million a small amount and I project positive cash flow from the 787 program in the third quarter of possibly $100 Million. The KC-46A refueling plane has been authorized by the Pentagon for its initial production, this will be a big step to increase Boeing's already high cash flow even more. The contract has still to be awarded, which should be soon. Looking forward I expect Boeing to beat the expected third quarter earnings of $2.52 but will not trim it until it reaches 10.0% of the portfolio. About 1.6 years ago Boeing got above 10% of the portfolio and I trimmed it a little to get it below 10% of the portfolio. Recently on September 21, 2016 Boeing got approval from the United States government to sell commercial planes to Iran, a large sale. Boeing on October 6, 2016 received a $11.7 Billion order from Qatar for 30 787-9 and 10 777-300ER's planes which helps make it easier to meet year end goals.
JNJ will be pressed to 9% of the portfolio because it's so defensive in this post Brexit world.
For the total Good Business Portfolio please see my recent article on The Good Business Portfolio: 2016 Second-Quarter Earnings and Performance Review for the complete portfolio list and performance. Become a real time follower and you will get each quarters performance after the earnings season is over.
I have written individual articles on CAB, JNJ, EOS, GE, IR, MO, BA, Omega Health Investors and HD that are in The Good Business Portfolio and other companies being evaluated by the portfolio. If you have an interest please look for them in my list of previous articles.
Of course this is not a recommendation to buy or sell and you should always do your own research and talk to your financial advisor before any purchase or sale. This is how I manage my IRA retirement account and the opinions on the companies are my own.
Disclosure: I am/we are long BA, JNJ, HD, OHI, MO, HOG, IR, CAB.
I wrote this article myself, and it expresses my own opinions. I am not receiving compensation for it (other than from Seeking Alpha). I have no business relationship with any company whose stock is mentioned in this article.